RunSignup Announces New Zapier App Integration
March 7, 2023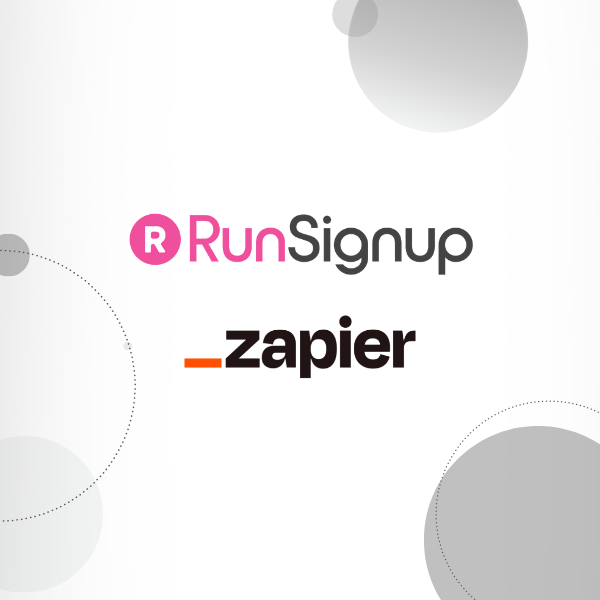 Moorestown, NJ /ENDURANCE SPORTSWIRE/ – RunSignup, the leading registration and technology solution for U.S. endurance events, announces its Zapier integration and partnership with Sidekick Solutions, a software consulting and integration developer. The companies have joined efforts to provide a simplified option for integrating RunSignup with a variety of other packaged applications without the need for complicated programming. This partnership with Sidekick Solutions utilizes Zapier, a leading integration platform, to simplify the process of connecting RunSignup with other critical systems such as Salesforce.com, DonorPerfect and Mailchimp to name a few.
The RunSignup Zapier App is now available on the Zapier platform. Zapier provides a no-code, point and click interface that walks you through the creation of workflows (called "Zaps") between RunSignup and a library of over 5000 other applications. While the RunSignup Zapier App is open and available to any user interested in building their own integration, customers with complex integrations can take advantage of the partnership with Sidekick Solutions for assistance with integrations.
Bruce Kratz, VP of Development with RunSignup commented, "Partnering with Sidekick Solutions has been an exceptional experience. Not only did they bring impressive knowledge and professionalism to the table, but their collaborative and transparent approach closely aligned with that of RunSignup. This has led to outstanding results solving challenges for our joint customers."
Each workflow (Zap) in Zapier runs when a trigger executes and is followed by one or more actions, such as creating a record in donor management, email marketing, or another system an organization uses. With Zapier's user-friendly interface, customers can map their RunSignup data fields to their target system with data formatting and error handling.
The RunSignup Zapier app will allow customers to take advantage of three Zapier triggers:
New Registration: fires when a new Registration is created for the selected Race in RunSignup
New Donation: activates when a Donation is processed for the selected Race in RunSignup
New Registration Add-On: prompts when add-ons are selected for a new Registration for the selected Race in RunSignup
Just like the RunSignup API, the Zapier app is available at no cost (Zapier fees may apply) and RunSignup will continue to invest in expanding capabilities. Documentation on integrating RunSignup to other applications can be found on the RunSignup Integrations page on the website.
About RunSignup
RunSignup is the leading event solution delivering the art of technology to endurance events and nonprofits. More than 25,000 events use our free and open platform to register 7 million annual participants, raise more than $1.7 Billion and grow their events. Our expertly crafted, open and all-in-one solution powers event revenue generation and supporter engagement through flexible registration, free event websites, free email marketing, integrated fundraising, and a suite of RaceDay tools. No subscriptions, no plans, no monthly fees.
To find out why customers like the Richmond Marathon, American Cancer Society, Vacation Races, and RaceDay Events use RunSignup, visit www.runsignup.com.