Runners Experience the Antarctica Marathon & Half-Marathon after more than a Two Year Wait
February 9, 2022
Marathon Tours & Travel holds its second Antarctica race this year within 10 days.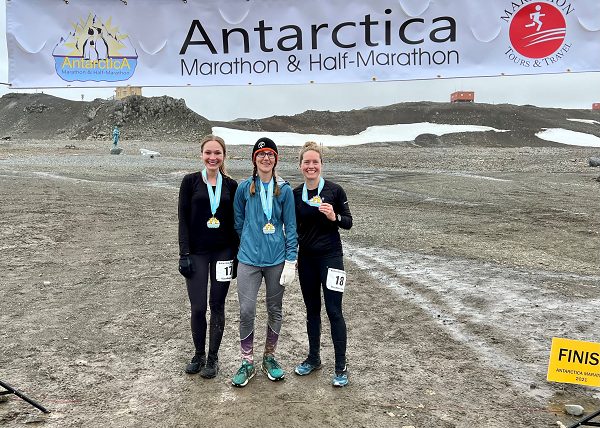 KING GEORGE ISLAND, ANTARCTICA, February 9, 2022 /ENDURANCE SPORTSWIRE/ – The 22nd running of the Antarctica Marathon & Half-Marathon took place on King George Island in the South Shetland Islands of Antarctica on Sunday, February 6.  After deferring the event in 2020 and 2021, the Marathon Tours & Travel (MTT) organizing team produced a second highly successful Antarctica event in 10 days, despite a unique set of circumstances due to the ongoing global pandemic.
Runners faced a race day ahead that would challenge them both physically and mentally. With constantly changing weather that included sleet on the zodiac ride to shore, shifting winds and frequent temperature fluctuations the runners navigated a very demanding course. The marathon and half-marathon occurred in two waves split between the early morning and early afternoon with 144 runners from 17 countries. The men and women winners for both distances were from the United States.
Ryan Beberus moved into first place after the second mile of the marathon and never relinquished the lead, finishing in 3:58:07.  In the women's race at the marathon distance, there was a three-way battle through the first 18 miles, with Ember Verma ultimately moving into the lead and winning with a time of 4:22:52.  Close behind Ember were Mary Kauffman and Sarah Faubion, claiming sixth and seventh place overall in the race.
In the half-marathon, Karl Alhgren earned the win and his second Seven Continents Club Finishers Medal. Karl had previously completed a marathon on all seven continents and has now completed a half-marathon on all seven continents.  He joins six additional men and women who have accomplished this goal twice.  Stacy Martin won the women's race by a 20-minute margin on a day where more than 50% of the overall finishers were women.
"That was the hardest race I have ever run and yet, also my favorite race ever," was the common phrase amongst participants.Race results timed and produced by Sportstats of Toronto, Canada.
Results:
MARATHON
Men
Name                          Country          Time
Ryan Beberus             USA                3:58:07
Patrick Shea                USA                4:09:43
Jeremie Cousin           CAN                4:14:23
Women
Ember Verma             USA                4:22:51
Mary Kauffman           USA                4:26:02
Sarah Faubion             USA                4:29:41
HALF-MARATHON
Men
Karl Ahlgren                 USA                2:22:27
Robert Long                  USA                2:42:32
Justin Lambright         USA                3:01:34
Women
Stacy Martin               USA                2:37:59
Valerie Maugle           USA                3:00:56
Laura Doerre               USA                3:09:49
Complete results of the Antarctica Marathon & Half-Marathon: https://www.marathontours.com/about/news
About Marathon Tours & Travel
Founded in 1979, Marathon Tours & Travel (MTT) was the first global company to specialize in travel services specifically for runners. Located in Boston, the home of the world's oldest marathon, MTT is the official North American travel agency for many of the world's most popular running events including the BAA Boston Marathon, TCS London Marathon and many others.  The Antarctica Marathon™ was first held in 1995 and sells out with a maximum field of 200 runners, two years in advance.  For the first time in its history, the company invested in two back-to-back trips and races.  Upon return of the first voyage in Ushuaia, Argentina, the second voyage boarded later that afternoon.  Thom Gilligan (CEO and Founder) served as the race director for the race held on Friday, January 28, 2022 and Jeff Adams (President) filled this role for the second group held on Sunday, February 6, 2022. More information on www.marathontours.com.
About the Seven Continents Club
The birth of the Seven Continents Club ™ (SCC) came about in 1995 with the inaugural Antarctica Marathon & Half-Marathon, since it now made it possible for runners to conquer a marathon or half-marathon on seven continents. Today, with 8025 members from 87 countries, the SCC continues to service clients interested in pursuing their seven continents goal.  In addition, the SCC serves as a VIP global frequent traveler club for runners that have a passion for traveling and running in amazing destinations around the world. More information on www.sevencontinentsclub.com.
###