Run Tucson Announces Coveted 2022 Gabe Zimmerman Triple Crown Series Medallion
May 16, 2022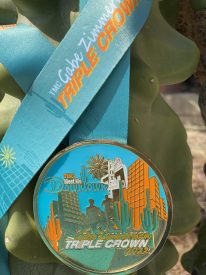 Registration Opens for Arizona's Popular Three-Race Series
/ENDURANCE SPORTSWIRE/ – The artwork for the coveted 2022 Gabe Zimmerman Triple Crown medallion has been released and registration for the three-race series is now open.
Developed by Ashworth Awards and Run Tucson, the coaster features elements of the Sonoran Desert, the City of Tucson, and the unique aspects of Tucson's popular three-race series.
"Everyone loves the practical artwork," explains series creator Randy Accetta. "Medals are ubiquitous, but the Gabe Z coaster is a reminder of the athlete's accomplishments. Whether they walked or ran, everyone can celebrate their participation."
The 2022 Gabe Zimmerman Triple Crown is a three-race series to honor the memory of Gabe Zimmerman.
A native of Tucson and life-long runner, Gabe was an aide to U.S. Representative Gabrielle Giffords.  In January 2011 Gabe was killed in the political shooting of Gabby Giffords that saw seven people murdered.
With the blessings of his father, Ross Zimmerman (co-founder of a long-standing trail running group), and his mother, Emily Nottingham (a long-time trails advocate), and with the support of Julia Strange from Tucson Medical Center, the Gabe Zimmerman Triple Crown was developed to honor Gabe's devotion to fitness, running, and the Arizona outdoors.
Randy Accetta says, "We're honored to be able to celebrate the spirit of Gabe and highlight the possibilities for Tucson through the Gabe Zimmerman Triple Crown. Thanks to all the participants, we've been able to raise over $50,000 to the BEYOND-Tucson Foundation, a local organization developed in response to the Giffords shooting.
The three-event series is expected to have over 3000 finishers.  Each event is on the Running Shop Grand Prix calendar of the Southern Arizona Roadrunners, Arizona's largest running club:
June 4: 16th Annual TMC Meet Me Downtown 5k and Festival of Miles, in dynamic Downtown Tucson
September 19: 6th Annual Tucson 10k and 5k in the Painted Desert region of the Tucson Mountains
October 23: TMC Biosphere Events, including the TMC 15k, the Tucson Lifestyle 5k, Cox Charities Free Mile, all staged at the famed science facility, Biosphere 2, in Oracle, Arizona.
About the Southern Arizona Roadrunners: 
Arizona's longest-standing running club, SAR (www.azroadrunners.org) is a member of the Road Runners Club of America. The Southern Arizona Roadrunners is a not-for-profit organization dedicated to promoting health and fitness in Tucson and Southern Arizona through running and walking.
About Run Tucson:
Run Tucson (www.runtucson.net) is a full service event and coaching entity producing running events and provides online and in-person coaching to athletes around the nation. With coaches certified by the Road Runners Club of America (www.rrca.org), Run Tucson manages Arizona's longest-running coached training group, the Workout Group.