Run Catalina Reveals Finisher Medals For 2023 Catalina Island Marathon
February 10, 2023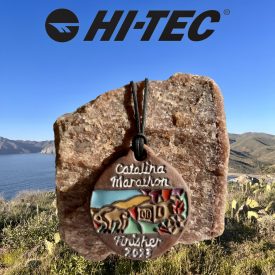 Handmade awards made by famous local artist feature iconic island imagery
AVALON, Calif. /ENDURANCE SPORTSWIRE/ – The 2023 Hi-Tec Run Catalina series has revealed the finisher awards that await runners of the Catalina Island Marathon, which will take place on Mar. 11. The 26.2-mile trail race is California's oldest trail marathon and will celebrate its 46th anniversary this year. Registration is now open with 10K and 5K distances available alongside the classic marathon.
The medals are locally sourced and handcrafted by Catalina native Robin Cassidy, who owns Silver Canyon Pottery. Cassidy is an expert in Catalina Island Clay, which she uses to create these unique, collectible awards. Cassidy has designed medals for the Run Catalina races for six years.
The 2023 designs feature the American Bison, Eagles Nest, and a wagon wheel. Eagles Nest is a historic building that used to be the weigh station for the stagecoaches traveling from one side of the island to another. It is also a beloved aid station location during the marathon featuring food, drinks, and games.
"Finishers from previous years will recognize the imagery on the medal instantly, but they may not know the unique history of this spot on our beautiful host island," said Mike Bone, President and CEO of Spectrum Sports Management, which produces the Run Catalina series. "Robin mixed this iconic spot from our route with the old fences and wagon wheels that can be seen around the site, plus the beloved resident buffalos for a winning design! This local artist helps us create an authentic and engaging experience for our participants."
Participants will begin the race in Two Harbors, a small community on the far side of the island. From there, they will traverse the island on dirt roads and trails heading back to Avalon. With a net elevation gain of over 4300 feet, the course offers sweeping vistas, ocean views, and the occasional sighting of an American Bison.
Following the Catalina Island Marathon, Run Catalina will host the Catalina Island Half Marathon on Nov. 11. The series just presented the Avalon 50 a few weeks ago. Participants can earn the Catalina Island Triple Crown belt buckle by completing all three events within a 12-month period. No additional registration is required.
For more information on the 2023 Hi-Tec Run Catalina series, visit www.RunCatalina.com. Follow the series on Instagram and Facebook.
About Run Catalina and Spectrum Sports Management
Created and managed by Spectrum Sports Management, Run Catalina is a series of endurance races on Southern California's beautiful and rugged Catalina Island. A recognized leader in endurance and sporting events in Southern California, Spectrum Sports Management & Timing Services creates a wide range of events and has over 50 years of collective industry experience. Spectrum Sports Management emphasizes delivering a premiere, professional and world-class service to their clients, their participants, and the communities in which they work. To learn more, visit www.SpectrumSports.net.
###
Meg Treat, APR
meg@treatpublicrelations.com
805.766.1500