Run Austin® Kickoff Week Celebrates the Spirit of Running in the State Capital
September 1, 2023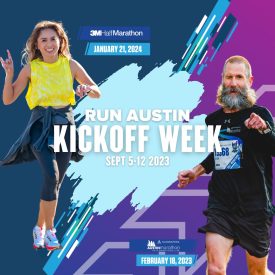 Austin Marathon® and 3M Half Marathon bring together runners for training, fun & prizes
Austin, TX – September 1, 2023 /ENDURANCE SPORTSWIRE/ – The countdown to the highly anticipated Ascension Seton Austin Marathon® and 3M Half Marathon has officially begun with the announcement of Run Austin® Kickoff Week. Set to take place from September 5th to September 12th, 2023, this week-long event promises a dynamic fusion of fitness, camaraderie, and prizes that will ignite the spirit of running within the Austin community.
Run Austin Kickoff Week is an annual tradition that brings together seasoned runners, aspiring athletes, and running enthusiasts to celebrate the upcoming Austin Marathon (February 18, 2024) and 3M Half Marathon (January 21, 2024). With a focus on promoting health, wellness, and an active lifestyle, this week-long series of events is the perfect platform for participants to gear up for the main races.
Throughout the week, runners of all levels are invited to partake in various run groups that embody the essence of the Austin running scene. Over 23 group runs are scheduled to take place during the week with groups spread throughout the city and surrounding areas. The week-long running festivities come to a close with a group run followed by a post-run happy hour.
In addition to group runs, one of the highlights of the week is the chance to win exciting prizes. Every day during Run Austin Kickoff Week, participants will have the opportunity to enter their name for a range of running-related prizes from sponsors, including top-tier running gear, nutrition, and a grand prize valued at over $2,000. This element of anticipation and reward adds an extra layer of excitement to the already thrilling lineup of events.
"We're excited to launch Run Austin Kickoff Week, a celebration that embodies the very essence of the Austin Marathon and 3M Half Marathon," said Stacy Keese, co-owner of High Five Events, the producers of both running events. "This week is about more than just training and preparation; it's a chance for runners to come together, support one another, and share their passion for the sport. We can't wait to see the energy and camaraderie that will unfold during this exciting week."
"We're thrilled to support Run Austin Kickoff Week, as the Austin running community begins to build mileage in the hope of crushing their 2024 race goals. As The Official Running Store of High Five Events, Fleet Feet Austin is honored to once again partner with the 3M Half Marathon and Austin Marathon to curate memorable experiences for participants. We hope Austin is ready for another inspiring race (and successful) race season, and we look forward to hosting the community at large," stated Ari Perez, Operating partner Fleet Feet Austin.
For a detailed schedule of events and more information about Run Austin Kickoff Week, please visit the official event website at http://werunaustin.com/.
About Run Austin® Kickoff Week:
Run Austin Kickoff Week is a week-long series of events dedicated to celebrating the upcoming Austin Marathon and 3M Half Marathon. Focused on promoting a healthy lifestyle, camaraderie, and skill-building, the event offers a range of activities, run groups, and prize opportunities for runners of all levels. Participants can engage with the Austin running community, enhance their training, and prepare for the main races in the months ahead.
About the Austin Marathon® and 3M Half Marathon:
The Austin Marathon and 3M Half Marathon are annual running events held in Austin, Texas, attracting participants from around the world. Known for their scenic routes, enthusiastic crowd support, and commitment to promoting a healthy lifestyle, these races are a staple in the Austin community's calendar. The events provide runners with a unique opportunity to challenge themselves, achieve personal milestones, and experience the vibrant spirit of Austin. Both events are owned and operated by Austin based High Five Events.
# # #