ROUVY takes Workouts to another level by combining them with beautiful augmented route videos of your choice
October 21, 2021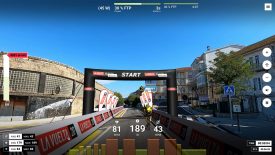 Prague, Czech Republic / ROUVY released the 'ONE ROUVY' update with a new, outstanding feature. From now on, any structured workout on ROUVY, or the ones created on TrainingPeaks, can be used with any augmented bike course of choice. The new feature enables one to do interval training in an interactive way, making individual workouts more fun, or setting them up for virtual recon rides for an upcoming race event.
ROUVY is a well known and popular indoor app that enables cyclists and triathletes to ride anywhere in the world from home, be it an exotic or iconic cycling location or the next race. Less talked about is the number of features and the other training options of the platform. As of today, ROUVY's workout catalogue (not to mistake it with the 'route catalogue') has an extensive folder with numerous structured workouts, which has always contained excellent ERG training options.  Such extensive libraries provide the much needed training content to fulfill any individual or team training plan, and for the most demanding athletes and coaches.
New features
ROUVY's release 2.0 presents:
The functionality of the initial app 'ROUVY Workouts', is now merged into 'ROUVY AR' – the workout features are now accessible via the present ROUVY AR apps: Windows, MacOS, Android and iOS devices (Apple TV is coming soon).
Augmented Workouts – any cycling workout can now be replayed over an augmented, real video of choice with an entirely new UI. The new workout interaction is much more user-friendly, incorporating ease of use and with clear instructions.
The Workout Catalog has received a structural update with revised category folders that enable quicker access.
A 5-week program for beginners, created by a ROUVY ambassador and coach, Rick Schultz from Bike Fitness Coaching
Naming update: ROUVY AR -> transcends back to -> ROUVY
Enhanced Motivation
Traditional structured training, though very efficient, used to be a laborious and boring exercise. The person taking on a home or gym interval (or even a casual spin class), needed a strong mindset and sometimes 'motivational support' to finish the workout session. 'Motivational support' came in the classic form of yelling instructors, stern coaches, watching TV or at least the presence of others suffering in the same room. Today, ROUVY provides an alternative to replace this stressful environment with a much more engaging option. While completing a structured workout an athlete is able to choose any part of the world for the virtual visit, be it a legendary cycling spot or the next race location for mental preparation.
How It Works
While performing ERG workouts, athletes are able to see the performance of their avatars over the specific course simulation, turning a mundane prescribed training routine into a real-time, cycling adventure. Detailed instructions on how to use the new features are provided here.
Endless diversity
Today ROUVY provides 500 famous and iconic cycling locations in the augmented mode allowing for racing and group riding, and around 10,000 video routes for individual exploration or race recon. Complemented with 10,000 workout options and more than 60 official race partners, ROUVY makes the top of the list of the most complete platforms to go to for an indoor session.
With an all-in-one solution and "Family" option (two more household members on 1 subscription) ROUVY provides the best value for money  on the market. Competitive advantage is gained via the unique mix  of efficient structured training, real-life video,  interactive 3D world elements and events to keep athletes motivated all year long.
The updated and extended ROUVY workout catalogue can be accessed in 'search' here, and the iconic locations all over the world explored here.
Legacy Apps
Divided into two apps after the release of 'ROUVY AR' in 2018, this app update now completes the evolution of merging and unifying ROUVY Workouts into ROUVY AR as a single 'ROUVY' app. The ROUVY Workouts app is getting set into a deprecation mode; and functioning of these apps will be eventually discontinued. A fraction of riders whose legacy trainers or sensors may not be compatible with 'ROUVY' will be provided with a discount from ROUVY partners and encouraged to acquire more modern equipment.
About ROUVY
ROUVY is a digital platform that enables athletes to cycle and run for fun with friends online and virtually all around the world. The application simulates real outdoor riding on a bike using high-quality, geo-located videos and augmented reality. With ROUVY, anyone can enjoy the endless variety of legendary and exotic locations from the comfort of one's home. Today, ROUVY is an official partner of the elite cycling races, all over the globe, such as La Vuelta, Tour de Suisse, IRONMAN and many others.
// More release images and screenshots here, full media kit here.
Media Contact: Yuriy Ryashko, press@rouvy.com, +420 778 488 077