ROUVY drops the best deal of the year on a Black Friday Week
November 21, 2022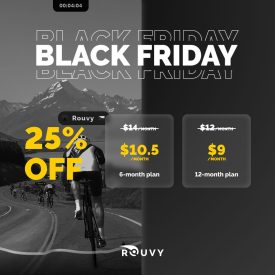 The popular indoor cycling app ROUVY announces a Black Friday week. From November 21st to 27th, there is a 25% discount on 6-month and 12-month subscription plans.
November 21st, 2022 /ENDURANCE SPORTSWIRE/ – It is time for great deals, and ROUVY's indoor cycling platform is no exception. Providing a great service and marquee events all year round non-stop, ROUVY always offers some options of small discounts here and there, which are devoted to various specific cycling and tri events. However, the new Black Friday week offers now THE BEST DEAL OF THIS YEAR ON ROUVY – with 25% OFF on all plans, except the monthly one. Redeeming the offer on a 12-month plan, the monthly price comes to only $9 a month, compared to $15 on a regular monthly plan, and provides a total of $36 savings.
To utilize the discount and spend the winter or the the whole year in a great training mood, users should apply the following code to the first buy or renewal purchase:
ROUVY25BFDM
The code is eligible for activation only and strictly from November 21st, 00:01 till November 27th, 23:59 UTC.
To activate the discount coupon, new users should create an account first, and then join the existing users on this link to immediately apply and redeem the discount coupon.
Additionally, for those who would like a chance to win or receive a cool branded race kit with a 33% discount, there is an easy Black Friday Challenge!
As of today, the ROUVY platform hosts 7K video routes and 15K workouts that can be overlaid over any route. Additionally, 70 official races and official events, running non-stop, will make the training process of any demanding athlete pure fun and an adventure. ROUVY's website and apps are also available in German, French, Spanish, Italian and Czech.
Any questions regarding redemption of the discount coupon(s) are to be sent to support@rouvy.com.
About ROUVY
ROUVY aspires to become the #1 choice for athletes in endurance sports and fitness, based on virtual tourism. With over 1 million riders from cycling and triathlon communities all over the world, the platform has become a top choice and virtual training home for both world-level pros and casual hobby riders. The family-friendly ROUVY app enables athletes to cycle around the globe indoors, ride together for fun or compete in official race locations. Cycling enthusiasts of all levels enjoy the realistic experience of riding outdoors from the comfort of their homes – anytime and ANYWHERE. rouvy.com.