Ropelato and Cushman Win 2023 Pro Dual Slalom National Titles
July 16, 2023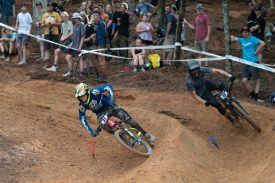 Kitchen wins the Junior Men's 15-18 Dual Slalom event and six more Amateur National Titles awarded on the first day of championship racing at Gravity Nationals.
RIDE ROCK CREEK, N.C. /ENDURANCE SPORTSWIRE/ – The 2023 USA Cycling Gravity Mountain Bike National Championships have kicked off in Zirconia, North Carolina. The national championship has attracted hundreds of top professional mountain bike racers from across the country. A total of three events will determine the winners of the coveted Stars-and-Stripes jerseys for Downhill, Dual-Slalom, and Enduro. Mitch Ropelato (Ogden, Utah; Cannondale) and Kale Cushman (Slipping Gears Cycling; Old Town, Maine) were the first champions crowned after winning the Elite Dual Slalom national titles on Friday.
Friday night's racing was jam-packed with spectators and racers going head-to-head in the Dual Slalom qualifiers and finals. It poured down rain earlier in the day, making the track challenging and slick. It seemed that the red course was catching quite a few riders and there was no room for error when racing for a national title.
Ropelato, Cushman, and Ryder Lawrence (Menifee, Calif.; Intense Cycles) set the stage with the fastest qualifying times in the Elite Men, Elite Women, and Junior Men's 17-18 categories, respectively.
Mitch Ropelato (Ogden, Utah; Cannondale) did not lose a run all day. He would make his way to the big final racing against Christopher Herndon (Mills River, N.C.; Frameworks). Herndon made his come back to racing at his home race in North Carolina after retiring from racing in 2008. He gave Ropelato a battle, but Ropelato would take the 2023 National Championship title. Reigning National Champion Collin Hudson (Grand Junction, Colo.; Pivot Cycles) was knocked out early in the round of 16, by Jack Pederson (Breckenridge, Colo.; Southern Gravity Solutions) who went on to make the small final racing against Dominic Mudry (North Royalton, Ohio; Lees-McCrae). Pederson crashed on his second run, and Mudry claimed the bronze medal.
In the Elite Women's race, the young riders were dominant and it was a battle between 16-year-old Kushman and reigning Junior Dual Slalom National Champion, 17-year-old Brooke Anderson (Portland, Ore.; YT Mob). It was all Anderson on the first run in the finals, but she would crash in her second run. Kushman rode her own race and would cross the finish line in disbelief that she won the Elite Women's Dual Slalom National Title. Abby Hogie (Heidelberg, Ger.; Beyond Racing) is an American living full-time in Germany and she made the trip over to the U.S. for a chance at the Stars-and-Stripes in the Downhill event. Hogie traveled only with her Downhill bike and made the last-minute decision to enter the slalom events. She progressed to the small final, taking the win and the bronze medal over Amelia Capuano (Mechanicsburg; Penn.; Michael David Winery pb/ Cranked Naturals).
The Junior Men's 15-18 race had 30 riders starting in a round of 32. After setting the fastest time in qualifying, all eyes were on Lawrence. He won laps all night but would make a mistake in the semi-finals and would not transfer to the gold medal round. The third fastest qualifier, Nathan Kitchen (Bakersfield, Calif.; KHS Pro MTB) would ride his fastest laps of the night transferring to the final round against Lucas Dedora (Huntington Station, N.Y.; Pro Builds Racing). Kitchen laid down a perfect run to take the National Championship title.
Non-Championship Dual Slalom and Downhill results can be found, here.
Rain delays forced the organizers to alter the schedule moving the first Enduro stage that was originally scheduled for Friday to Saturday, along with the cancellation of the Cat 1 Downhill Seeding for Masters, Junior, and Open categories.
Next Up
Spectating is FREE and encouraged! The Enduro races start early Saturday morning at 7:30am. Seeding for the Cat 1 events and Pros starts at 12:30pm where spectators will get a feel for what is to come on Sunday. The Downhill finals will start at 11:00am with the Pro Finals running from 1:30pm-3:00pm.
Visit USACycling.org for more information on the athletes, events and membership programs, and follow @USACycling across all channels for the latest on Team USA.
For more information, contact Angelina Palermo at apalermo@usacycling.org.
ABOUT USA CYCLING (usacycling.org)
USA Cycling is the national governing body for the sport of cycling and oversees the disciplines of road, track, mountain bike, cyclocross, and BMX. USA Cycling's mission is to grow participation and engagement with the sport of bicycle racing and achieve sustained international success across all cycling disciplines. USA Cycling supports cyclists of all levels and abilities, from those just beginning in the sport to international caliber athletes. The organization identifies, develops, and selects cyclists to represent the United States in international competition through the support of youth and interscholastic programs, amateur and grassroots bike racing events, athlete development programs, and operational support for cycling clubs, racing teams, and event organizers. USA Cycling has a membership of 80,000, sanctions over 2,500 events annually, and is a member of the Union Cycliste Internationale (UCI) and United States Olympic & Paralympic Committee (USOPC).