Rootstock Racing to host The Endless Mountains Five-day Adventure Race in June 2022
June 17, 2022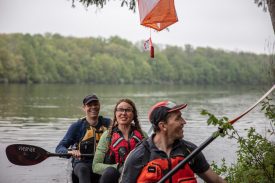 Rootstock Racing is excited to announce the Endless Mountains Adventure Race, a five-day expedition race running June 20-25, 2022.
Clarion, Pennsylvania/ENDURANCE SPORTSWIRE/ – Rootstock Racing is excited to announce the Endless Mountains Adventure Race, a five-day expedition race running June 20-25, 2022 through north central Pennsylvania. This new event builds upon Rootstock's reputation as one of the premier adventure race organizations in the northeastern US.
As the name suggests, Pennsylvania offers endless mountains to explore, filled with wildlife, sweeping vistas, cascading waterways, rich history of our nation's complex industrial past, and rugged terrain. It is a perfect setting to challenge veteran adventure racers, and it offers a great entry point for those ready to take on their first expedition race.
Rootstock co-founders Brent Freedland and Abby Perkiss have been directing adventure-based events of varying lengths for more than a decade. They're thrilled to welcome teams to their longest race to date. The Endless Mountains joins multi-day adventure races found throughout the United States and around the world, including the ITERA series in the UK, Expedition Oregon, Raid Gauloises, Untamed New England, The Patagonia Expedition Race, and Ecuador's Huairasinchi.
Over five days and 550 kilometers, teams will encounter local history, paddle scenic waterways, climb and traverse rocky ridges and mountainsides, and trek and bike through some of the state's most remote forests. To complete the full course, teams will have to travel 283km by bike, 130km on foot, and 137km on the water.
"This is the first time since 2018 that a multi-day, expedition-length adventure race returns to the Northeast," said Freedland. "We're confident that the PA Wilds region, never before explored in an adventure race, will provide an unforgettable setting. These wild and rugged mountains, remote locations, variable weather, mixed terrain, and the need for strong navigational skills will challenge the best of teams."
The event is open to mixed- and single-gender teams of 2-4 racers. Teams in the premiere mixed four-person division will be eligible to compete for a $10,000 cash purse, pending thirty teams signing up. The race is Trail Sisters Approved, with equal awards and podium spots for male and female single-gender teams, women's specific swag and apparel, and equal opportunities at the start line.
"The Endless Mountains will honor the long tradition of adventure racing in the United States and celebrate access to the outdoors for everyone who wants to take part," said Perkiss.
Partnering with Clarion University as the host site, teams will have ample access to all logistical needs before the race, pre- and post-race lodging, secure non-racing gear storage, and convenient access to Pittsburgh and other regional transportation points. Rootstock Racing takes great pride in offering participants challenging and thoughtful race experiences, and Endless Mountains will be no different.
Interested racers can learn more at the event website. Prices increase on January 1, 2022 so act now to take full advantage of the early registration cost. To learn more about the sport of adventure racing, visit the United States Adventure Racing Association.
Media Contact: Abby Perkiss and Brent Freedland, rootstockracing@gmail.com