Rock 'N' Roll Running Series Continues Celebration of 25 Year Anniversary with Running Tour of Salt Lake City, Utah
August 21, 2023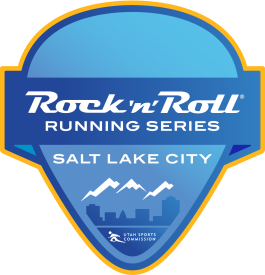 Jayden Asay (Orem, Utah) and Savannah Berry (Bakersfield, Calif.) topped the podium in the Rock 'n' Roll Running Series Salt Lake City presented by Utah Sports Commission Half Marathon
SALT LAKE CITY, Utah /ENDURANCE SPORTSWIRE/ – The Rock 'n' Roll® Running Series is a best-in-class running series Bringing Fun to the Run® through music, entertainment, and community immersion all combining in Utah to provide an unforgettable running tour of Utah's capital city. Rock 'n' Roll Salt Lake City presented by Utah Sports Commission offered runners and walkers alike distances of half marathon and 5K plus a KiDS ROCK event.
Participants kicked off the weekend on Friday, Aug. 18 with the Rock 'n' Roll Running Series Salt Lake City presented by Utah Sports Commission with 5K and KiDS ROCK events.
On Saturday, Aug. 19 it was all about the half marathon with thousands of participants taking part in the running tour of the Utah's biggest city. Jayden Asay (Orem, Utah) crossed the finish line first for the men with a time of 1:11:55 and Savannah Berry (Bakersfield, Calif.) was first to cross the line for the female with a finishing time of 1:18:37.
The Rock 'n' Roll Running Series Salt Lake City presented by Utah Sports Commission challenging half marathon route skirted through cozy neighborhoods, elegant estates, and along the base of the towering Wasatch Mountains. The course passed by Utah's State Capitol, the mouth of City Creek Canyon and Memory Grove Park, scenic city skyline of the charming Avenues neighborhood, the University of Utah Campus, trendy 9th & 9th Neighborhood and Liberty Park.
On-course entertainment included the likes of Trash Panda, Runaway Fire, High School Musical, Magnolia Blooms and many more groups put the beat in the feet of the participants to get them to their finish line. The Dave Matthews Tribute Band took the stage in Library Square Park as the Encore Entertainment to close out the weekend of running with a free concert.
Rock 'n' Roll Running Series Schedule Events:
The Rock 'n' Roll Running Series road races are open to participants of all abilities, with distances for everyone, including a 1-mile, 5K, 10K, half marathon, marathon, and KiDS ROCK options. Whether participants are running their third marathon, first 5K or supporting a walker who has overcome the odds, the Rock 'n' Roll Running Series brings the best of the active lifestyle experience to all involved in a fun and welcoming environment.
The Rock 'n' Roll Running Series is scheduled to continue when it makes its way to northern California for United Airlines Rock 'n' Roll Running Series San Jose. Nicknamed Speed City, USA after the legendary San Jose State track teams of the 1960s, San Jose is all about speed and United Airlines Rock 'n' Roll San Jose is no different. Offering a flat and fast half marathon, 10K, 5K, and KiDS ROCK event. United Airlines Rock 'n' Roll San Jose returns on Sept. 30 – Oct. 1 and offers participants courses that primed for PRs and bursting with the San Jose spirit that is loved by the world's best elite runners. Live-bands, DJs, cheer squads and fans jam the streets of downtown San Jose from start to finish, making this one of the most spirited running block parties participants can find! For more information on United Airlines Rock 'n' Roll Running Series San Jose, please visit www.runrocknroll.com/san-jose.
Rock 'n' Roll Running Series will close out its 25th anniversary in North America with stops in Clearwater, Fla. on Oct. 7-8, and San Antonio, Texas on Dec. 2-3. The Series will kick off the New Year in Arizona on Jan. 13-14, 2024.
Known for the ultimate running party in the entertainment capital of the world, Rock 'n' Roll Running Series Las Vegas will take place February 24-25, 2024, and it combines live music with entertainment in the city that never sleeps for an unforgettable experience running down the iconic Vegas Strip at night.
Participants will enjoy a one-of-a-kind running experience that will once again take over the Las Vegas Strip on Sunday night while passing iconic sights including the 'Welcome to Las Vegas' sign, The Fountains of Bellagio and Downtown Las Vegas, with an electric finish line unlike any other in the world ending mid-Strip. The race will bring the spirit and entertainment of Las Vegas out of the casinos and onto the course in 2024 with a mix of DJs, traditional band stages and experiential entertainment all along the route. Additionally, interactive experiences, photo opportunities, local artists, food trucks, cocktails, and more will create a memorable night for participants. For more information on Rock 'n' Roll Running Series Las Vegas, please visit www.runrocknroll.com/las-vegas or to see the full schedule of Rock 'n' Roll Running Series events, visit www.runrocknroll.com/all-events.
For more information on the Rock 'n' Roll Running Series, please visit RunRocknRoll.com. Rock 'n' Roll Running Series media inquiries may be directed to press@runrocknroll.com.
** Terms and Conditions: Footage and photography is provided courtesy of The IRONMAN Group for news and editorial coverage within 48 hours of the event and is not to be archived. Media may use up to a total of two minutes of video. The B-Roll packages are not provided for the intent of posting the footage in its entirety. Any commercial use or other use of the footage and or photos is strictly prohibited unless a separate written license is obtained from and signed by an authorized representative of The IRONMAN Group. Additional terms and conditions can be found here. Usage of materials constitutes acceptance of terms. **
###
About Rock 'n' Roll Running Series
Established in 1998, the Rock 'n' Roll® Running Series' simple idea of making running fun has transformed both the U.S. and global running landscape by infusing the course with live bands, cheer teams, and entertaining water stations, creating a block-party atmosphere for participants and spectators alike. Focused on running, music and community, race weekends kick off with a free Health & Fitness Expo showcasing the latest in running gear, sports apparel, health and nutritional information and much more. Events culminate with an Encore Entertainment experience featuring eclectic musical artists from a variety of genres. With a goal of helping participants find the Beat in Their Feet™, the Rock 'n' Roll Running Series has also featured some of the biggest names in music, with past performances including the likes of Macklemore & Ryan Lewis, O.A.R., Aloe Blacc, Pitbull, Flo Rida, The Band Perry, Fitz and the Tantrums, the Goo Goo Dolls, Bret Michaels, Kesha, The Revivalists, Hunter Hayes, Capital Cities, and Matt Nathanson. Further information about the Rock 'n' Roll Running Series can be found online at www.RunRocknRoll.com and follow @RunRocknRoll on all social platforms.
About The IRONMAN Group
The IRONMAN Group operates a global portfolio of events that includes the IRONMAN® Triathlon Series, the IRONMAN® 70.3® Triathlon Series, 5150™ Triathlon Series, the Rock 'n' Roll® Running Series, IRONKIDS®, World Triathlon Championship Series, premier running events including the Standard Chartered Singapore Marathon™ and City2Surf®, UTMB® World Series trail-running events including the Canyons Endurance Runs™ by UTMB®, Tarawera Ultra by UTMB® and Ultra-Trail Australia™ by UTMB®, Epic Series™ mountain bike races including the Absa Cape Epic®, road cycling events including Haute Route®, and other multisport races. The IRONMAN Group is the largest operator of mass participation sports in the world and provides more than a million participants annually the benefits of endurance sports through the company's vast offerings. Catering to the full athlete experience, the company portfolio also includes FulGaz® virtual cycling, the most realistic indoor riding experience connected fitness application aimed at preparing athletes for real-world events. Since the inception of the iconic IRONMAN® brand and its first event in 1978, athletes have proven that ANYTHING IS POSSIBLE® by crossing finish lines around the world. Beginning as a single race, The IRONMAN Group has grown to become a global sensation with hundreds of events across 55+ countries. The IRONMAN Group is owned by Advance, a private, family-owned business, and Orkila Capital, a growth equity firm focused on building great brands. For more information, visit www.ironman.com/about-ironman-group.
About Advance 
Advance is a private, family-held business that owns and invests in companies across media, entertainment, technology, communications, education and other promising growth sectors. Our mission is to build the value of our companies over the long-term by fostering growth and innovation. Advance's portfolio includes Condé Nast, Advance Local, Stage Entertainment, The IRONMAN Group, American City Business Journals, Leaders Group, Turnitin, and Pop. Together these operating companies employ more than 17,000 people in 29 countries. Advance is also among the largest shareholders in Charter Communications, Warner Bros. Discovery and Reddit. For more information visit www.advance.com.