Roark Run Amok Launches A Capsule Collection with Artist Travis Weller
November 9, 2022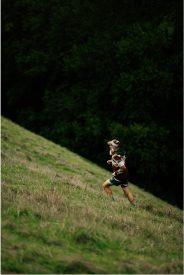 LAGUNA BEACH, CA./ENDURANCE SPORTSWIRE/ – Roark announces the launch of a capsule collection created in collaboration with longtime co-conspirator and friend, the artist and ultra distance runner, Travis Weller. As part of Roark's Run Amok collection, which provides a unique vision of trail running and functional activewear born from adventure – this collaboration celebrates the inevitable dance with the environment as a runner moves through nature. It will be available online and instore in November.
As a trail runner and artist, Travis Weller is a student of nature's perennial drama, its color and movement intersect "out far," beyond the sense of order we call routine, somewhere between freedom and chaos. The color palette draws inspiration from the dense forests and rolling ridgelines of Mt. Tamalpais. Running is a major part of Weller's creative process. It brings clarity into his life. Color is seen more vibrantly on the ridgelines. Emotion is felt more deeply in the forest.
"The artwork that inspired the print for this collection is my take on camouflage, both in the physical and emotional sense. The print can be associated with patterned camouflage, helping to become one with the environment. But equally important, it speaks to how emotion is often camouflaged externally and only felt within. Running helps me to break down the walls to access deep emotions, bring them to the surface and into my work."
– Travis Weller
Travis put this collection to the test for the first time at the Gorge Waterfalls 100k, wearing the Weller Alta Shorts ($85), Mathis Tee ($59), Camper Hat ($45) and, at times, the ultra lightweight and packable Secondwind 2.0 jacket ($129) .
"For many years I saw art and running as two separate parts of my life, subjectivity (art) and objectivity (running). Once l was able to create the space for them to function together and accept they need each other, my relationship with art and running truly blossomed. The concept for this collection is "Far Out Out Far" and this year's Gorge Waterfalls 100k race seemed like the right time to further explore that concept and wear the collaboration for the first time. A longer race like that will all but guarantee a full range of emotional and physical experiences, getting far out and out far simultaneously."
True to the Roark Trail to Bar ethos, the collections' vibrant print and colors are equally at home on the trail, in the studio, and at the waypoint to begin or end the next open-eyed adventure. The collection includes active and run shorts, the packable ultra lightweight Secondwind 2.0 jacket,
The Roark Run Amok X Travis Weller collection will be available at select retailers, and will also live here. Check out Run Amok on IG here.
Roark's 10-year journey around the world has earned its reputation as an adventure lifestyle brand that's inspired by expeditions, cultures, people and places on the road less traveled. Our collections of Adventure Ready Goods are purpose-built with styling details fit to accommodate your needs from trail to bar.
Travis Weller is a Marin-based artist working primarily in cut paper and oil. He has designed collections for major brands, including The North Face and Roark, and his work is collected internationally. Travis earned a MFA in drawing from Western Carolina University.
His work examines ambiguity and anxiety as a path towards precision and contentment. It resides in the middle, somewhere between truth and abstraction, as layered reflections of occurrences and self. Some are bright and spacious while others are ominous and restrained.
Contact: Rian Rhoe
The Sideways Life PR
rian@rianrhoe.com
971-282-5899