Road Runners Club of America Announces 2021 Kids Run the Nation Grant Recipients
October 7, 2021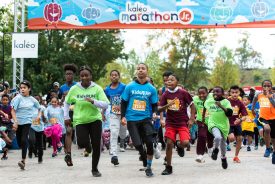 The RRCA has granted more than $310,000 to youth running programs since 2007.
ARLINGTON, Virginia – October 7, 2021 – The Road Runners Club of America (RRCA) is pleased to announce the 2021 Kids Run the Nation grant recipients. Since the grant fund's inception in 2007, the RRCA has distributed more than $310,000 to youth running programs nationwide. This year, 17 programs from 12 states serving more than 5,300 children will receive a total of $14,000 in funding. Despite continued event cancellations and restricted club activities in 2021 due to the COVID-19 pandemic, RRCA members, individual donors, and the Insurance Management Group (IMG) and K&K Insurance have once again shown their support for gender-inclusive, participation-based running education through their contributions to the Kids Run the Nation Fund.
The WVRR Lace It Up! Kids Running Program has been serving young runners in Terre Haute, Wabash Valley, Vigo County, and surrounding counties in Indiana for 20 years. It is a free 5-week summer running program for kids ages 4-13 that culminates in the July 4 "The Mile" race. Kids are grouped by age level and assigned volunteer coaches with a goal of getting kids outside, getting them moving, and making them feel confident they can run, all while having fun. To maintain operations during the pandemic in 2020, participants' parents joined a Facebook group to view recorded running exercises and workouts posted by program leaders the same days the group would have met in person. Kids and parents were encouraged to run and work out at home, then post photos and videos to social media. In 2021, the program offered a virtual option as well as in-person, to allow more families to participate.
The goal of T. Clay Wood Elementary School's Timberwolf Trekkers is to introduce students to walking and running as a lifelong form of exercise they can do anywhere at any time within their own abilities. The rain-or-shine before-school walking and running program in Nokesville, VA was introduced in 2019 to encourage better health, academic, and behavioral outcomes by promoting a free, non-competitive morning movement community fueled by upbeat music and positive peer and family interactions. Students earn incentives for every mile they complete during their sessions each week. In 2020, the program continued virtually, engaging more than 100 runners covering more than 2,000 miles, with parents submitting accrued mileage to program leaders to earn incentives.
Established in September of 2020, the Stikine Middle School Running Club in Wrangell, AK has four goals for its runners: to provide running practice and exercise, to get them outside and into the fresh air, to improve social-emotional skills and increase confidence, and to provide opportunities to socialize and bond with other young runners. Beyond pacing, stretching, and the importance of proper footwear, the program's curriculum includes education about injury prevention and running safety, which is especially important in an area with a large bear population. Place-based learning about wildlife and science is incorporated during the group's twice-weekly runs, which are often attended by runners' parents and siblings.
The geographic and demographic diversity of the Kids Run the Nation Fund's impact is represented by the youth running programs chosen to receive grants this year. The following is a complete list of this year's 17 Kids Run the Nation grant recipients:
Arbon Elementary Runners Club – Arbon Valley, ID
DeKalb Prep Run Club – Decatur, GA
GBES Run Fit – Albuquerque, NM
Huntington YMCA Youth on the Run – Huntington, IN
Kids Run RVA – Richmond, VA
Lambs Running Club – Charleston, SC
MES Club Mileage – Montegut, LA
Running for a Better Oakland – Piedmont, CA
Saluda Run Club – Saluda, SC
SES Wildcat Running Club – Stuart, VA
Stikine Middle School Running Club – Wrangell, AK
SVCCS Runners – Huntingdon, PA
Swift Kids Running – Kennesaw, GA
T. Clay Wood Elementary School – Nokesville, VA
Waverly City Schools – Waverly, OH
Wildcat Runners – Toppenish, WA
WVRR Lace It Up! Kids Running Program – Terre Haute, IN
The RRCA will also donate copies of the Program Guide for Teachers, Coaches, and Program Leaders and the Running Guide for Kids booklet to additional programs.
"The diversity of this year's Kids Run the Nation grantees reflects the diversity of the communities they serve, administered by innovative and dedicated youth running leaders in cities and towns across the U.S.," notes Erica Gminski, the RRCA's Youth Programs Manager. "Each program provides a positive, encouraging, and inclusive environment for young runners to learn and grow through the sport of running, helping them to establish healthy habits for a lifetime of success in sport and life. The goal of Kids Run the Nation is to combat childhood obesity through locally-run community-based programming, fostering a generation that puts wellness front and center."
About Kids Run the Nation: The Kids Run the Nation program is a gender inclusive, multi-week, turnkey, youth running program designed to meet the physical activity goals outline by the United States Department of Agriculture (USDA) for children in kindergarten through sixth grade. A midcourse report issued by the USDA, "Physical Activity Guidelines for Americans," outlines clear evidence that bringing physical activity into schools positively impacts youth. Since 2007, the RRCA has provided over $310,000 in small grants to deserving youth running programs around the country through the Kids Run the Nation Fund. The goal of the RRCA's Kids Run the Nation program is to help establish locally managed youth running programs in every ​school and community across the U.S.
About the RRCA: The Road Runners Club of America (RRCA) is the oldest and largest national association of running organizations and runners dedicated to growing the sport since 1958. The RRCA champions the development of community-based running clubs and events that serve runners of all ages and abilities in pursuit of health and competition. The RRCA's vision is to see an organized running club established in every community in the U.S. To learn more, visit: www.RRCA.org
# # #
Contact: Erica Gminski
Email:  youthprograms@rrca.org
Phone: 703-525-3890