#RideforUkraine – Charitable Challenge generated 25K Euro for UNICEF
March 21, 2022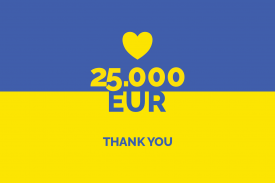 The earlier announced charitable Challenge for all by ROUVY is over. Taking a step further, ROUVY donated 1 EUR, not just for every registered member but for every ride made during the charity period, towards UNICEF for Ukraine.
Prague, Czech Republic / March 21, 2022 /ENDURANCE SPORTSWIRE/ – Risen from the active Czech and international athletic community, the team at ROUVY always takes action on whatever challenge comes its way. Having once helped the most badly-hit Italian area by the COVID-19 pandemic with #RideforItaly, ROUVY took a stand to help where there is a need again today. Raising awareness with this public Challenge of Ukraine's situation, ROUVY donated 25,000 Euro to UNICEF for the humanitarian aid for Ukrainian children. 
ROUVY, located in the Czech Republic, is a part of the Czech Pale Fire Capital Group, which on February 24th, 2022 announced a donation of 1 million dollars to support Ukraine and took measures to ensure provision of 250 places for potential Ukrainian refugees. 
Petr Samek, CEO of ROUVY, says, "We just could not stand by and simply watch a sovereign European nation undergoing a large-scale invasion across the whole country. We have unhesitatingly decided to express support to the country that is now facing similar aggression as the home country of ROUVY, the Czech Republic, did in its history, twice. As we did with 'RideforItaly', we now thank everyone who joined our effort and took action for Ukraine! We promised to donate 1 EUR for every rider who will finish the route of this challenge. There were up to around 10K finishers out of the almost 17K that registered. But we know that another 8 thousand athletes rode the route without signing up for the challenge. So we decided to top it up and round it to 25K EUR."
To get familiar with Ukrainian locations (where currently the terrible war battles are taking place), anyone owning a trainer is welcome to give it a try and ride a short 10km segment at the peaceful countryside near Kyiv. Due to ROUVY's unique augmented reality technology one is able to travel the world from the comfort of one's home just like in real life and see the countries and stunning locations on the other sides of the planet.
About ROUVY
ROUVY is a global digital platform to compete, ride with friends, complete workouts and much more. ROUVY offers thousands of stunning video routes and workout options including the ability to race and ride through the entire route catalogue. With fully simulated and realistic efforts, ROUVY is the best option to cycle and explore the world from home. www.rouvy,com
Media contact:
press@rouvy.com
Yuriy Ryashko, enquiries in English, +420 778 488 077
Patricie Sediva, enquiries in Czech, +420 603 400 140
 ###
In 1994, Ukraine voluntarily  gave up its nuclear weapons in exchange for guarantees of the country's independence and security. The memorandum was originally signed by the nuclear powers: the Russian Federation, the United Kingdom, the United States, China and France. In 2014, Russia broke the international treaties and annexed the Crimean Peninsula along with starting the war in Eastern Ukraine, in the region of Donbas. Today, Ukraine is undergoing a full, large-scale war caused by the Russian invasion with thousands of casualties and millions of refugees. As of March 20th, 2022 there were 115 Ukrainian children killed by the army of the Russian Federation, with 148 children wounded.
How anyone can support Ukraine
– Continue business collaboration with and support Ukrainian companies and employees, or if possible, buy goods of Ukrainian origin and make purchases constantly
– Stop working with Russian companies or purchasing goods of Russian origin; their taxes fuel the war
– Don't share fake news about Ukraine or the situation around it. Use only official news sources.
– Donate to the transparent charitable institutions helping the Ukrainian army and civilians via the links below (or official governmental agencies in your country)
Option for direct personal donations:
Ukrainian National Bank Account of Armed Forces and/or Transparent Charitable Fund "Come Back Alive".