Ride Santa Barbara 100 Kicks Off Registration with 72-Hour Special Pricing and Announces 2022 Charity Partner
March 22, 2022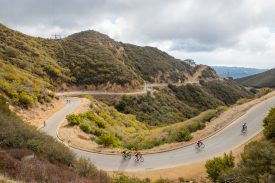 October 22 Event to Raise Awareness and Funds for Santa Barbara Bicycle Coalition and the Coalition for Sustainable Transportation (SBBIKE + COAST)
SANTA BARBARA, Calif. /ENDURANCE SPORTSWIRE/ – Ride Santa Barbara 100 (RideSB100), the premier cycling event on California's Central Coast, today opened registration and announced plans to partner with the newly merged SB BIKE + COAST to support the local cycling community and help create healthy Santa Barbara communities. Taking place October 22, 2022, RideSB100 is the only century ride to feature the renowned Gibraltar Challenge and an epic beachfront expo on Santa Barbara's "American Riviera."
Starting at 12:01 a.m. today, RideSB100 is offering 72-hour Special Early Registration pricing of $109 for the 100-Mile and 100KM Plus Gibraltar Routes, $99 for the 100KM Route, and $59 for the 34-Mile Route. These prices will be available only until 11:59 p.m. Friday, March 25. Cyclists can register online at https://ridesb100.com and secure their spots for the 2022 event.
Last year, the 10th anniversary edition of RideSB100 sold out for the first time in event history and attracted cycling luminaries such as Tinker Juarez of the Mountain Bike Hall of Fame. Participants praised the ride on Instagram with comments like Jordi Conrado's: "Santa Barbara 100 was a blast. Great route, support, and festival. Aid stations were friendly supported and stocked with pizza and burritos. My first one, but it will not be my last. Gibraltar Climb did not disappoint either. 10KM at 9% where I finish second in my category and fourth overall. By the way, that paella at the finish line was incredible!!!"
RideSB100 event director Jamie Monroe said, "Last year was special for us. Not only did we celebrate our 10th anniversary, but we also had a sold-out event with more riders than ever before, many of whom told us it the best RideSB100 to date."
"We're excited to team up with SBBIKE + COAST in 2022 to raise needed donations and awareness for the great work they're doing in Santa Barbara County. All of this is inspiring our team to raise the bar again with the best routes, the best support stations, and what we think is the best location for an expo anywhere in the country – maybe the world – right here on the beach in Santa Barbara. The city is behind us, and the local cycling community is behind us. It's going to be another great year!"
RideSB100 features four routes catering to riders of varying skill and experience levels:
100 Mile: An advanced ride featuring the timed Gibraltar Challenge, a 7-mile, 3,000-foot climb.
100 KM + Gibraltar: A shorter distance that also includes the Gibraltar Challenge.
100 KM: A challenging cycling experience featuring scenic coastal and mountain roads.
34 Mile: A fun and picturesque course for casual riders and weekend warriors.
After the 72-hour Special Early Registration expires at 11:59 p.m. on March 25, pricing for the 2022 Ride Santa Barbara 100 will increase to $149 for the 100-Mile Route, $139 for the 100KM Plus Gibraltar Route, $129 for the 100KM Route, and $69 for the 34-Mile Route.
Named "One of 9 American Centuries to Master" by Outside magazine, RideSB100 delivers one of the most scenic, challenging, and fun cycling experiences in the country, with four unique courses along California's Central Coast and in the Santa Ynez Mountains.
More information about Ride Santa Barbara 100 can be found at www.ridesb100.com and on the event's social channels: Facebook.com/ridesb100, Twitter.com/RideSB100, and Instagram.com/RideSB100.
About Ride Santa Barbara 100
Ride Santa Barbara 100 features four routes starting at the beach near Downtown Santa Barbara and traveling through the beautiful Southern California coastal mountains. This world-class cycling event is designed to be a challenging and fun experience that riders will never forget. The 11th annual RideSB100 is scheduled for October 22, 2022 and will support Santa Barbara Bicycle Coalition and the Coalition for Sustainable Transportation (SBBIKE + COAST). Register at www.RideSB100.com.
# # #
Media Contact:
Julie Kelly
SPEC PR
julie.kelly@specpr.com