Ride Santa Barbara 100 Celebrates 10th Anniversary This Weekend
October 18, 2021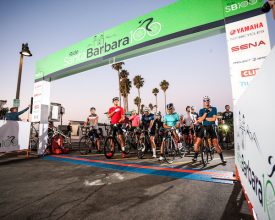 Two-Time Olympian Tinker Juarez Joins 1,500 Cyclists at Sold Out Event Supporting Foodbank of Santa Barbara County and Harding University Partnership School
SANTA BARBARA, Calif. – Oct. 18, 2021 /ENDURANCE SPORTSWIRE/ – After a pandemic-forced hiatus in 2020, Ride Santa Barbara 100 (RideSB100), the premier cycling event set on California's Central Coast, returns to Leadbetter Beach this Saturday October 23, 2021, with its largest event in 10 years. Registration is sold out at 1,500 participants and cycling luminary Tinker Juarez, a two-time Olympian, will toe the start line with numerous amateur, semi-pro, and professional riders.
Named "One of 9 American Centuries to Master" by Outside magazine, RideSB100 delivers one of the most scenic, challenging, and fun cycling experiences in the country, with four unique courses along the coast and in the Santa Ynez Mountains. A vibrant expo will be open to the public throughout the day at Leadbetter Beach.
RideSB100 has a long history of supporting the local Santa Barbara community, and this year organizers will continue that tradition. They have pledged to donate the equivalent of 100 meals to the Foodbank of Santa Barbara County for each full fee 100-mile route participant (last year's virtual ride raised approximately 60,000 meals). Additionally, in partnership with e-Bike Class Sponsor Yamaha Bicycles, organizers are also activating the first-ever All Kids Bike PE program in Santa Barbara County. Harding University Partnership School in Santa Barbara will receive a plug-and-play program complete with bikes and helmets to teach kids how to ride bikes in Kindergarten PE class.
The event's beachfront expo provides a spectacular setting for riders, friends, and family to gather in celebration of the ride, with food, beer gardens and sponsor booths open to the public on Friday afternoon from 3 p.m. to 7 p.m. and on Saturday from 11 a.m. to 6 p.m. Participants will have the opportunity to demo e-Bikes from Yamaha Bicycles, try out 2-way Bluetooth communication helmets from Sena, and even test ride a Buffalo Bike from World Bicycle Relief, which deploys the bikes in developing countries so people can access education, health care, and employment.
The event's Awards Ceremony begins at 3:30 p.m., and special polka-dotted jerseys from cycling apparel maker Squadra will be awarded to the winners of the Gibraltar Challenge, a grueling, 7-mile timed climb that gains 3,000-feet of elevation and is revered as one of the most challenging climbs in any American century ride.
This year's categories will include the overall fastest man and woman, plus the top riders in these age ranges: 29 and younger, 30-39, 40-49, 50-59, 60 and older. While the dotted jersey is the event's top award for the overall and age category winners, additional prizes will also be given to the top three men and women in each category.
Full details about the event can be found at www.ridesb100.com and up-to-the minute updates are available on the event's social channels: http://www.facebook.com/RideSB100, twitter.com/RideSB100, and www.instagram.com/RideSB100.
About Ride Santa Barbara 100
The Ride Santa Barbara 100 features four routes starting from Santa Barbara's famous Leadbetter Beach and traveling through the beautiful Southern California coastal mountains. This world-class cycling event is designed to be a challenging and fun experience that riders will never forget. The 10th anniversary event is scheduled for October 23, 2021. Register at www.RideSB100.com.
# # #
Media Contact:
Julie Kelly
SPEC PR
julie.kelly@specpr.com