Ride For Change Embarks on a Cross-Country Cycling Expedition for You Can Ride 2
June 2, 2023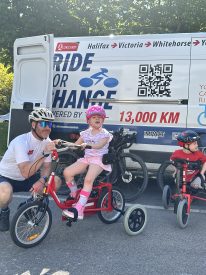 TORONTO, CANADA – June, 2023 /ENDURANCE SPORTSWIRE/ – In an extraordinary demonstration of resilience and transformation, Ride for Change is currently on an ambitious cross-country cycling expedition, spearheaded by the tenacious Matt Devine. The 13,000-kilometer odyssey across Canada supports You Can Ride 2 – a charity dedicated to dissolving the barriers that prevent children with disabilities from experiencing the joy of cycling.
Matt Devine personifies the spirit of Ride for Change, turning personal adversity into a lifelong commitment to children's charity work. Matt's transformation led him to shed 100 pounds, quit smoking, and reshape his life. His service to others came into focus in 2022 when he ran seven marathons in seven days, raising an impressive $60,000 for a children's charity. Today, Matt's mission extends to a monumental cross-country cycle, championing positive life changes and advocating for those who tackle daily challenges.
"This ride is not only to help children but to also inspire adults to move forward and achieve a happier, healthier life," shares Matt.
The Ride for Change expedition will mark a significant milestone at the Movati Club in Richmond Hill, Toronto, on June 2. The Movati Club, integral to our continuing pursuit of physical transformation, offers the health and fitness resources crucial to this journey. Matt and fellow riders are set to arrive at the club at 2 pm, followed by a celebratory reception. The team will resume the expedition on June 4, departing from the Movati Club at 9 am.
The funds generated through Ride for Change will be directed towards You Can Ride 2 (YCR2), a charity that believes every child, including those with disabilities, deserves the exhilaration, independence, and freedom that comes with riding a bike. This is particularly significant because the cost of adapted bikes can be prohibitively high for many families. Importantly, funds raised in Ontario will be allocated to local initiatives, ensuring the community directly benefits from the efforts of the Ride for Change team. Ride for Change is fervently committed to making these bikes accessible for those who need them.
About Ride for Change
Ride for Change is a national non-profit organization dedicated to creating positive social change through community cycling events. The spirit of giving, community engagement, and a love for cycling is what fuels Ride for Change. For more information, visit https://rideforchange.ca.
For media inquiries, please contact:
Nicole Devine
Event Coordinator
7in7ultra@gmail.com
About You Can Ride 2
You Can Ride 2 is an organization that breaks down barriers to cycling for children with disabilities. They offer these children the opportunity to find joy and freedom by providing access to adapted bikes. The mission is to ensure every child, regardless of their abilities, can experience the independence and excitement that comes with riding a bike. For more information, visit https://youcanride2.ca.