Rico Bogen Takes Top Step in German Sweep at the 2023 Vinfast IRONMAN 70.3 World Championship in Lahti, Finland
August 27, 2023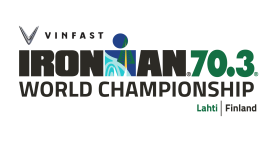 Frederic Funk and Jan Stratmann finish second and third respectfully to complete the first ever German podium sweep in the IRONMAN 70.3 World Championship
LAHTI, Finland (Aug. 27, 2023) /ENDURANCE SPORTSWIRE/ – Today in Lahti, Finland, 22-year-old German Rico Bogen took the crown at the 2023 VinFast IRONMAN 70.3 World Championship with a time of 3:32:22—a new IRONMAN 70.3 World Championship best time, topping Michael Raelert's 3:34:04 set in 2009. He swam 22:52 over the 1.9 km (1.2-mile) ROKA swim course in Lake Vesijärvi's crystal-clear waters, biked the 90km (56-mile) FULGAZ bike course in 1:56:17 on the day's calm and cool conditions, and ran a 1:11:02 on the 21.1km (13.1-mile) HOKA run course to finish among cheering crowds.
Completing the podium was fellow Germans Frederic Funk (03:33:26) and Jan Stratmann (03:34:11), making it the first ever German podium in a IRONMAN 70.3 World Championship.
On the shores of Lake Vesijärvi in Lahti, Finland today, triathlon fans worldwide witnessed the return of the IRONMAN 70.3 World Championship to European soil. Male professionals and age-groupers alike took to the mild waters of Teivaa Harbour, ready to test themselves not only against the world's best, but the region's beautiful swim, bike, and run courses.
Americans Ben Kanute and Mark Dubric were among the early leaders in the water, setting the tight swim up from the get-go. The front group of 15 to 20 athletes formed a long stream, all in contact with one another until the second half of the swim. Defending IRONMAN 70.3 World Championship Kristian Blummenfelt was farther back than most expected, with the company of American Sam Long.
A frantic swim exit featured a steady stream of men all within 2:20 of each other. Justus Nieschlag (DEU) was first out of the water in 23:43 with Jorgen Gunderson (DEN), Marc Dubric, Rico Borgen, Kanute and others out of the water just seconds behind the leader.
Blummenfelt exited the water 1:29 back, with Matt Hanson (USA) and Jackson Laundry (CAN) on his heels. It was a great swim for Lionel Sanders (CAN) and Sam Long as well, in close proximity to each other out of the water, setting them both up well to work together on the bike.
It was a true European showcase over the 90 km (56 mile) bike course through the Finnish countryside. With very low winds and a sprinkling of rain, weather wasn't a huge factor as the men began to power through the rolling course.
Reminiscent of the era in Kona when German cyclists dominated the sport (circa 1990's), five Germans drove the front of the bike, with Frenchman Mathis Margirier holding his own in the mix. Frederic Funk (DEU) moved up early in the bike to join Bogen, Nieschlag, Jan Stratman (DEU), and Maximillian Sperl (DEU), joined by Brit Joshua Lewis held steady in the front group, which continued to put time into the chase group behind them.
Funk moved through the field in the opening kilometers of the bike, with Long and Sanders putting in solid moves on the bike as well; until Sanders was delivered a penalty, he'd moved into tenth. The front pack continued to put time onto everyone behind them, however.
Funk was off the bike in 1:55:13 and out of transition in the lead. Margriere was hot on his heels, with Bogen, Nieschlag, Stratman, and Lewis all chasing.
Margriere and Funk ran out onto the two-loop, 21.1 km (13.1 mile) HOKA run course stride for stride, with Bogen, Stratman, Nieschlag and Lewis ready to put the chase on all within a minute back.
Sperl and Long lead the second group out of transition, starting the run approximately 3:30 back of the leading six men.
At just two kilometers in, 22-year-old Rico Bogen, who won IRONMAN 70.3 Kraichgau earlier this summer, made a surprisingly aggressive move to the front. He held onto his lead, running a blistering average pace in the low 3-minute range and putting more time into Margriere with every passing kilometer. Funk passed the Frenchman for second at 14 kilometers, and Stratmann passed him near the 20-kilometer mark.
Bogen soared across the finish line with a run split of 1:11:02 and a finish time of 3:32:22, a relative fresh face in the sport taking an astonishing win on the world stage. His countrymen and fellow bike powerhouses Funk and Stratmann were across the line within minutes of the leader, making for an all-German podium and all-European top-five.
"I think I'm the youngest world champion maybe, it's really unbelievable," Bogen said at the finish line. "The bike was really hard, but I had my running legs." Bogen, 22 years of age, indeed has become the youngest to claim the IRONMAN 70.3 World Championship title, surpassing Gustav Iden (NOR) who was 23 when he won the event in 2019.
Frederick Funk said after his race, "My goal was to be better than last year. I tried a few times to get away from the group, but the race dynamics were really high level on the bike. I tried to conserve as much energy as possible on the bike and play my cards well. On the run I surprised myself—I've never run that well. I think the run really suited me."
Top five professional men's results:
| | | | | | |
| --- | --- | --- | --- | --- | --- |
| | | SWIM | BIKE | RUN | FINISH |
| 1. Rico Bogen | DEU | 00:22:52 | 01:56:17 | 01:11:02 | 03:32:22 |
| 2. Frederic Funk | DEU | 00:23:10 | 01:55:14 | 01:12:21 | 03:33:26 |
| 3. Jan Stratmann | DEU | 00:23:02 | 01:55:56 | 01:12:40 | 03:34:11 |
| 4. Mathis Margirier | FRA | 00:23:01 | 01:55:43 | 01:13:59 | 03:35:05 |
| 5. Joshua Lewis | GBR | 00:23:03 | 01:56:14 | 01:15:12 | 03:36:45 |
For more information about the 2023 VinFast IRONMAN 70.3 World Championship event, please visit www.ironman.com/im703-world-championship-2023. To learn more about the IRONMAN and IRONMAN 70.3 brands and series of events, please visit www.ironman.com. Media inquiries may be directed to press@ironman.com.
###
About the IRONMAN 70.3 World Championship
In 2006 the inaugural IRONMAN® 70.3® World Championship triathlon was held in Clearwater, Florida, becoming another test for the world's elite triathletes. Since that auspicious beginning, the IRONMAN 70.3 World Championship triathlon has grown in stature and popularity moving first to Henderson, Nevada in 2011, where athletes encountered a more challenging terrain and then to Mont-Tremblant, Quebec—its first stop on the new "global rotation" for the IRONMAN 70.3 World Championship race. The event reached European soil for the first time ever in 2015, with Zell am See, Austria, hosting an epic and memorable event. In 2016, the race moved from the mountains to the beaches of the Sunshine Coast in Queensland, Australia. In 2017, the race returned to the United States, taking place in Chattanooga, Tennessee where it became a two-day event for the first time. In 2018, the event reached the African continent for the first time and was hosted in Nelson Mandela Bay in South Africa. Continuing the rotation, 2019 saw the French Riviera and Nice, France play host to the ever-growing IRONMAN 70.3 World Championship event. After a year in which the event was not able to take place due to a global pandemic, the race returned in 2021 with over 3,500 athletes competing in St. George, Utah. The event again took place in St. George, Utah, returning to a two-day format on October 28-29, 2022, and now shifts to Lahti, Finland on August 26-27, 2023 and Taupō, New Zealand on December 14-15, 2024. Historically, more than 200,000 athletes have participated annually in a series of qualifying races, consisting of over 100 global events. Hosting more than 5,000 athletes from around the world, participants in the IRONMAN 70.3 World Championship triathlon have ranged in age from 18 to 85-plus. For more information, visit www.ironman.com/im703-world-championship.
About The IRONMAN Group
The IRONMAN Group operates a global portfolio of events that includes the IRONMAN® Triathlon Series, the IRONMAN® 70.3® Triathlon Series, 5150™ Triathlon Series, the Rock 'n' Roll® Running Series, IRONKIDS®, World Triathlon Championship Series, premier running events including the Standard Chartered Singapore Marathon™ and City2Surf®, UTMB® World Series trail-running events including the Canyons Endurance Runs™ by UTMB®, Tarawera Ultra by UTMB® and Ultra-Trail Australia™ by UTMB®, Epic Series™ mountain bike races including the Absa Cape Epic®, road cycling events including Haute Route®, and other multisport races. The IRONMAN Group is the largest operator of mass participation sports in the world and provides more than a million participants annually the benefits of endurance sports through the company's vast offerings. Catering to the full athlete experience, the company portfolio also includes FulGaz® virtual cycling, the most realistic indoor riding experience connected fitness application aimed at preparing athletes for real-world events. Since the inception of the iconic IRONMAN® brand and its first event in 1978, athletes have proven that ANYTHING IS POSSIBLE® by crossing finish lines around the world. Beginning as a single race, The IRONMAN Group has grown to become a global sensation with hundreds of events across 55+ countries. The IRONMAN Group is owned by Advance, a private, family-owned business, and Orkila Capital, a growth equity firm focused on building great brands. For more information, visit www.ironman.com/about-ironman-group.
About Advance 
Advance is a private, family-held business that owns and invests in companies across media, entertainment, technology, communications, education and other promising growth sectors. Our mission is to build the value of our companies over the long-term by fostering growth and innovation. Advance's portfolio includes Condé Nast, Advance Local, Stage Entertainment, The IRONMAN Group, American City Business Journals, Leaders Group, Turnitin, and Pop. Together these operating companies employ more than 17,000 people in 29 countries. Advance is also among the largest shareholders in Charter Communications, Warner Bros. Discovery and Reddit. For more information visit www.advance.com.