Reyes and Otero win GFNY República Dominicana
March 22, 2023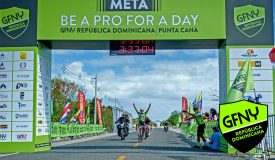 The Caribbean island offered ideal racing conditions and white sand beach vibes at the third edition
New York City, March 22, 2023 /ENDURANCE SPORTSWIRE/ – Punta Cana hosted the third edition of GFNY República Dominicana this past Sunday. The long challenging racecourse was 149.7 km with an elevation gain of 962 m
Under perfect weather conditions, the race started off fast with over 500 racers at BlueMall Punta Cana. The peloton split at km 25 with a leading group of 150 riders forming. It was at km 55 that a group of ten riders including 2022 champion Elvis Reyes (Puerto Rico) and 2019 champion Edwin Morel (USA), made the break from the peloton.
After a very fast descent, Adames (Dominican Republic) and Reyes managed to break away from the lead group and quickly extended the lead to over 3 min. With 25km left to the finish, Reyes put in an attack that Adames couldn´t match. He took the solo win in 3:37:06 minutes ahead of de Adames. Sanchez (Dominican Republic) rounded out the podium
In the female race, GFNY Puerto Rico champ Eriales Otero (Puerto Rico) took the win in a very tight sprint in 3:50:38 against defending champion Gabriella Tejada (Dominican Republic). Stephany Contreras (Dominican Republic) finished in third place.
Next up on the GFNY calendar is the third edition of GFNY Cannes which will take place this Sunday, March 26, 2023.
About GFNY Global Endurance Sports Series
GFNY Global Endurance Sports Series is a sports event company with three decades of experience in racing, planning and organizing events. The global endurance sports brand hosts multiple events throughout the year around the world on five continents.
Working with partners around the world to deliver a first-class experience, GFNY Global Endurance Sports Series puts its athletes first.
Cycling
30-plus events held around the world. View the latest calendar here
Riders get to BE A PRO FOR A DAY ® by competing against others, themselves and the clock in a personal endurance challenge.
Top 10% (20% at regional championships) of finishers in each age group qualify for the Elite Qualifier Corral at every GFNY World event.
GFNY World Championship NYC
The 11th annual GFNY World Championship New York will be held on May 21, 2023. The race features the world's most international peloton with riders from over 90 countries. Athletes take on a challenging route to compete against each other, the clock and themselves in a personal endurance challenge.
The official GFNY website is: www.gfny.com.
Further Material for Media Use
Official GFNY Republica Dominicana video: here
GFNY Press Images: here
GFNY Results: here
GFNY World calendar graphic: here
Previous GFNY press releases: here
Media Contact
Gran Fondo New York Inc.
Uli Fluhme, uli@gfny.com
Caroline Lindsay, caroline@gfny.com