Reid, Zola Win Santa Barbara Half presented by HOKA
November 10, 2023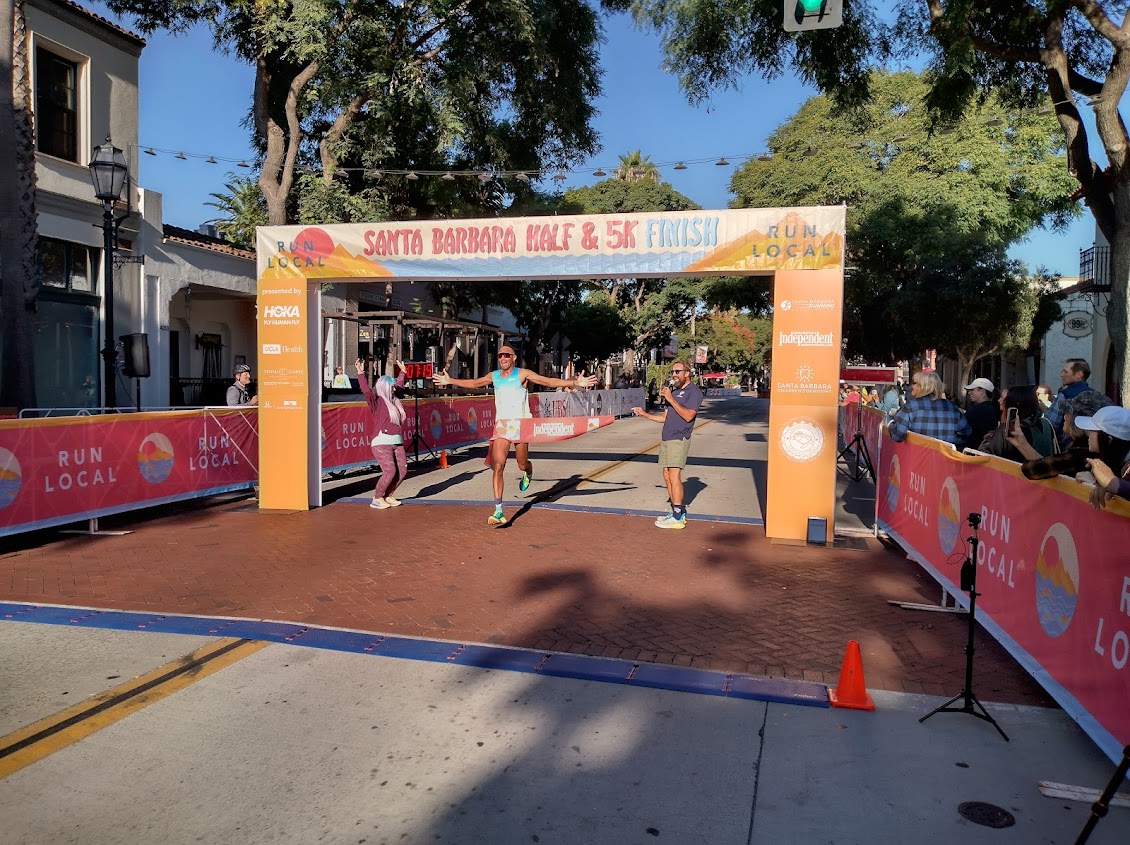 Smith, Bland SB Independent 5K champions; third edition draws record field of 5,400; event beneficiary, Santa Barbara Running Association's youth programs
SANTA BARBARA, Calif. /ENDURANCE SPORTSWIRE/ – On a picture postcard Sunday morning, November 5, Phillip Reid of San Luis Obispo and Danielle Zola of Goleta won the third Santa Barbara Half presented by HOKA, clocking 1 hour, 7 minutes, 20 seconds and 1:19:31, respectively. Reid, 37, a HOKA Aggie member, who three-peated as race champion and Zola, 30, a Dos Pueblos High School graduate, averaged 5:08 and 6:03 per mile on the USATF certified course that covered the iconic Santa Barbara waterfront and lower State Street corridor.
Santa Barbara Mayor Randy Rowse was the official starter of the Half Marathon.
The Santa Barbara Independent 5K was won by locals Cory Smith and Mackenzie Bland in 16:06 and 19:53, respectively.
The HOKA Kids Fun Run presented by Santa Barbara Children's Dentistry and the Finish Line Festival, featuring sponsors like UCLA Health: Official Health System, in the Funk Zone capped the beautiful fall day.
The annual community event had clear blue sky, race morning temperatures in the 50s & 60s, and overall, the event drew a record field of more than 5,400, including 3,600 in the Half Marathon, 1,550 in the 5K and 250 in the kids race. Complete race results at: santabarbarahalf.com/results/
"For our third edition, we had a spectacular weekend of sun, fun and run on the American Riviera with a record number of participants, ideal weather and more," said Race Director David Monico. "A big thank you to all the runners, volunteers, artists, musicians, sponsors, city agencies and our community in celebrating health & fitness as well as supporting the Santa Barbara Running Association's youth programs and showcasing the best of Santa Barbara."
The inaugural Palm Park Festival kicked off race weekend on Friday, November 3 and Saturday, November 4. Hosted at the Chase Palm Park Great Meadow, registered participants picked up their race day packets, and the community also enjoyed the weekend long free festivities, including live music and a kids zone.
FAST FACTS
Third edition
Santa Barbara's largest running event
Runners from 44 states & 12 countries
More than $40,000 raised for SBRA and local organizations
Youngest finisher, 10 months (Kids race)
Oldest finisher, 84-years-old (5K)
Volunteer crew of more than 300 strong
60-plus porta potties
40 blind runners and 35 guides from United in Stride & Blind Fitness
20-plus blind runners and their guides from local group Eyeshine
The Half Marathon is a Santa Barbara Running Association Grand Prix event.
The 5K is a SBRA Junior Grand Prix event.
For more event information, go to santabarbarahalf.com or follow the event on Instagram @santabarbarahalf.
About Run Local
Founded in 2012, Run Local's mission is to inspire movement in your community™. It has produced events in the San Francisco Bay Area and throughout California, including the Oakland Running Festival (March), the San Jose 408K & Half Marathon (late Spring) and the Santa Barbara Half presented by HOKA & SB Independent 5K (November). Each of its events celebrate the local running community, artists and the unique diversity of each region. For more information, visit runlocalevents.com and also join us on social @runlocalevents.
# # #