Registration Opens for the Highly Anticipated 2024 DICK'S Sporting Goods Pittsburgh Marathon – A Runner's Ultimate Playground
August 15, 2023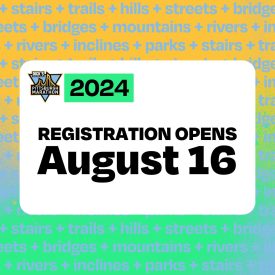 More than 40,000 are expected for the 2024 weekend of events, scheduled for May 3-5
Pittsburgh, PA – (Aug. 15, 2023)/ENDURANCE SPORTSWIRE/ – Lace up your running shoes and set your alarms! The excitement is building as registration for the 2024 DICK'S Sporting Goods Pittsburgh Marathon Weekend of Events officially opens tomorrow, Aug. 16 at 10 a.m. EST, offering runners a chance to secure their spot at the lowest price on opening day.
Participants are in for a treat as they can choose from a variety of race options tailored to their preferences and abilities. There's something for everyone including:
DICK'S Sporting Goods Pittsburgh Marathon (26.2 miles)
UPMC Health Plan Pittsburgh Half Marathon (13.1 miles)
Official Walking Division of the Pittsburgh Half Marathon (13.1 miles)
BACK Half Marathon benefiting the "Run for a Reason" Charity Program presented by Microsoft
FedEx Pittsburgh Marathon Relay (teams of 2-5 conquer 26.2 miles together)
UPMC Health Plan | UPMC Sports Medicine 5K (3.1 miles)
Chick-fil-A Pittsburgh Kids Marathon (1 mile)
Sheetz Pittsburgh Toddler Trot
Pittsburgh Pet Walk Fueled by Pro Plan
"The buzz from our remarkable 2023 race weekend has continued to grow, building an anticipation over the past three months that's palpable within the running community," said P3R CEO Troy Schooley. "At P3R, we're fueled by the enthusiasm and commitment of runners who seek to challenge themselves in Pittsburgh. We aim to showcase the spirit of our city and provide an unparalleled experience for runners and walkers of all ages and abilities."
This year's campaign highlights Pittsburgh as the ultimate playground for runners. The city's dynamic landscape offers a unique blend of streets, trails, hills, mountains, bridges, and waterways, creating a captivating canvas for runners to explore and challenge themselves in exhilarating ways.
"Every year we get more excited to be the title partner of the DICK'S Sporting Goods Pittsburgh Marathon," said Eric Marshall, Sr. Manager Partnership Marketing at DICK'S Sporting Goods. "Marathon weekend highlights the strength and determination of each participant and serves as a celebration of community, resilience, and personal achievements."
Since its inception in 2009, the Run for a Reason Charity Program presented by Microsoft has been instrumental in raising more than $16 million for various causes. With the 2024 Weekend of Events, the goal is set higher than ever before: to raise another $1.5 million for those in need. The impact of this initiative has been remarkable and continues to unite the running community in a spirit of philanthropy.
The Half Marathon Walking Division, part of the UPMC Health Plan Pittsburgh Half Marathon, has witnessed a remarkable surge in popularity, doubling in participation from 2022 to 2023. Building on this success, event organizer P3R aims to double the participation again in 2024, aiming for a community of more than 2,000 enthusiastic walkers.
P3R recognizes the importance of inclusivity. For those unable to attend in person, the virtual participation option allows runners and walkers to be part of the action and contribute to the spirit of the event from wherever they are.
The 2024 DICK'S Sporting Goods Pittsburgh Marathon promises an unforgettable experience, where every step taken brings participants closer to their personal goals and the collective spirit of the running community. Registration opens on Aug. 16, so don't miss the opportunity to secure your spot and be part of this incredible event. For more information and to register, visit www.thepittsburghmarathon.com.
# # #
About the DICK'S Sporting Goods Pittsburgh Marathon Weekend of Events
The Pittsburgh Marathon was held annually from 1985-2003. After a five-year hiatus, the DICK'S Sporting Goods Pittsburgh Marathon was relaunched in 2009 and debuted with a sold-out field of 10,000 participants. It has grown each year since, evolving from a single race day into a weekend of events for the whole family that annually attracts nearly 40,000 runners. Read more at: ThePittsburghMarathon.com
FACEBOOK: DSGPM TWITTER: @PghMarathon INSTAGRAM: pghmarathon
About P3R
P3R is the engine behind Pittsburgh's greatest races. We strive to inspire any and all to MOVE with us. Best known for organizing the acclaimed annual DICK'S Sporting Goods Pittsburgh Marathon, P3R runs a variety of other high-quality races, events, and health and fitness programs throughout the Pittsburgh region. While many of our races attract some of the nation's highest-profile professional athletes, we offer activities for all ages and ability levels. Anyone and everyone is invited to #RUNwithP3R! Read more at: P3R.org
FACEBOOK: RUNwithP3R INSTAGRAM: RUNwithP3R TWITTER: @RUNwithP3R
About DICK'S Sporting Goods

DICK'S Sporting Goods (NYSE: DKS) creates confidence and excitement by inspiring, supporting and personally equipping all athletes to achieve their dreams. Founded in 1948 and headquartered in Pittsburgh, the leading omnichannel retailer serves athletes and outdoor enthusiasts in more than 850 DICK'S Sporting Goods, Golf Galaxy, Public Lands, Moosejaw, Going Going Gone! and Warehouse Sale stores, online, and through the DICK'S mobile app. DICK'S also owns and operates DICK'S House of Sport and Golf Galaxy Performance Center, as well as GameChanger, a youth sports mobile platform for live streaming, scheduling, communications and scorekeeping.
Driven by its belief that sports have the power to change lives, DICK'S has been a longtime champion for youth sports and, together with its Foundation, has donated millions of dollars to support under-resourced teams and athletes through the Sports Matter program and other community-based initiatives. Additional information about DICK'S business, corporate giving, sustainability efforts and employment opportunities can be found on dicks.com, investors.dicks.com, sportsmatter.org, dickssportinggoods.jobs and on Facebook, Twitter and Instagram.