Registration Open for the 2023 YMCA Turkey Trot Presented by UPMC Health Plan
August 30, 2023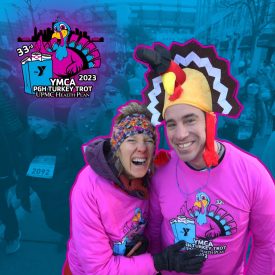 More than 7,000 participants are expected for the annual holiday tradition, scheduled for Thursday, Nov. 23
PITTSBURGH (August 30, 2023) /ENDURANCE SPORTSWIRE/ – Registration is open for the 2023 YMCA Turkey Trot presented by UPMC Health Plan, a beloved Pittsburgh tradition that inspires families to move together on Thanksgiving day. This year's event will offer a 5-mile, 5K and 1-mile fun run, while raising funds to help fight food insecurity in our region.
The event will once again benefit the YMCA food pantry programs and the Greater Pittsburgh Community Food Bank. Since March 2020, the YMCA of Greater Pittsburgh has distributed approximately 80 tons of food in local neighborhoods as part of its work with the food bank and other local partners to fight food insecurity in our region.
"The Turkey Trot has helped make a difference in the Pittsburgh community since 1991," said Amy Kienle, president and CEO of the YMCA of Greater Pittsburgh. "For so many, the event is a chance to come together, give thanks for our blessings and give back to support our friends and neighbors in need."
All runners will receive a race day shirt and have the opportunity to purchase a medal with registration. Participants also have the opportunity to complete the Double Gobble, presented by Pietragallo Gordon Alfano Bosick & Raspanti, LLP, and will receive an additional gift to celebrate completing both the 5-mile and 5K. A virtual option is also offered for those who are unable to attend in-person.
More than 6,400 people, ranging in age from 11 months to 86 years, participated in the event last year. Event organizers hope to get even more families moving at the event this year and will offer half-off registrations for participants ages 5 to 18. Participants younger than four can register for free.
"We are excited to once again partner with the YMCA of Greater Pittsburgh to produce this important holiday tradition for our city," said Troy Schooley, P3R CEO. "The whole family is invited to start their Thanksgiving Day by moving while also making a difference in their community."
For more information and to register, visit pittsburghymca.org/turkeytrot
Story contact: Kelsey Emch, P3R PR Specialist, 417-425-9400 or kelsey.emch@p3R.org
# # #
About P3R
P3R is the engine behind Pittsburgh's greatest races. We strive to inspire any and all to move with us. Best known for organizing the acclaimed annual DICK'S Sporting Goods Pittsburgh Marathon, P3R runs a variety of other high-quality races, events, and health and fitness programs throughout the Pittsburgh region. While many of our races attract some of the nation's highest-profile professional athletes, we offer activities for all ages and ability levels. Anyone and everyone is invited to #RUNwithP3R! Read more at: P3R.org
FACEBOOK: RUNwithP3R INSTAGRAM: RUNwithP3R TWITTER: @RUNwithP3R
About the Y
The Y is the nation's leading nonprofit committed to strengthening communities through youth development, healthy living and social responsibility. Our mission is to put Christian principles into practice through programs that build healthy spirit, mind and body for all. The YMCA of Greater Pittsburgh is a 501c(3) charitable organization committed to closing the achievement gap, eliminating health disparities and providing aid to financially struggling families throughout the greater Pittsburgh region. Our Y serves more than 60,000 individuals each year and provides nearly $750,000 dollars in membership and program subsidies to individuals and families. Every day, the Y works side by side with people of all faiths and beliefs to ensure that everyone regardless of age, income or background, has the opportunity to learn, grow and thrive.
FACEBOOK: YMCAPGH INSTAGRAM: YMCAPGH
About UPMC Health Plan
Dedicated to improving the health and well-being of its members and the greater community, UPMC Health Plan is among the fastest growing health plans in the nation. Under ownership of University of Pittsburgh Medical Center's (UPMC) integrated health care delivery system, UPMC Health Plan remains committed to providing its members better health, more financial security, and well-deserved peace of mind. Serving more than 3.9 million members, UPMC Health Plan belongs to a local provider network that includes 140 hospitals and more than 29,000 physicians across four states.
FACEBOOK: UPMC Health Plan INSTAGRAM:@UPMCHealthPlan TWITTER: @UPMCHealthPlan