Reduce your need for Volunteers with WaterMonster!
January 11, 2023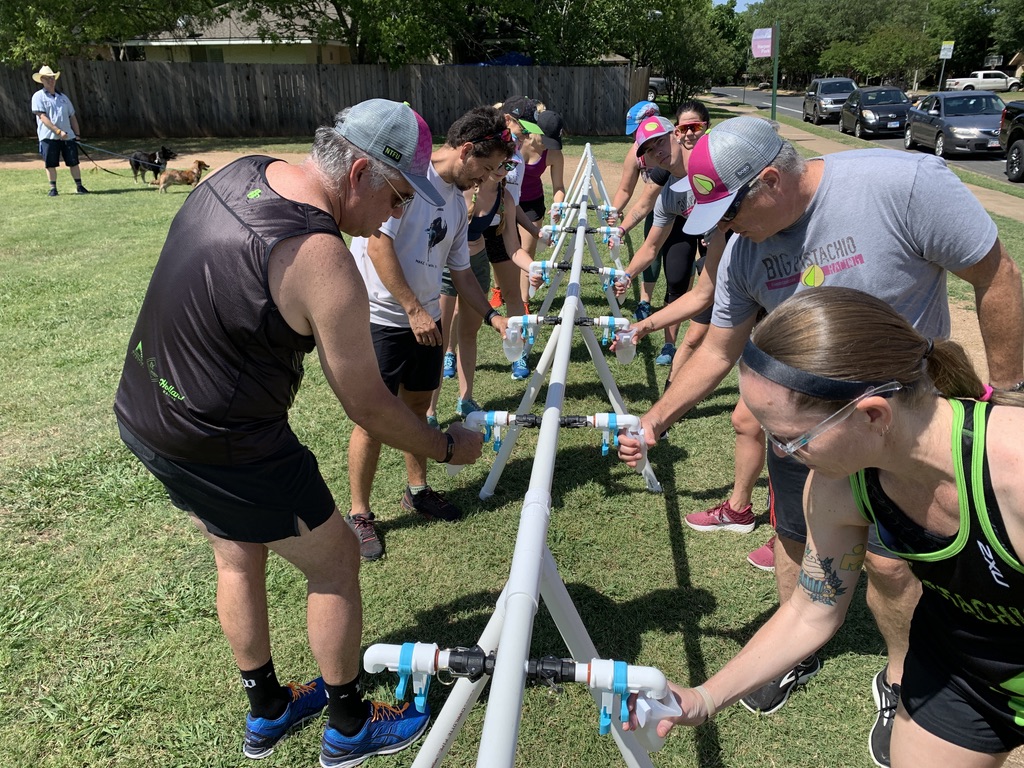 Top 10 reasons you need WaterMonster at your event!
Kerrville, Texas (January 2023) /ENDURANCE SPORTSWIRE/ – Now that we are seeing a flush of events coming back and (crossing our fingers) staying around, Race and Event Directors are working harder than ever to recruit and sustain Volunteer for its events. At Event Hydration Solutions, we know events. We have been working with Race and Event Directors for the better part of 12 years. Creating … event hydration solutions… just like our name says.
Event Hydration Solutions, also known as WaterMonster and has reinvented how getting water or having water stations at big events is done. With our 125-gallon portable water tanks each with six spigots that can be upgraded to fast and touch free UltraSpouts, supplying water is a breeze. If you add our Manifold System to a WaterMonster Tank you can rapidly increase the number of people refilling cups or re-useable containers at one time.
The UltraSpout fills 6oz in just 2 seconds. Thus, creating an easier, faster and safer way to get water to your participants. "It works just like a soda fountain at your favorite fast-food restaurant. Just push your reusable water bottle under the spout and it pours 6 ounces per 2 seconds!" Says Erin Truslow; a former race director and endurance athlete coach.
Using the WaterMonster Tank, Manifold System and UltraSpouts greatly reduces the number of volunteers needed per water station. Think two or three people just manning the station to make sure everything continues to run smoothly. And not 10 to 30 volunteers lugging giant coolers or jugs of water, handing out endless single use paper cups of water, getting wet, and spending hours cleaning up after the event.
Make your water stops self-service and Volunteer free with WaterMonster.
Here are the top 10 reasons you need WaterMonster at your event!
WaterMonster Tanks make water stations easier and self-serve with just a few accessories.
This limits the amount of Volunteers you need for each station all the way down to just ONE or TWO Volunteer to make sure everything is running smoothly
Volunteers no longer need to fill paper cups, lift heavy jugs, or pick up miles of trash with our UltraSpouts, Quick Connects and the participants re-useable cups.
Using UltraSpouts an Quick Connects makes filling -re-useable water cups saver, easier and faster than regular cooler spigots.
Using UltraSpouts and Quick Connects makes post event clean up quick and easy!
Add on a FootPedal to make your system 100% hands free!
Install Water Flags so your participants can see the water station ahead clearly.
A Float Valve can keep your WaterMonster Tank full at all times.
Large event? Add a Manifold System to maximize the number of participants that can refill at one time
Increase your branding, messaging, and Sponsorship dollars with Banner Wraps.
###
Event Hydration Solutions is based in Texas and manufactures its products in the United States since 2009. The WaterMonster Tank and add-on accessories have evolved into a hydration solution far beyond just running and bike races. The WaterMonster has helped camps, colleges, K-12, City Parks, festivals, pro sports, military, emergency services, and many others, to hydrate participants in a more sustainable manner. Follow us on Facebook and Instagram.
MEDIA CONTACT
Kevin Huff