Recovery Footwear Leader OOFOS, 98.5 The Sports Hub & Boston Bruins Goalie Jeremy Swayman Present $24,730 "Kick Saves for Cancer" Check to Dana-Farber Cancer Institute
July 14, 2023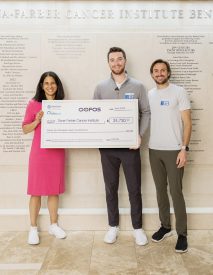 July 14, 2023 /ENDURANCE SPORTSWIRE/ – The "Kick Saves for Cancer" campaign check presentation to Dana-Farber Cancer Institute from Bruin's Goalie and OOFOS OOcrew member Jeremy Swayman recently took place at The Dana1Farber Cancer Institute in Brookline, MA.
Throughout the Bruins season and the playoffs, OOFOS, the global leader in recovery footwear, and Jeremy Swayman teamed up for Kick Saves for Cancer. For every save made by Swayman or any Bruins goalie, OOFOS donated $10 to the Dana-Farber Cancer Institute. Swayman and OOFOS presented a check for an incredible $24,730 to be used for patient care and cancer research.
OOFOS has a long-standing history of donating funds to breast cancer research, and to-date has donated nearly $3.5 million to the cause through its Project Pink initiative. The brand's commitment to giving back started when one of the OOFOS' original employees, Duncan Finigan, was diagnosed with stage IV breast cancer in 2014. Project Pink began as a year-round way to honor Duncan during her four year battle with breast cancer and keep her memory alive after her passing in 2019.
About OOFOS
OOFOS is the global leader in recovery footwear, founded by a team of industry veterans looking to help runners and fitness enthusiasts recover better from their workouts. Made with revolutionary OOfoam™ technology, OOFOS are designed to absorb 37% more impact than traditional footwear. They reduce stress on joints to keep anyone, of any activity level, feeling their best. From professional athletes to casual walkers, OOFOS footwear will make your hard-working feet and body feel better – all you have to do is feel the OO. For more information, go to www.oofos.com.