Record Breaking Aramco Houston Half Marathon Elite Announcement
January 3, 2023
A double-American record holder, a returning legend, and debut of an all-time great headline this World Athletics Gold Label Race
HOUSTON – JANUARY 3, 2023 /ENDURANCE SPORTSWIRE/ – The Houston Marathon Committee announced today the elite athletes who will chase the $10,000 first-place prize in this historically fast race. Elite fields for the Chevron Houston Marathon, which is held simultaneously on Sunday, January 15, will be announced tomorrow.
American records in the half marathon and marathon were set in Houston last year, but by the end of 2022, Emily Sisson had broken them both. Houston will be Sisson's first race since running 2:18:29 at the Bank of America Chicago Marathon in October, shattering Keira D'Amato's record by 43 seconds. Earlier in the year, her 1:07:11 performance in Indianapolis shaved four seconds off Sara Hall's half marathon record.
"I have really enjoyed racing here in the past and am excited to start my 2023 season in Houston," said Sisson who finished fifth in the 2019 Aramco Houston Half Marathon. "I felt good coming out of Chicago and am really looking forward to another opportunity to race."
Sisson will have to contend with one of the greatest distance runners of all time as Tirunesh Dibaba of Ethiopia makes a return to competition after a more than four-year hiatus. The three-time Olympic gold medalist and five-time world champion has not raced since 2018 but says after giving birth to a second child in 2019 and then battling COVID-19, she is ready to add another chapter to her storied career.
"Houston is a famous race and my training has been going well," said Dibaba, the 2017 Chicago Marathon champion. "It seemed like the best way to test myself and see what could be next."
Other top contenders in the women's half marathon elite field include 2021 Berlin Marathon runner-up Hiwot Gebrekidan of Ethiopia and 2022 World Championship Marathon fourth-place finisher Nazret Weldu of Eritrea. Dom Scott will attempt to break the South African half marathon record of 1:06:44, after a 3rd place finish in Houston last year. The top Americans include 28-time U.S. Champion Molly Huddle who set the then-American record here in 2018, as well as World Champion and Olympic Bronze Medalist Jenny Simpson who will make her half marathon debut.
"All of the racers I am learning from speak so highly of their experience with the Aramco Houston Half Marathon," said Simpson. "It's the perfect place for me to make my half marathon debut because the timing, course and organization are so well tested."
In the men's race, Edward Cheserek of Kenya, known to fans as "King Ches," will look to trade in his crown for a king-sized belt buckle. Cheserek is coming off a 1:00:13 half marathon personal best in Valencia last month. "After Valencia this fall, I've trained harder and think sub 60 is possible," said Cheserek, a 17-time NCAA Champion at the University of Oregon. "Houston is known for being a fast course and I want to have a chance at a personal best."
Cheserek will face off against 2019 champion Shura Kitata of Ethiopia who lines up for his fourth Aramco Houston Half Marathon. With career marathon victories in London, Frankfurt and Rome, Kitata says he "feels home and comfortable in Houston."
Other contenders to watch are Ethiopia's Leul Gebresilase Aleme, runner up at last year's London Marathon, and 2020 Olympian Mohamed El Aaraby of Morocco. The top American in the field is Conner Mantz of Utah. Mantz, the 2020 and 2021 NCAA Cross Country champion at BYU, made his much-anticipated marathon debut in Chicago last October running 2:08:16, the fastest debut ever by an American-born runner.
Houston-native Frank Lara will return for a second consecutive year. Lara, a former Gatorade Texas High School Runner of the Year, was the top American finisher in the marathon last year. This year he competes in the half marathon.
The HMC is the only organizer to host two World Athletic Gold Label events simultaneously, which are Sunday's Chevron Houston Marathon and Aramco Houston Half Marathon. These two races will have over 27,000 registrants, and over 33,000 registrants when including the We Are Houston 5k presented by Aramco and Chevron, held on Saturday, January 14.
"Whether you are an elite athlete or a new runner, our committee is dedicated to hosting your individual pursuits with the utmost care and respect for the extraordinary efforts made to toe the start line with us," said Wade Morehead, Executive Director of the Houston Marathon Committee.
The Aramco Houston Half Marathon and Chevron Houston Marathon will be broadcast on ABC-13 from 7 a.m.-10 a.m., on Sunday, January 15 with a race day recap at 10:35 p.m. Joining ABC-13's Greg Bailey and Gina Gaston as expert commentator will be Des Linden, the 2018 Boston Marathon winner and 50K world-record holder. Linden made the first of her two U.S. Olympic Marathon teams in Houston in 2012. The trio will be joined by long-time analyst and Rice University cross country coach Jon Warren.
Women's Elite Field 
Men's Elite Field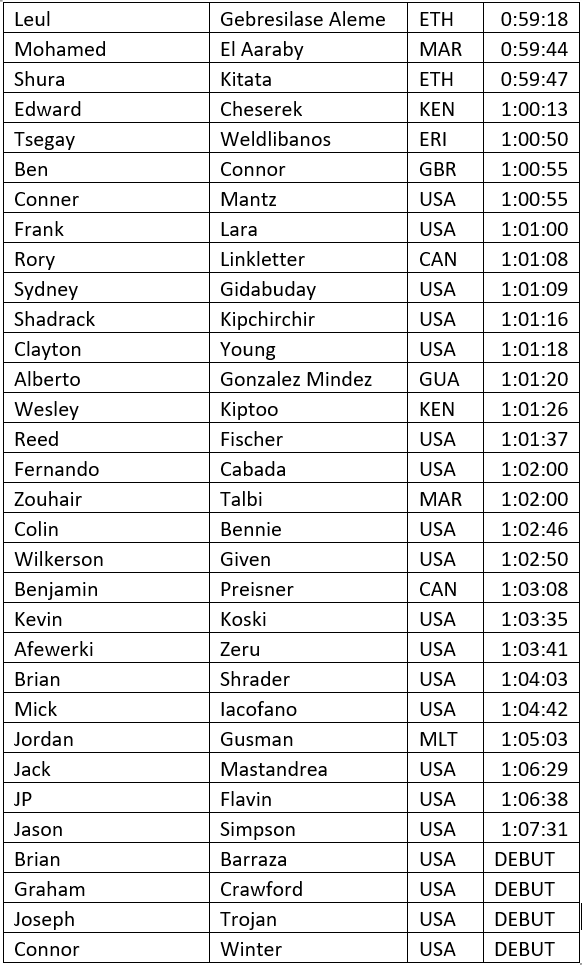 Media/Interview/Photo Requests 
Please contact Cora Lindsay at 832-526-2100, or clindsay@houstonmarathon.com by Jan. 10, for specific interview and photography requests.
About Houston Marathon Committee, Inc. Houston Marathon Committee, Inc. (HMC), founded in 1972, is a founding member of Running USA. (HMC) organizes the nation's premier winter marathon, half marathon and 5K hosting over 300,000 participants, volunteers, and spectators on race day. Recognized by World Athletics, the Gold Label Chevron Houston Marathon has been the race site for three U.S. Olympic Trials Marathons. The Gold Label Aramco Houston Half Marathon has held 16 U.S. Half Marathon Championships. The HMC has recieved Gold Certification from the Council of Responsible Sport since 2011,and the event garnered the 2015 AIMS Green Award for industry leading sustainability initiatives. Race weekend generates over $50 million in economic impact for the region annually. The committee has raised $35 million through the Run for a Reason Charity Program since its inception. The event is broadcast live on ABC13 and syndicated nationally and internationall on ESPN3.
###