Ready.Set.MOVE. Prepares Runners Up for Fall Fitness, and Introduces Three New Partners
October 8, 2020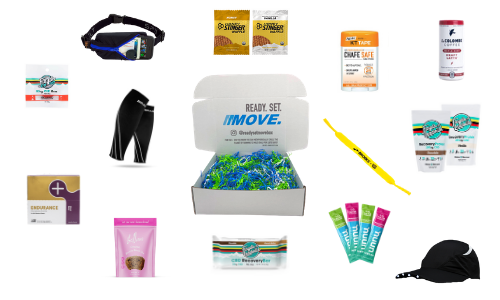 This season's Ready.Set.MOVE. box is full of Fall essentials for fitness and running
PITTSBURGH (October 8, 2020) – P3R, the creators of the Ready.Set.MOVE., is proud to announce three new brand partners that will be featured in this Fall's iteration of their seasonal subscription  box, including La Colombe Coffee, Bracoo, and GoNanas. All three partners are debuting in the Fall Ready.Set.MOVE. box with products runners will love.
Helping runners prepare for the change of the season is the goal of the Fall Ready.Set.MOVE. box. From products to help keep you safe on your night runs, to products that will help kick-start your recovery, Ready.Set.MOVE. worked with its partners to create a box curated with products to help support runners as they continue to MOVE toward goals this season. Below are the items that every runner can look forward to receiving:
And NEW to Ready.Set.MOVE….
GoNanas original banana bread mix for simple, healthy banana bread.
La Colombe Triple Draft Latte Cold Brew is made with whole, real ingredients like nutrient-rich milk and 3 shots of cold-pressed espresso that will be a go-to for runners.
Bracoo LE70 Calf Compression Sleeves aid in mitigating shin splints, preventing calf cramps, and protecting legs from minor scratches and impacts.
This box is valued at over $125 of running products. Runners can sign up for a Ready.Set.MOVE. subscription by Oct. 22 to secure their Fall box this season!  Other brands that Ready.Set.MOVE. has featured include DICK'S Sporting Goods, TriggerPoint, Floyd's of Leadville, Biofreeze, KIND, Nathan, NuGo Nutrition, Knockaround, BibBoards, HydraPak, SneakerBalls, Miir and Bottle Bright.
#   #   #
About Ready.Set.MOVE.
Ready.Set.MOVE. is a quarterly subscription box created by P3R in January of 2019. Ready.Set.MOVE. teams up with top brands to give the running community the best in running gear, accessories, and nutrition. Each quarterly box is valued at over $100 and retails at $49.99. The subscription box aims to be the best in the running industry, curated with industry-leading products to help those passionate about moving their fitness goals forward.
INSTAGRAM: readysetmovebox
FACEBOOK: readysetmovebox
WEBSITE: P3R Store
About P3R
P3R is the engine behind Pittsburgh's greatest races. We strive to inspire any and all to run with us. Best known for organizing the acclaimed annual DICK'S Sporting Goods Pittsburgh Marathon, P3R runs a variety of other high-quality races, events, and health and fitness programs throughout the Pittsburgh region. While many of our races attract some of the nation's highest-profile professional athletes, we offer activities for all ages and ability levels. Anyone and everyone is invited to #RUNwithP3R! Read more at: P3R.org
FACEBOOK: RUNwithP3R
INSTAGRAM:RUNwithP3R
TWITTER: @RUNwithP3R