RBC GranFondo Whistler's premiere cycling and lifestyle expo is now accepting booth applications
March 14, 2023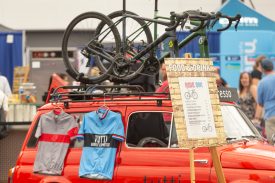 VeloSpoke Expo, presented by Dilawri Automotive Group, is Vancouver's best lifestyle & cycling showcase.
Vancouver, BC /ENDURANCE SPORTSWIRE/ – The RBC GranFondo Whistler (road cycling) event has partnered with Dilawri Automotive Group to kick-off GranFondo weekend in Vancouver with the VeloSpoke Expo at the Vancouver Convention Centre on Friday, September 8th, 2023. The respected Cycling and Lifestyle Expo, which is open to the public, has been the main stage for both local and international businesses in lifestyle, experiential, and cycling markets. This event has taken place annually since 2010, when the RBC GranFondo Whistler first took place.
The exhibit, accompanied by the cycling event, has been continually growing and will be expecting 14,000 participants and spectators. This is built off last year's VeloSpoke numbers which included 12,000 attendees, 6,000 of them being participants of RBC GranFondo Whistler. The expo features over 60,000 sq. ft. of exhibition space and is guaranteed to attract the appropriate demographics.
"The VeloSpoke Bike and Lifestyle Expo is a prime opportunity for businesses of any size to introduce themselves to the sizable and renowned cycling community here in Vancouver,' said Dom Gilbert, Partnerships Manager at RBC GranFondo and XFONDO. "The demographics of our attendees are the perfect fit for cycling and lifestyle brands that are hoping to build their customer base."
VeloSpoke attendees are affluent professionals and executives who enjoy an active lifestyle. Business partners at VeloSpoke engage this audience at the peak of the gear-purchasing season, which happens in the fall. The expo is also the pickup location for RBC GranFondo Whistler cyclists to receive their rider packages, which brings thousands of cyclists that are dedicated to improving their performance for the event which occurs the following day.
Last year, exhibitors included businesses such as Hydralyte, Skratch Labs, ABUS, Mercedes Benz, Blonyx, and many more. There are opportunities for businesses of all sizes to exhibit their products.
Booths are available in an assortment of sizes ranging from 10 x 10 ft to 10 x 30 ft. Click here to learn more about the VeloSpoke Cycling Expo, or here to register now.
ABOUT RBC GRANFONDO WHISTLER
Established following the Vancouver Winter Olympics in 2010, RBC GranFondo Whistler is an award-winning point-to-point cycling event between Vancouver and Whistler, British Columbia, Canada. On average, 5000 cyclists ride each year across different distance categories, both competitive and non-competitive. The event and title sponsor RBC – Royal Bank of Canada – has also contributed over $300,000 to charitable causes since its inception. (rbcgranfondo.com/whistler).
ABOUT DILAWRI
Privately owned and operated by the Dilawri family since 1985, the Dilawri Group of Companies continues to build on a history of excellence as Canada's largest automotive group. The company's national network represents 35+ of the world's most beloved automotive brands in 75+ franchised dealerships in Canada and the US.
Dilawri is proud to offer exceptional products and services across Canada, delivered by our more than 3,500 employees. We are committed to leadership in business as well as in the communities we serve. Since 2002, the Dilawri Foundation has contributed millions of dollars to a wide range of charitable causes.
###
For more information, please contact Dom Gilbert via dom@rbcgranfondo.com / 418-906-7042
RBC GranFondo Whistler
604-568-8648 x 225