Ramble Ride returns for season number eight with new rides in Arkansas and California.
January 18, 2023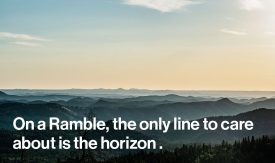 Wednesday, January 18, 2023 /Fort Collins, Colorado /ENDURANCE SPORTSWIRE/ – Registration for the Ramble Ride, returning for an eight-season with events in Arkansas, California, Colorado, and Utah, is now open.
"We're excited for this season of events," says Peter Discoe, promoter of the Ramble Rides. "Our Colorado route is our staple, but we haven't traveled much for the past few years due to the pandemic and increased cost of traveling to new locations. But this year, we'll be riding again in Central Utah and a new route out of Fayetteville, Arkansas."
"We're excited to welcome Ramble Rides to Fayetteville, Arkansas, and the Ozark Mountains. With hundreds of miles of gravel roads, over a million acres of the mountainous landscape all accessible from our downtown, and great restaurants and lodging when the riding is done, gravel cyclists are in for a real treat during the Fayetteville Ramble." Brannon Pack – Director of Cycling Tourism, Experience Fayetteville
Ramble Rides are four-day, catered cycling adventures. 2023 dates are:
Fayetteville Ramble: May 30-June 2
Colorado Ramble: July 19-22
Utah: August 29-September 1
In addition to its four-day riding and camping events, the Ramble Ride is adding two new events; Race the Ramble and a Road Ramble.
"Race the Ramble came about after riders asked for a one-day event. But being a Ramble Ride, we wanted something different from your average gravel race," says Peter Discoe. "This is a team event made up of teams of either two or four because camaraderie is the foundation of the Rambles. We'll have the same Ramble Ride on-route support and a neutralized lunch spot where riders can mingle and recover before the next timed section. Like any Ramble Ride, this will be a catered event and end with camping and festivities in Walden, Colorado, where we've been visiting since the beginning. There are few better placed to ride gravel bikes than North Park and Jackson County."
Race the Ramble (RTR) is a team-based, 125-mile event split into two timed sections. The race starts and ends in Walden, Colorado, where camping and catered breakfast, lunch, and dinner are provided. The RTR is in partnership with Jackson County and takes place on Saturday, August 12th.
The Road Ramble is a five-day road ride from Santa Cruz, CA, to Santa Barbara, CA. "This ride is, in many ways, the origin of the Ramble Rides," says Peter, "growing up in Santa Cruz, this ride was always an early season fitness benchmark, and we'd ride it typically in three or four days." This time, however, the Road Ramble will spend a day riding in Santa Cruz before taking four days down the Pacific Coast Highway to Santa Barbara. Unlike Ramble Rides, the Road Ramble will use roofed accommodations instead of camping. May 14-20th.
For more information on the Ramble Ride and all events, please visit https://ramblerides.com.
Contact Peter Discoe at peter@ramblerides.com