RACE-MANIA Summit and Expo Returns to Boston this March
January 10, 2023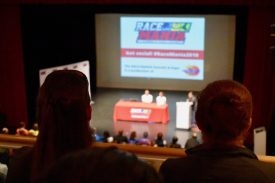 The definitive kick-off to a new season for 1,500+ endurance athletes
Boston, MA – January 10, 2023 /ENDURANCE SPORTSWIRE/ – Sun Multisport Events today announced the 2023 RACE-MANIA Summit & Expo will return on Sunday, March 12, 2023 at the Boston University Fit Rec Center in Boston, MA following a 3-year hiatus due to the COVID-19 pandemic. Designed to educate, equip and inspire endurance athletes on the eve of a new season, RACE-MANIA features top speakers, informational and inspirational seminars, hands-on clinics and workshops; competitive events; and a vendor expo with 85+ sponsors and exhibitors.
RACE-MANIA will draw 1,500+ triathletes, runners, cyclists and swimmers and feature a terrific line-up of speakers. Past speakers have includes professional athletes (e.g. Miranda Caffrey, Des Linden, Timothy O'Donnell, Ryan Hall), renowned coaches (e.g. Siri Lindley, Joe Friel, Hunter Allen) and endurance sports legends (e.g. Mike Reilly, the "Voice of IRONMAN", Dave McGillivray, Bob Babbitt) and others. The 2023 RACE-MANIA keynote speaker will be announced later this month.
Adding to the excitement of the event, registered attendees have the opportunity to win one of two Grand Prize Giveaways provided by RaceQuest Travel. Grand Prize Giveaway #1 is a 2024 Challenge Roth 7-Night Classic Race Week Tour with one race entry valued at $3,995. Grand Prize Giveaway #2 is a 2023 IRONMAN World Championship 7-Night Tour in Kona, HI for the winner and a guest valued at $5,995.
Visit the RACE-MANIA website at https://race-mania.com/ for more event details and register with a click here.
The Official Charity Partner of RACE-MANIA 2023 is Bicycles Battling Cancer, a production of the American Cancer Society. Bicycles Battling Cancer (BBC) is a fully supported charity ride with multiple ride options through central Massachusetts and takes place September 17, 2023. The BBC ride will receive 25% of RACE-MANIA All Day Pass registration revenue.
RACE-MANIA is produced by Sun Multisport Events and Platinum-level sponsors include the Boston Triathlon, Max Performance, New England Endurance Events, RaceQuest Travel and TB12. Boston University's Fit Rec Center, located at 915 Commonwealth Avenue in Boston, MA, provides state-of-the-art facilities for RACE-MANIA, including 25,000+ square feet for the expo, a high-tech theater for presentations, multiple classrooms for clinics and workshops, an indoor track and a world-class pool.
About Sun Multisport Events (SME): Sun Multisport Events is New England's premier, award-winning endurance event production company. SME offers a unique set of events that attracts a diverse set of endurance athletes. In addition to the RACE-MANIA Summit and Expo, SME produces sprint, olympic and half distance multisport races and "Barn to Run", New England's first and only farm-based trail race series. SME won "Best Triathlon Series" (2013) and it's Patriot Half won "Best Small Race" an unprecedented three times (2018, 2017, 2013) in the Triathlete's Choice Awards and "Best Triathlon" in the Best of Competitor 2016 (Northeast). Visit the Sun Multiport Events website to learn more.
RACE-MANIA exhibitor and attendee inquiries:
Mark Walter
Owner, Sun Multisport Events
Phone: 781-414-0437
Email: info@SunMultisportEvents.com