Quintana Roo introduces Fit-Ready build service
November 18, 2021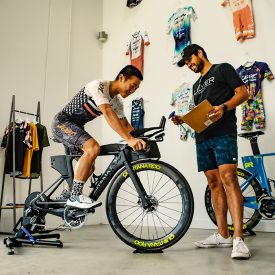 Fit-Ready delivers bikes with fit coordinates input and applied, making the bike truly ride-ready upon delivery.
Chattanooga, TN  (Nov. 18, 2021) /ENDURANCE SPORTSWIRE/ – Quintana Roo announces the debut of Fit-Ready, an industry first that delivers a QR V-PR triathlon bike to a customer's home, built to their exact fit requirements, making it truly set up to their fit coordinates from the moment it arrives in their hands. The result is a bike that is delivered ready to ride and race, right down to the fit.
Currently, this option of the new V-PR allows customers to select Fit-Ready service during checkout, and QR's in-house team will contact the customer within 48 business hours of purchase to record any requirements for the fit on their build. The simple process requires the customer to furnish the QR team with their fit measurements, procured from their local bike fitter or from their existing bike. The Fit-Ready page also provides customers with a downloadable form to complete.
With fit data in hand, QR's assembly team will then build a customer's V-PR to their exact fit measurements. All stack spacers, cockpit reach, saddle fore-aft and aerobar angle elements are used in the bike's build. This new service helps eliminate any guesswork on the part of the customer in both building the bike to fit, as well as managing technical build particulars. The QR assembly team will install hydraulic cable housing that is cut to appropriate length for the size of the bike, and customers selecting the Vision TFA aerobar builds will see extensions that are cut to fit, eliminating unwanted excess extension at the rear of the aerobar.
It's QR's unique U.S.-based build process—with all bikes painted and built from the frame up in-house in Chattanooga, Tenn.—that affords QR the opportunity to build a V-PR customer's bike to their fit. With many bike brands providing their bikes already built to arbitrary measures, no other bike company has this capability. QR is already a leader in customization on a level not seen by the industry, with bikes painted and built to a customer's specifications demands—a level of build flexibility unmatched by the industry.
With Fit-Ready, QR becomes the first brand to deliver to customers a truly holistic experience, from build option and frameset color and graphics right down to their fit.
Pricing for Fit-Ready is $250 and is a selectable option for customers when ordering their V-PR direct online at quintanarootri.com. The Fit-Ready program will debut with the V-PR and will roll out into the remaining QR line in the near future.
To further ease delivery, QR has a variety of delivery methods available to customers, all of which are athlete-friendly when it comes to delivery, assembly and mechanical service, and is highlighted by Quintana Roo's Home.Delivery.Right premium delivery option, taking your fully-built V-PR to your door, fully assembled and ready to ride. When delivered, all QR bikes come 90% assembled in the ProBox and takes just a few minutes to make ride-ready. At the bottom of the QR homepage, there are home bike assembly videos to aid in the process.
The web link to Quintana Roo's Fit-Ready program can be found at:
https://quintanarootri.com/pages/fit-ready
About American Bicycle Group/Quintana Roo
Based in Chattanooga, Tennessee, American Bicycle Group (ABG) manufactures three brands of high-performance bikes – Quintana Roo (QR) triathlon and aero road bikes; Obed carbon all-road, gravel and mountain bikes; and Litespeed (LS) titanium road, gravel and mountain bikes – as well as the HYDRO series of wetsuits and swimskins under the QR brand. In 2017, ABG invested in an expanded manufacturing facility with a paint and assembly line for its bikes, allowing athletes to custom build a bike. Demand was high and the line was expanded in 2018. In 2019, LS was invited to the White House for the 3rd annual "Made in America" Showcase, representing the state of Tennessee as an American-made product. More information: quintanarootri.com/, obedbikes.com/ and litespeed.com.
###