Quinn Simmons and Kira Payer win Iron Horse Bicycle Classic Coca Cola Road Race
May 29, 2022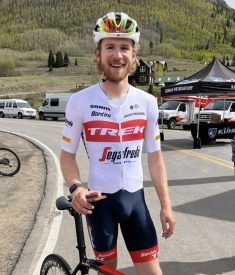 Durango, Colo. (May 29, 2022) /ENDURANCE SPORTSWIRE / – Quinn Simmons and Kira Payer won the Iron Horse Bicycle Classic Coca Cola Road Race this morning in Silverton. The road race and non-competitive, gran fondo-style McDonalds Citizen's Tour saw 2,200 riders in total across all age group categories, with the Durango-Silverton events selling out.
In the men's race, Trek-Segafredo's Simmons, a Durango native, outsprinted Team California's Caleb Classen to set the Iron Horse course record with a time of 2:11:29. Last year's winner Riley Amos (Trek Factory Racing) took third place, about a minute behind.
"It's always been something I look forward to in the schedule and for whatever reason it hasn't worked so to be home and race with the whole family, it's a really fun weekend " Simmons said after the finish. "To be able to race at home is special."
In the women's race, Kira Payer (DNA Pro Cycling) beat out 2019 Iron Horse champion Sarah Sturm (Specialized) by 16 seconds with a time of 2:43:34. Human Powered Health's Katie Clouse placed third.
"We kept it pretty steady up the climbs and people just started popping," Payer said. "Sarah put in a little dig and got rid of Katie, and it was just Sarah and I on the descent. I got a little gap at the end and just rode it in."
Full results from Saturday's events are available here.
The race was a part of the 50th anniversary celebration of the Iron Horse Bicycle Classic. In addition, the brand-new Tailwind Ouray-Silverton race and tour took place concurrently on Red Mountain Pass. E-bike tours and the Quarter Horse from Durango to Purgatory Resort also took place Saturday.
In the Ouray-Silverton race, Ivan Sippy won the men's category followed by Sam Brown and Kolbem Preble. Ouray local Sarah Haubert won the women's category followed by Kathryne Carr and Durango's Sabina Kuss.
"It's exciting to see local Durango riders do so well in the competitive events," said race director Ian Burnett. "Congratulations to the Citizen's Tour riders for tackling Coal Bank, Molas, and Red Mountain passes. We are excited for two more days of events this weekend in Durango."
The IHBC weekend has many more exciting events lined up for the rest of the weekend. Tomorrow, Sunday, May 29th is the La Strada La Plata Gravel Ride, Sprite Kids Race, Hobby Horse Community Bike Parade and brand new events, the Roostmaster Mountain Bike Race and Tailwind Dual Slalom. On Monday, May 30th, the Morehart Murphy Subaru Mountain Bike Race will take place, which starts within the Horse Gulch Trail System and finishes at Durango Mesa Park. Stay tuned for mountain bike race results, as well as King and Queen of the Mountain results on Monday afternoon.
To learn more about the Iron Horse Bike Classic and see the rest of the weekend schedule, please visit: https://www.ironhorsebicycleclassic.com.
About Iron Horse Bicycle Classic
The Iron Horse Bicycle Classic is a 3-day cycling festival, which includes a 47-mile bike race and tour over two 10,000' passes from Durango to Silverton, Colorado. The tradition began in 1971 when Tom Mayer challenged his brother Jim to see if he could ride the route faster than the train. Today the Iron Horse includes mountain bike and gravel events as well as numerous other cycling festivities around town.
# # #
Media Contact:
Ryan Simonovich | Verde Brand Communications | ryan@verdepr.com