Quiniou and Nijssen take GFNY European Championship crown
May 31, 2022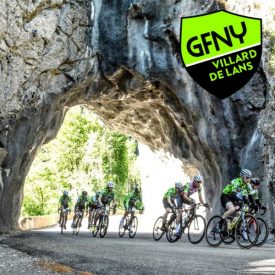 The French resort Villard-de-Lans in Vercors National Park offered ideal racing conditions
New York City, May 31, 2022/ENDURANCE SPORTSWIRE/ – Villard-de-Lans, located in the Southeast of France in the mountainous Vercors region at an altitude of 1050m, hosted the GFNY European Championship 2022 this past Sunday. The championship-worthy racecourse was 163.4 km long with almost 4000m of climbing.
Col de la Croix Perrin was the first obstacle of the day and it split the peloton into several groups with the lead group consisting of  15 riders. At the Station de Font d'Urle, the second climb of the race, 2021 GFNY Alpes Vaujany champion Kenny Nijssen (Netherlands) as well as French riders Martin Louison, Cyril Gaillard and Julien Berard managed to escape from the main group.
With 30km left to go, David Polveroni (France) was able to bridge to the group just before Col d´Herbouilly.  At the bottom of the climb, Nijssen put in an attack that the others couldn't match. He crossed the finish first at the Côte 2000ski station in 4:43:09h. It's the same spot where Lennard Kämna took stage 16 of the 2020 Tour de France.
Louison followed in 4:44:58 with Polveroni another two minutes back while  Gaillard lost the chance to be on the podium due to a mechanical problem on the final descent.
The women's race was dominated yet again by French Marine Quiniou who won both GFNY's in Vaujany in 2021. Whether it was on L'Alpe d'Huez or over the legendary Col de la Croix de Fer and Col du Glandon, the climbing specialist was unstoppable last year. And she took the Vercors climbs with the same ease to win in a time of 5:58:17,  22 minutes ahead of Dutch Rochelle Verhagen (6:21:55). Third place went to compatriot Marie Boulogne.
"Villard-de-Lans has been an incredible host for our GFNY European Championship," said GFNY France Race Director Cedric Haas. "The Vercors is a magnificent playground for cyclists and having a host town experienced in holding Olympic Games competitions and Tour de France stages is invaluable. We're already looking forward to being back in Villard-de-Lans on May 28, 2023 for the second edition."
Next up on the GFNY calendar is GFNY Monterrey on June 5, 2022.
Website: villarddelans.gfny.com
About GFNY Global Endurance Sports Series
GFNY Global Endurance Sports Series is a sports event company with three decades of experience in racing, planning and organising events. The global endurance sports brand hosts multiple events throughout the year around the world on five continents.
Working with partners around the world to deliver a first-class experience, GFNY Global Endurance Sports Series puts their athletes first.
Cycling
30 plus events around the world. View the 2022 calendar here
Riders get to BE A PRO FOR A DAY ® by competing against others, themselves and the clock in a personal endurance challenge.
Top 10% (20% at regional championships) of finishers in each age group qualify for the Racer Corral at every GFNY World event.
GFNY World Championship NYC
The 11th annual GFNY World Championship New York will take place on May 21, 2023. The race features the world's most international peloton with riders from over 90 countries. Athletes take on a challenging 100-mile route from NYC to Bear Mountain to Fort Lee to compete against each other, the clock and themselves in a personal endurance challenge.
The official GFNY website is: www.gfny.com.
Further Material for Media Use
Official GFNY Villard de Lans Video: here
GFNY Press Images: here
GFNY Results: here
GFNY World calendar graphic: here
Previous GFNY press releases: here
Media Contact
Gran Fondo New York Inc.
Uli Fluhme, uli@gfny.com
Caroline Lindsay, caroline@gfny.com