Publix named Title Partner for Rock 'n' Roll Running Series Clearwater Scheduled to take place October 1-2, 2022
March 7, 2022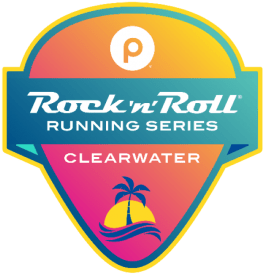 - Rock 'n' Roll Running Series Clearwater will include both half marathon, 5K and KiDS ROCK distances - Registration for Publix Rock 'n' Roll Clearwater is open now at - www.runrocknroll.com/Clearwater
TAMPA, Fla. (March 7, 2022) /ENDURANCE SPORTSWIRE/ – The Rock 'n' Roll® Running Series announced today that Publix Super Markets, Inc., the largest employee-owned grocery retailer in the country, will serve as the title partner for the inaugural Publix Rock 'n' Roll Running Series Clearwater scheduled to take place on Oct. 1-2, 2022. The Publix Rock 'n' Roll Clearwater event weekend will feature a half marathon along with a 5K and KiDS ROCK Fun Runs. With a distance for everyone, runners and walkers alike can register for the event by visiting www.runrocknroll.com/Clearwater.
"We are looking forward to having Publix as an integral part of our inaugural Rock 'n' Roll Running Series event in Clearwater," says Matt Wikstrom, Chief Partnerships Officer for The IRONMAN Group. "Promoting health and wellness is a pillar of Publix's core business, which is why their partnership and dedication to the local Clearwater community is so valuable."
"We are proud to be the title sponsor of the inaugural Publix Rock 'n' Roll Running Series coming to beautiful Clearwater in 2022," said Erik Langner, Regional Marketing Manager. "At Publix, we have a history of caring for our customers, associates and communities. Part of this commitment includes helping our customers on their health and wellness journeys. Our stores provide a plethora of foods for fuel and our support of runs and races provide an opportunity for participants to achieve personal and wellness goals."    
Race week will kick-off on Friday, Sept. 30, 2022, with the Health & Fitness Expo, which is open to the public, featuring the latest products and trends in the running industry. Runners and walkers of all levels from around the world will then take in the sights and sounds of Clearwater on Saturday, October 1, 2022, for the Publix Rock 'n' Roll Clearwater 5K and KiDS ROCK 1 mile, ½ mile and toddler trot. Ages 1-17 are invited to join in the KiDS ROCK fun run events. The running continues Sunday, October 2, 2022, with the half marathon.
Located on the Gulf of Mexico, Clearwater is one of three principal cities in the Tampa-St. Petersburg-Clearwater metropolitan area and is known for year-long sunny weather, crystal-clear waters, and gorgeous gulf coast beaches. Clearwater Beach is known for its namesake stretch of soft, white sand, which draws visitors year-round for jet-skiing, parasailing, and stand-up paddle boarding in its calm waters. It has been rated No. 1 multiple times in the United States by TripAdvisor's annual top 25 beach ranking.
A prime destination for visitors of all ages, Clearwater offers a plethora of outdoor activities, museums, aquariums, and entertainment options, and is easily accessible from the conveniently located Tampa International and St. Petersburg/Clearwater International Airports. With loads of shops, entertainment and restaurants, Clearwater offers a lively experience with a world-class view of the Gulf of Mexico giving both spectators and participants the chance to embrace the unforgettable atmosphere of the Florida's coastline.
Registration for the 2022 Publix Rock 'n' Roll Running Series Clearwater event is now open by visiting, www.runrocknroll.com/Clearwater.
For more information on the Rock 'n' Roll Running Series, please visit www.RunRocknRoll.com. Media related inquiries may be directed to press@runrocknroll.com.
###
About Publix
Publix, the largest employee-owned company in the U.S. with more than 225,000 associates, currently operates 1,297 stores in Florida, Georgia, Alabama, Tennessee, South Carolina, North Carolina and Virginia. For 24 consecutive years, the company has been recognized by Fortune as a great place to work. In addition, Publix's dedication to superior quality and customer service is recognized among the top in the grocery business. For more information, visit the company's website, corporate.publix.com.
About Rock 'n' Roll Running Series
The Rock 'n' Roll® Running Series is the world's largest running series taking part in destination locations around the world every year. Established in 1998, the Rock 'n' Roll Running Series simple idea of making running fun has transformed both the U.S. and global running landscape by infusing the course with live bands, cheer teams, and entertaining water stations, creating a block-party atmosphere for participants and spectators alike. Focused on running, music and community, race weekend kicks off with a free Health & Fitness Expo showcasing the latest in running gear, sports apparel, health and nutritional information and much more. Events culminate with an Encore Entertainment experience featuring eclectic musical artists from a variety of genres. With a goal of helping participants find the Beat in Their Feet™, the Rock 'n' Roll Running Series has also featured some of the biggest names in music, with past performances including the likes of Macklemore & Ryan Lewis, O.A.R., Aloe Blacc, Pitbull, Flo Rida, The Band Perry, Fitz and the Tantrums, the Goo Goo Dolls, Bret Michaels, Kesha, The Revivalists, Hunter Hayes, Capital Cities, and Matt Nathanson. Further information about the Rock 'n' Roll Running Series can be found online at www.RunRocknRoll.com and follow @RunRocknRoll on all social platforms.
About The IRONMAN Group
The IRONMAN Group operates a global portfolio of events that includes the IRONMAN® Triathlon Series, the IRONMAN® 70.3® Triathlon Series, the IRONMAN® Virtual Racing™ (VR™) Series, 5150™ Triathlon Series, the Rock 'n' Roll® Running Series, the Rock 'n' Roll Virtual Running™ Series, IRONKIDS®, World Triathlon Championship Series, premier running events including the Standard Chartered Singapore Marathon™ and The Sun-Herald City2Surf®, Ultra-Trail® World Tour events including Tarawera Ultra and Ultra-Trail Australia™, mountain bike races including the Absa Cape Epic®, road cycling events including Haute Route®, and gravel racing like Gravel Epic®, and other multisport races. The IRONMAN Group is the largest operator of mass participation sports in the world and provides more than a million participants annually the benefits of endurance sports through the company's vast offerings. Since the inception of the iconic IRONMAN® brand and its first event in 1978, athletes have proven that ANYTHING IS POSSIBLE® by crossing finish lines around the world. Beginning as a single race, The IRONMAN Group has grown to become a global sensation with hundreds of events across 55+ countries. The IRONMAN Group is owned by Advance, a private, family-owned business. For more information, visit www.ironman.com/about-ironman-group.
About Advance
Advance is a private, family-held business that owns and invests in companies across media, entertainment, technology, communications, education and other promising growth sectors. Our mission is to build the value of our companies over the long-term by fostering growth and innovation. Advance's portfolio includes Condé Nast, Advance Local, Stage Entertainment, The IRONMAN Group, American City Business Journals, Leaders Group, Turnitin, 1010data and Pop. Together these operating companies employ more than 17,000 people in 29 countries. Advance is also among the largest shareholders in Charter Communications, Discovery and Reddit. For more information visit www.advance.com.