PTO European Open returns to Ibiza and is elevated to also become The Official European Championship
November 7, 2023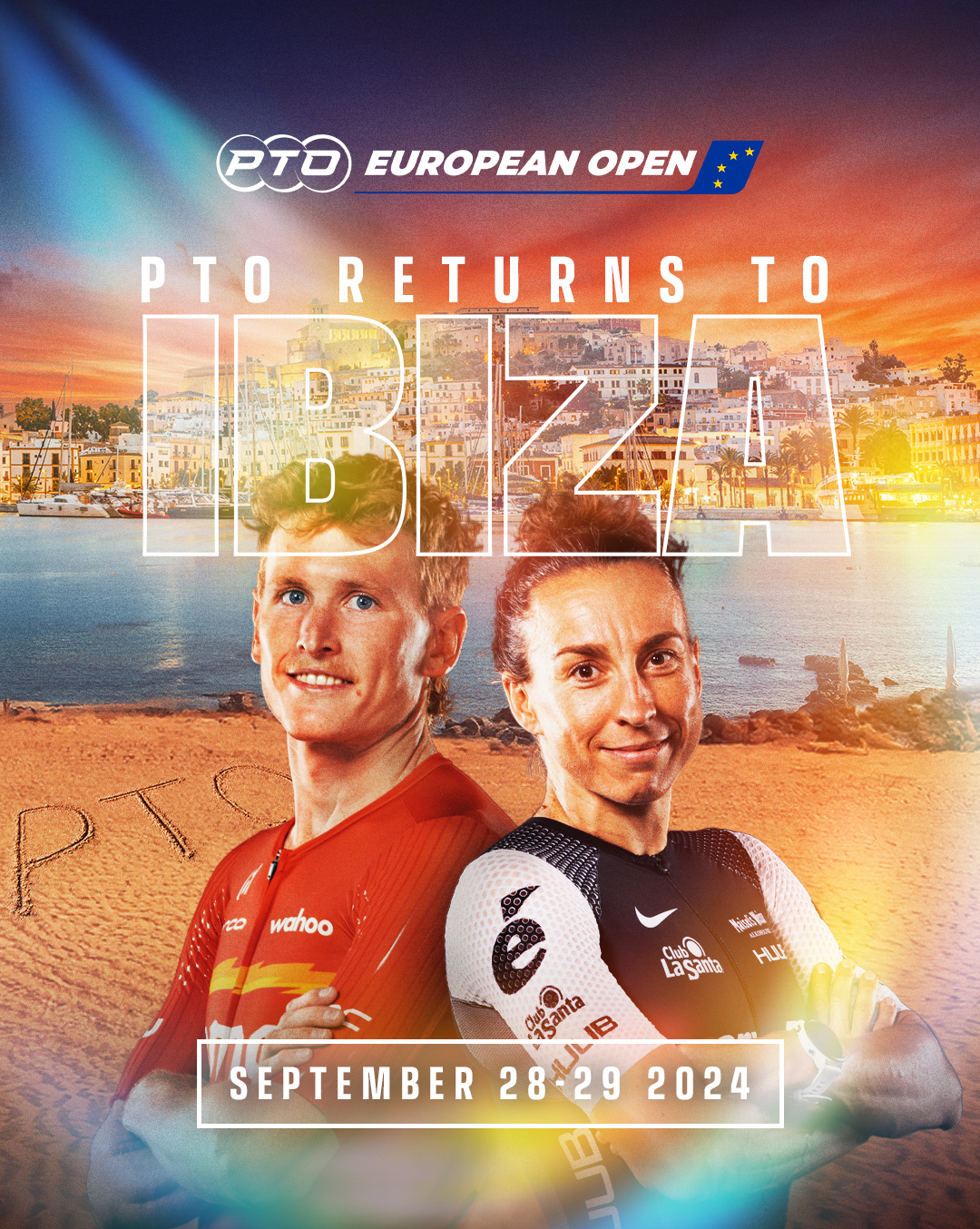 London, UK/ENDURANCE SPORTSWIRE/ – The PTO European Open will return to Ibiza next year on 28-29 September, 2024, with the title of 'European Champion' now at stake for its professional female and male triathletes and Age Groupers – thanks to the PTO's new partnership with World Triathlon that recognises the 2024 PTO Tour as the official World Championship Tour of long distance triathlon.
The announcement was made by the Professional Triathletes Organisation (PTO) and Spanish Triathlon Federation (FETRI) at the World Travel Market at London's ExCel, in the company of the island's president Vicente Mari, who was at the international show promoting Ibiza's growing reputation as a sports destination. Today also marked registrations for the PTO European Open Age Group 100km triathlon race going on general sale. Click here for more details and how to sign up to race*.
"Ibiza is known for its beaches and parties but we also want to be known as a world class sporting destination," explains Mari. "It's really important for our image and income because we saw when the PTO Tour came to our island at the beginning of May this year it helped create the best start to a summer season in our history. The triathlon races brought in twelve thousand [12,000] extra visitors, which in turn helped generate an estimated economic impact of €12.5 million Euros as well as repositioning how people think about us. It will also change when they consider coming to the island, by sending a clear message that we are 'open for business' from early Spring right through to the Autumn, rather than only over the Summer months of June, July and August."
In addition to the PTO Tour professional races that will see the world's top ranked 20 female and male triathletes compete, the event will also host a PTO European Open 100km race for Age Groupers, following a similar blueprint to the one successfully deployed by the PTO and USA Triathlon in Milwaukee in August 2023.
This year's PTO European Open was one of the most talked about pro weekends of the year. In the men's race it had the last three Olympic champions – Jan Frodeno (2008), Alistair Brownlee (2012 & 2016) and Kristrian Blummenfelt (2020) – competing against each other for the first time, but the show was stolen by Australian Max Neumann who held them all off in a stunning victory. The women's event saw a brilliant race, with Germany's Anne Haug running down Great Britain's new Ironman World Champion Lucy Charles-Barclay.
"We've been very clear with our strategy for the PTO Tour," explained PTO CEO Sam Renouf. "It's about getting the world's best triathletes competing head-to-head over our new 100km distance (2km swim/80km bike/18km run) in iconic locations around the world and then broadcast to a global audience. Then we build other amateur race opportunities around that, from equivalent 100km races with regional titles at stake for amateurs, to shorter events that create a festival-like atmosphere of swim, bike and run. Last year's inaugural event proved very successful, so we're excited to be returning and working with the Spanish Triathlon Federation and Ibiza again."
Responding on behalf of the Spanish Triathlon Federation, its president, José Hidalgo, said:
"In the Spanish Triathlon Federation we are very pleased to renew this agreement with the PTO to hold their races in Ibiza. Spain has always been a pioneering country and we have always believed that the collaboration of all the actors and organizers of this sport is paramount to make it bigger and more important."
This year's course saw the swim take place at Figueretas Beach, before the athletes headed out on their bikes towards San Antonio on a multiple laps bike course and then finished with a run that went past Ibiza Port and into the World Heritage area of the city. Next year's course won't be exactly the same, but further details will be announced in due course.
Further stages of the 2024 PTO Tour will be announced in the coming months.
-ends-
*Notes To Editors:
For the 2024 PTO European Open 100km amateur race, Age Groupers will have 2 options available:
1) To enter the open Age Group race here, which will be open to all athletes.
2) To compete in the championship event, which requires selection and qualification through their respective National Federation. More information will be available on this from National Federations in due course.
For Further Information
Anthony Scammell E: Anthony.Scammell@protriathletes.org
About the Professional Triathletes Organisation
The PTO is a new body, co-owned by the professional athletes, seeking to elevate and grow the sport of Triathlon and take it to the next level. Each PTO Open is raced over 100km (2km swim, 80km bike and 18km run). In 2023, the calendar consisted of the PTO European Open on 6 May and was followed by the PTO US Open in Milwaukee on 4-5 August and then the PTO Asian Open in Singapore on 19-20 August. With the season underpinned by the new PTO World Rankings, helping to create a compelling season-long narrative in the sport for the first time. The PTO has already confirmed that the PTO Tour will go back to Singapore on 13-14 April, 2024, and that further stages of the Tour will be announced in the coming months.