PTO 'Countdown To Ibiza' Preview Show To Premiere On Eurosport 1 Ahead Of First-Ever PTO European Open
April 26, 2023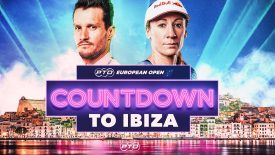 London /ENDURANCE SPORTSWIRE/ – The Professional Triathletes Organisation (PTO) preview show Countdown To Ibiza will premiere on Eurosport 1 at 21:30 CET on Tuesday 2 May as part of the build-up to the much anticipated and inaugural PTO European Open in Ibiza on May 6.
The 30-minute show, which was filmed and produced by the PTO's in-house content team, focuses on German Jan Frodeno – widely acknowledged as Triathlon's G.O.A.T – as he attempts to return to the top of the podium following a long injury lay-off and Switzerland's Daniela Ryf – widely considered one of the sport's greatest athletes.
Speaking exclusively on the programme, the 41-year-old Frodeno declined to answer whether he has had any dark days during his time on the sidelines. Instead saying: "I know what I need to do in order to get myself into a race winning mode, even though It takes a lot more to be a champion than just winning races. But I'll tell you what, the one thing a champion doesn't have is an off button…" and then "Nothing compares to the pressure I put on myself when I race. But I definitely know what it takes and when to be a killer."
For her part, the 35-year-old Ryf says in a wide ranging interview that she retains her 'killer instinct' and that "I don't race for fun. On the races that matter, I'm there. I'm not done yet."
The teaser for Countdown To Ibiza can be viewed here and kicks off a broad offering of season-long PTO live and non live content across Warner Bros. Discovery channels. As well as featuring on Eurosport 1, the preview show will also be translated into 20 languages and aired globally across 100+ countries and 250 million households, thanks to deals with a range of international, regional and local broadcast deals, including DAZN, beIN Sports and SPOTV. It is also available now on PTO+
"Jan talked about getting 'goosebumps' when his wildcard for the race was confirmed. Well, as fans of the sport, we'll all be getting goosebumps watching this preview show for what I think will be one of the most talked about events of the year," said Sam Renouf, the PTO CEO.
PTO Chief Marketing Officer Tim Godfrey added: " Our partnership with Warner Bros Discovery is all about telling the stories of the incredible athletes of the PTO to a wider audience. Having the Countdown To Ibiza preview show going out at 21:30 CET on a major channel like Eurosport 1 four days ahead of the races is the perfect way to grow the fan base of the sport. We've also been expanding the distribution footprint for athlete content more broadly, as an effective way to build excitement and tune in to the PTO Tour."
The PTO European Open women's field includes all of the top 10 PTO Ranked female athletes and the men's field contains all three of the Olympic gold medallists in the sport since 2008 – Kristian Blummenfelt (2020), Alistair Brownlee (2012 & 2016) and of course Jan Frodeno (2008). Both races will be broadcast live around the world, courtesy of the PTO Tour's partnerships with Warner Bros. Discovery – who will show the action live on Eurosport 2 in Europe from 0800 CET on 6 May – a range of international, regional and local broadcast deals that will be confirmed next week.
The 2023 PTO Tour starts in Ibiza on 6 May with the first-ever PTO European Open, before going to Milwaukee on 4-5 August for the PTO US Open and then to Singapore for the inaugural PTO Asian Open on 19-20 August.
-ends-
For Further Information
Professional Triathletes Organisation
Anthony Scammell E: Anthony.Scammell@protriathletes.org
About the Professional Triathletes Organisation
The PTO is a new body, co-owned by the professional athletes, seeking to elevate and grow the sport of Triathlon and take it to the next level. Each PTO Open is raced over 100km (2km swim, 80km bike and 18km run). 2023 PTO Tour races announced to date include: the PTO European Open on 6 May, the PTO US Open in Milwaukee on 4-5 August and the PTO Asian Open in Singapore on 19-20 August. The season will be underpinned by the new PTO World Rankings, helping to create a compelling season-long narrative in the sport for the first time.