Preparing for the Merrell Transkei Tuff, Round 4 of the Adventure Racing World Series Africa Region
June 23, 2022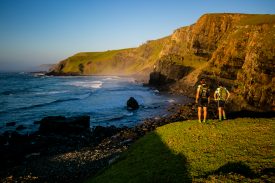 The highly anticipated Merrell Transkei Tuff is just around the corner and adventurers from all over South Africa are gearing up for 100km of pure Wild Coast Adventure
/ENDURANCE SPORTSWIRE/ – The highly anticipated Merrell Transkei Tuff is just around the corner and adventurers from all over South Africa are gearing up for 100km of pure Wild Coast Adventure starting at Ocean View Hotel, Coffee Bay!
The Merrell Transkei Tuff takes place from 30-31 July around the Coffee Bay region. Twenty teams of four will be racing on foot, mountain bike, kayak, or rope all by self-navigating with a compass and map, not too different from the hundreds of shipwreck survivors of the early 1500s that found themselves in this very bay.
This is the sixth edition of the event that takes place every year in the Adventure Province. "A driving force for creating this race is to offer a platform that shows off this special region to the world", shares co-founder Bruce Viaene. "What better way to experience the culture, landmarks, people, and sheer beauty of the Wild Coast than through an adventure like this?" He continues. The course covers amazing sights like Mthatha Mouth, Mdumbi River, Hole-in-the-Wall and so much more.
The pandemic has been extremely tough on these communities that rely on tourism to survive. A big focus of the race is to involve local entrepreneurs, guides, "bead ladies", restaurants, etc. Teams will be racing along the mighty Mthatha River on kayaks especially supplied by Mdumbi Kayaks. "It's a big opportunity for our business, since covid came we still have many challenges facing us" shares business owner of Mdumbi Kayaks, Notshana Rwandiso. The area has not seen many international holidaymakers come back since the Lockdown, which has put a major strain on the tourism community.
As race day looms closer, teams should be getting their final training in! A 100km course of an ever-undulating landscapewill test the teams. "Everyone should be prepared to race at night and be confident in crossing rivers once it gets dark" suggests Viaene. The Wild Coast is hilly, marked out by deep rivers, and cliff faces that drop 200m down into the ocean. While the nature of the course is not there to break you, assures Viaene, due to this specific area's topography, it lends itself to a tough course that will make it one to remember.
Each discipline is broken down into various stages throughout the race:
Mountain Biking: 61km
Trail Running / Trekking: 27km
Kayak: 12km
Other disciplines include abseiling (into a cave!), Kloofing/Canyoning, Coasteering, and Orienteering.
This event would not be possible without the continuous support from our sponsors; Racefood, Black Diamond, Squirt Cycling Products, and most of all; Merrell. "Merrell South Africa is proud to partner and support the Transkei Tuff.  We share the simple power of being outside.  Let's Get Outside!" shares Liezel Jooste of Merrell.
For more information visit; http://www.aloeadventures.co.za/merrell-transkei-tuff/