Premier Time Trial Returns for 24th Annual Series
March 1, 2022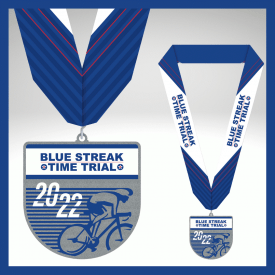 /ENDURANCE SPORTSWIRE/ – As the 24th Annual Blue Streak Time Trial registration opens today, March 1, the 2022 series celebrates the 75th Anniversary of the United States Air Force.
Held at Wright-Patterson Air Force Base in Dayton, Ohio, this annual series is open to the public and welcomes cyclists of all talent levels to one of the best and most safe cycling time trials in the region.
Each time trial will take place the second Tuesday of each month April through September, with the final time trial occurring on Saturday, October 15 which is brand new this year in order to offer the opportunity for more cyclists to join.
Go to register.bluestreaktt.com to register for the April through September time trials ($10), or the October time trial ($15). Full season registrations will be limited to 75, which will include entirety of the 2022 season from April through October ($70). Individual registrations for the remaining 2022 Blue Streak Time Trials will open the day after the previous month's event and will be accepted up to a week before the event pending space available.  
Blue Streak follows a scenic ten-mile loop course clockwise around the Wright-Patterson Air Force Base flight line perimeter roads and into Huffman Prairie. The flat course with few turns is one of the best in the nation, attracting riders from all parts of Ohio, and the neighboring states of Indiana, Kentucky, Pennsylvania, and West Virginia.