Powering Performance: INFINIT Nutrition Announced as Official Nutrition Partner of TRI AMSTERDAM
May 16, 2023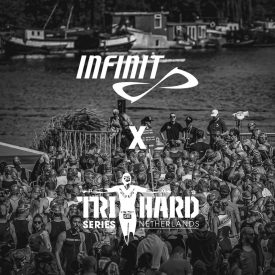 (Prague, Czech Republic)/ENDURANCE SPORTSWIRE/ – INFINIT Nutrition, a leading player in the US sports nutrition market since 2003, is focusing more on Europe with immediate effect and will therefore become Official Nutrition Sponsor of TRI AMSTERDAM. Athletes will be offered sports drinks from INFINIT during and after the race.
"As an athlete, you want the best possible sports nutrition both during and after a race, so you don't end up with an empty tank and, after the race, you can work on your recovery right away. Thanks to INFINIT, we have now found a very experienced partner for this, and we are convinced that this will allow us to assist our athletes the best way we can", explained Jefry Visser on behalf of organization TRI HARD Series. Besides providing sports drinks at TRI AMSTERDAM, INFINIT will also be present at both the TRI AMSTERDAM expo and the TRI ALMERE expo. "All athletes can visit the INFINIT booth for more information about the brand or a good introduction to their products."
INFINIT was founded in 2003 and quickly grew into a serious player in the U.S. market. It soon expanded to Canada and Australia, among others, and recently added a headquarters in Prague, Czech Republic. "It has been a long journey to bring the INFINIT brand to Europe", said European CEO Jan Pokorny. "However, we are very excited to be able to provide INFINIT's products to the European athletes and we cannot wait for them to try these products out."
Michael Folan, CEO at INFINIT, adds. ""We are now able to support our athletes all around the world and produce the INFINIT products in their local environment with clean, natural and highest quality ingredients." Learn more about INFINIT's products – and the ingredients used – here: https://www.infinitnutrition.eu/
The TRI HARD Series is about to begin. TRI ALMERE takes place on May 27, TRI AMSTERDAM on June 11 and TRI ROTTERDAM on June 24 & 25. Registration for the events is still possible through the event websites: www.trialmere.nl, www.triamsterdam.nl and www.trirotterdam.nl.
ABOUT INFINIT NUTRITION
INFINIT Nutrition is a worldwide sports nutrition company based out of Cincinnati, Ohio with production facilities in the US, Australia and the Czech Republic. Specializing in personalized nutrition, INFINIT manufactures customizable drink mixes designed by dietitians to naturally maximize athletic performance and fitness results. Developed with the company's proprietary Osmo-FIT™ system, INFINIT hydration and protein ready-to-mix supplements are made with clean, natural ingredients and are formulated to be easy to digest, even in the most extreme conditions. For more information, visit infinitnutrition.eu.