Pikes Peak APEX presented by RockShox – New Format and 2023 Dates Announced as Colorado Springs Sports Corporation Assumes Ownership of Event
April 30, 2023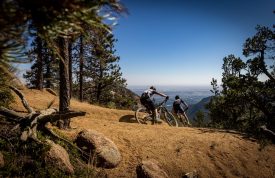 September 8-10, 2023
Colorado Springs, CO /ENDURANCE SPORTSWIRE/ – Colorado Springs Sports Corporation (CSSC) is pleased to announce its newest undertaking as the new hosts of the Pikes Peak APEX, presented by RockShox, a unique mountain bike challenge on the slopes of the Pikes Peak region's best trails.
The 2023 event will maintain the same vision of making Colorado Springs and the Pikes Peak region an internationally recognized endurance sports destination while enabling a stewardship initiative that serves and protects the trail system for future generations. In support of this vision, a percentage of participant registration fees will continue to be reinvested into local trails and open space initiatives, in partnership with the Pikes Peak Outdoor Recreational Alliance.
Megan Leatham, President & CEO of Colorado Springs Sports Corporation said, "The Pikes Peak APEX is such a unique event that showcases many of the great trails and outdoor spaces Colorado Springs has. It is an event we are proud to own as we continue to support sport development throughout the Pikes Peak region. Colorado Springs truly is a premier sporting destination and the Pikes Peak APEX highlights that in all the best ways."
Previously a 4-day event, Pikes Peak APEX will transition to a 3-day event in 2023, and is set for September 8-10 on three unique courses that showcase the world- class trail systems of the Pikes Peak region. The event will conclude with an outdoor festival at America The Beautiful Park featuring food, vendors, activities, and more on Sunday (Sept. 10). Specific course details will be announced in early spring.
Amateurs and professionals alike looking for a bucket list adventure and chance to line up with Olympians, pros, national & world champions are encouraged and welcomed to compete in the Pikes Peak APEX, presented by RockShox. Riders can tes t their skills by participating in a single day or take the plunge and participate in the full 3-day event. The 2023 event will also include an endurance trail running component with 5K, 10K and Ultra events for recreational and elite runners.
"Having the APEX under the umbrella of an organization like Colorado Springs Sports Corp. is a best of all worlds scenario for us," said Micah Rice, Executive Director of the Pikes Peak APEX. "Now there are more resources than ever behind the event and we will still continue to raise money for the trails in the Pikes Peak region. We hope that the slight change in date and length will make the event even more popular for mountain bike enthusiasts coming in from out of town."
Colorado Springs Sports Corporation, in conjunction with Micah Rice, Executive Director of the Pikes Peak APEX, are excited to continue the APEX's legacy as a "can't miss" event in 2023! For more information, please visit PikesPeakAPEX.com.
Stay in the know on all things APEX! Sign up for our newsletter and follow us on social media.
Colorado Springs Sports Corporation (CSSC) exists to inspire and advance Colorado Springs, Olympic City USA, and the Pikes Peak Region through sport and community events.
Through event promotion and community development activities, CSSC plays a critical role in bringing civic leaders together with some of the nation's premier sporting organizations to promote tourism and create positive economic impact. CSSC hosts annual signature and partnership events including The Broadmoor Cycle
to the Summit, Colorado Springs Labor Day Lift Off, Colorado Springs Sports Hall of Fame, Pikes Peak APEX, Pikes Peak Regional Airshow, Rocky Mountain State Games, Star-Spangled Symphony & July 4th Block Party, and various sport centric celebrations. In addition, supporting the U.S. Olympic & Paralympic Committee, National and International Governing Bodies of Sport, and the U.S. Olympic & Paralympic Museum remains a staple component of the overall mission.
For more information on the Colorado Springs Sports Corporation: Social Media: @TheSportsCorp
Website: ColoradoSpringsSports.org
Video: Colorado Springs Sports Corp Sizzle Reel
For more information:
Molly Sharples, Marketing Director, Colorado Springs Sports Corporation molly@thesportscorp.org, 719-634-7333
2023

CSSC Events

Calendar
February 25          – The Broadmoor Winter Polo Classic CSSC Golf Tournament
May 22                  – The Broadmoor Pikes Peak International Hill Climb (Fan Fest)* The Broadmoor Pikes Peak International Hill Climb*
June 23                 – Star-Spangled Symphony & July 4th Fireworks IJRU World Jump Rope Championships*
June 25                 – Rocky Mountain State Games
July 4                     – The Broadmoor Cycle to the Summit Colorado Springs Labor Day Lift Off Pikes Peak APEX
July 16-23             – CC vs AFA College Hockey – Slap Shot Social Colorado Springs Sports Hall of Fame Olympic & Paralympic Family Roundup
July 21-23 & 28-30 – Rocky Mountain State Games
August 12              – The Broadmoor Cycle to the Summit
September 2-4    – Colorado Springs Labor Day Lift Off
September 8-10  – Pikes Peak APEX
TBD                       – CC vs AFA College Hockey – Slap Shot Social
October 24           –  Colorado Springs Sports Hall of Fame
December TBD   – Olympic & Paralympic Family Roundup
See what's happening on our social sites: FB, Twitter, IG
The Sports Corp | Contact Us
Colorado Springs, CO
###
Colorado Springs Sports Corporation | 1631 Mesa Ave. Ste E, Colorado Springs, CO 80906
Unsubscribe info@thesportscorp.org Update Profile |Constant Contact Data Notice Sent byinfo@thesportscorp.orgin collaboration
with Constant Contact