Pickle Juice® Looks to Prevent People from Buying… Pickles?
July 12, 2023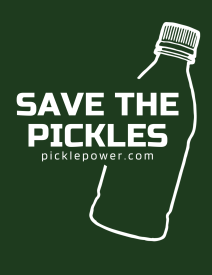 Pickle Protesters and other surprises are expected in Pickle Juice's "Save the Pickles" satirical movement
MESQUITE, Tex. (July 12, 2023)/ENDURANCE SPORTSWIRE/ – As word spreads about the benefits of pickle juice, The Pickle Juice Company has crafted a tongue-in-cheek campaign to educate consumers and athletes alike on the difference between Pickle Juice® and pickle brine. The former is a supplement beverage scientifically proven to prevent muscle cramps and dehydration that does not actually contain any pickles, whereas pickle brine is a result of pickling cucumbers, and is the high sodium mixture of food and juices remaining in the jar. Seeking to clear up any confusion between the two, the #SavethePickles campaign is Pickle Juice's latest attempt to spread the word and assist cramp-prone individuals about the benefits of Pickle Juice® vs. pickle brine.
Pickle Juice® EVP Filip Keuppens elaborates, "We have seen a good deal of misinformation over the years confusing pickle brine with Pickle Juice®." He continues, "To double-down on the difference and continue to help consumers stay cramp-free, a new offensive was needed. We look forward to creating a movement with Save the Pickles and seeing how far we can take it."
Leaked information has revealed plans for mobs of "angry" protesters to arrive in full force at upcoming summer festivals, trade shows and cookouts. The Pickle Protesters may even see appearances from appointed leaders and mascots Peter and Piper.
Peter and Piper have made it their mission to advocate for Pickles worldwide – to stop having their jars needlessly drained of brine causing them to dry out. Every day millions of pickles are drying out due to consumer confusion about Pickle Juice®. People have been drinking the brine from jars for years thinking that this will stop their muscle cramps, when in reality, this just drains the life slowly away from the pickles left behind.
Keuppens adds, "From our inception, Pickle Juice® has always been involved in supporting non-profits and a variety of causes. But now there's one cause we're especially passionate about." He explains, "Every year, millions of cucumbers are sacrificed to make pickles, and with your help, we can put an end to this."
Pickle Juice® is a proprietary, certified organic formula combining dual filtered water, organic vinegar, salt, organic dill oil, potassium, zinc, vitamin c and vitamin e that is scientifically proven to stop muscle cramps. A cramp happens because it is the neurological response to a physiological problem. Whether caused by an unbalanced diet, exhaustion from exercise or poor circulation, the grain and vinegar mixture in Pickle Juice® blocks the nerve signal being sent from brain to muscle.
Find out how you can join the movement at http://savethepickles.org/.
To learn more about Pickle Juice® and their newest Chili Lime flavor, visit https://picklepower.com/ or follow them on Instagram, Twitter and Facebook.
No pickles were harmed in this campaign.
About Pickle Juice
Pickle Juice is the only product on the market scientifically proven to stop muscle cramps, prevent dehydration and aid in recovery. Pickle Juice uses a proprietary grain and blend of vinegar that blocks that nerve signal being sent from brain to muscle, and a blend of vitamins and minerals for immediate muscle recovery. Whether you are missing something from your diet, exhausted from exercise, or dealing with poor circulation, Pickle Juice can provide a source of relief. For more information, visit https://picklepower.com/.
###
Media Contact