Pho3nix Foundation Supports 17 Athletes for Beijing Games
January 13, 2022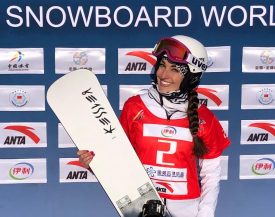 /ENDURANCE SPORTSWIRE/ – The Pho3nix Foundation through its Athlete Program has announced the support of 17 athletes in their final preparations for the Beijing Winter Olympic Games in February 2022 and beyond. Selected through a global search, these athletes represent 10 countries across Europe, Canada and North America, competing in eight of the 15 Winter Olympic disciplines.
This is the second iteration of the Pho3nix Athlete Program following its success supporting 39 athletes leading into the Summer Olympic Games in Tokyo last year.
Many Olympic-bound and aspiring athletes struggle for funding to allow them to compete at the best on the world's biggest stage. Fulfilling their dream comes at considerable financial sacrifice, and through the Pho3nix Athlete Program, Pho3nix provides funding for training and training camps, coaching, equipment, competition, and travel expenses to enable the athletes to deliver performances worthy of that sacrifice, inspiring their communities and setting the stage for the next generation.
Swedish figure skater Josefin Taljegard made the finals of the World Championships in 2021, qualifying her home country for a spot at Beijing 2022 with a new personal best and national record. However, she has still needed to support herself with part-time work instead of being fully focused on training.
"I'd appreciate any financial support I could get, so that I could work less and focus more on my preparation," she says. Despite this, she is determined to be a good role model, inspiring fellow figure skaters around the world.
Polish snowboarder, national champion and two-time Olympian Aleksandra Krol is grateful for the support which has helped her continue through another Olympic cycle. She says, "A medal at the Olympics was always my dream, but it's a very expensive dream. I keep training and training to fulfill that dream because I believe I can do it."
Twenty-four-year-old Canadian freestyle skier Etienne Geoffroy-Gagnon was selected for the Pho3nix Athlete Program during the Pho3nix Future camp for high performance youth athletes, held by the Pho3nix Foundation in September 2021. The camp participants nominated him for the Program, citing his phoenix-like rise from his start at the late age of 17 to becoming the first downhill skier from Yukon to compete on the World Cup tour and make the national team.
Geoffroy-Gagnon says, "This Program is important to me because they really care about the young athletes and are really pushing for those young athletes to pursue their dreams into sport."
Pho3nix Foundation chairman Sebastian Kulczyk established the Pho3nix Athlete Program as part of the foundation's aim to inspire and assist children to participate in sport and enjoy all the positive benefits that come from play. Highlighting these athletes' stories of rising above circumstance to reach for their dreams and inspire the next generation reflects the Pho3nix ethos summed in the Foundation's motto: 'Together We Rise'.
To follow their Beijing 2022 journey, visit pho3nixfoundation.com and follow @pho3nix on Facebook, and @pho3nixlife and @pho3nixfoundation on Instagram.
If you would like to apply for the 2024 Summer Olympic Program please apply here.