Peaks Coaching Group and IGNITE SwimRun Series announce Pricing
July 24, 2019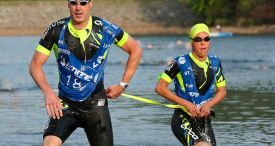 Bedford, VA: July 24, 2019: Peaks Coaching Group (PCG) has announced pricing for coaching, consulting and training plans specifically designed for 2019 IGNITE SwimRun events.
Training Plans start at $39.99 and come in short course, long course, beginner, intermediate and advanced plans
Personalized coaching has four levels from $269 per month
Consulting starts at $175 per hour
Founded by the legendary cycling coach Hunter Allen, PCG has 60 coaches throughout the world with over 200 years of combined coaching experience. PCG Coaches are hand-picked by Hunter Allen and represent the industry standard for data collection and endurance coaching.
PCG Master Coach Dr. Chris Myers will lead the dedicated team of PCG/IGNITE SwimRun coaches.
"Training endurance athletes is what we specialize in," said Coach Chris, PCG Head Multi-Sport Coach. "We hear the athletes talk and know that SwimRun has broken through as a new option for them.  We see an enormous opportunity to give these athletes the tools to be successful. Partnering with the biggest name in the sport in the U.S. will allow us to capitalize on that opportunity."
"We couldn't be happier to partner with such an experienced industry player like Peaks Coaching Group," said Jay Peluso, IGNITE SwimRun Co-Founder.  "They see the same potential in the sport that we do. Their large coaching platform will enhance the training and increase the number of SwimRun athletes across the country."
Most SwimRun races are completed in teams of two and must stay together for the whole race. Each race can have varying elements such as the ratio between swimming and running distance, the type of terrain, the height gain, the number of transitions; all races can be completed if properly trained for.  Proper training is key!
For more information about Peaks Coaching Group and IGNITE SwimRun, please visit http://www.peakscoachinggroup.com/ignite-swimrun-personal-coaching
About IGNITE SwimRun
IGNITE SwimRun is a race production company based in Richmond, VA specializing in SwimRun endurance events. IGNITE is owned and operated by experienced certified Race Directors Jay Peluso and Danny Serpico and is the first company to produce a multi-state SwimRun series in the U.S.
About Hunter Allen
Legendary cycling coach Hunter Allen is the co-author of the industry-smashing Training and Racing with a Power Meter, which has sold over 120,000 copies and is available in over 20 languages. He co-authored Cutting-Edge Cycling and co-developed the industry-standard TrainingPeaks' WKO+ software.  The 3rd edition of Training and Racing with a Power Meter was released in early 2019, offering even more pioneering insight to the principles of power training.
About Peaks Coaching Group
In 1996 after retiring from professional cycling, Hunter Allen founded Peaks Coaching Group, and has partnered with some of the bike industries most pioneering companies, such as Saris and PowerTap. In 2017 PCG partnered with CVR World Cup to create training plans for riders specifically to use in Zwift and held the first real-world/Zwift fantasy camp and race at the Velodrome in southern California.
It's now 2019 and Peaks Coaching Group has affiliate locations in Brazil, Japan, and Germany.
The cycling world continues to evolve and Peaks Coaching Group, with our great partners and sponsors, is at the forefront of data-driven training!
For more information, please visit www.peakscoachinggroup.com or contact [email protected] or follow us on social media @peakscoaching.
Media Contact:
Lee Sandstead – [email protected] – 434-228-3512