Paraguay Prepares to Host the 2022 Adventure Racing World Championships
February 4, 2022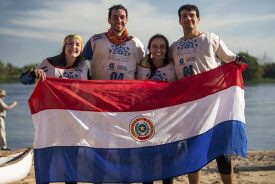 Expedicion Guarani will welcome adventure racers from around the world to Paraguay
/ENDURANCE SPORTSWIRE/ – Expedicion Guarani will be this year's Adventure Racing World Championships and the organisers are looking forward to welcoming teams from around the world to Paraguay, to explore their country and meet their people.
The race takes its name from the Guarani people, and language (Spanish and Guarani are the official languages of Paraguay), and that sums up what the race has to offer for a unique and rewarding World Championships.
Almost all adventure races are referred to by the place they happen, and they attract teams for the landscape and terrain.  Past ARWC's are referred to as 'Reunion', 'Wyoming', 'Pantanal', and 'Shoalhaven', but in Paraguay it will be about the people as much as the place.  The country has plenty to offer for an exceptional course, but the 2022 ARWC will also be about connecting with the peoples and culture of Paraguay.
In a BBC poll Paraguay was voted the country with the most positive experience for visitors in the whole world, and that is one of the reasons Expedicion Guarani has got under the skin of seasoned adventure racer Nick Gracie.
"It's the only race I have gone back to every year."  He said.  "It's a brilliant race where you get the whole package.
"You are really made welcome and looked after from start to finish.  The hotel and food, facilities and staff are superb, they look after you as an honoured guest. It's the only race I've been to where you can give in a bag of washing to be done after finishing, and hand over your bike to a mechanic to clean and fix!
"It's also a step into the unknown.  Paraguay may not receive tourists in the way Reunion or Wyoming does, it's probably not high on a travellers bucket list, but that is a huge advantage.  You really are off the tourist trail and the people are excited to see you and want to know what you are doing. You feel you are exploring and experiencing the country, not ticking off tourist hotspots. There is virtually no tarmac, just jungle, plains and small villages, and they have the best maps in South America.
"The terrain will surprise teams and provide everything a World Champs course needs. I think I've been to the last 12 Adventure Racing World Champs, and for me it is better terrain than some of the 'famous' locations used in the past.  There are lots of rivers and watercourses, anything from a kilometer wide to small creeks, and there are loads of waterfalls and ravines.  Much of the race is on jungle trails and through small villages, and there are many rock outcrops and ravines. The navigation is hard and Urtzi Iglesias is a great course planner who makes the most of that and really challenges the teams.
"It's safe too, you just don't think about crime or any threat while you are there and it's a relatively cheap destination once you are there.  Like I said, it's the complete package."
Putting that package together is a very experienced team who have been working towards a World Champs for many years.
The race Managing Director is Gustavo Borgognon who said, "We have many adventure races (we call them Ecoaventure) in Paraguay, so that's how I got started. Then I was interested in competing abroad and took part in the ITERA race in Wales which is part of the ARWS, and my desire grew to put Paraguay on the ARWS calendar. From the beginning I was thinking about a World Championships, to offer local racers the chance to compete and to show off my country, its landscapes and its culture to the rest of the adventure racing community."
He raced in Wales with Urtzi Iglesias and together they planned the new race in 2015 which attracted some international teams. Iglesias said, "It was a demanding first edition, with very challenging sections but with very beautiful landscapes.
"Since then, EG has travelled to many places in the country, visiting historical and culturally attractive places, and some which are inhospitable. We have tasted the local cuisine and even the traditional "tereré".  The 2016 edition was characterized by its cold nights and in 2017 it was an extremely hot edition.
"In the competition my regular team Columbia VidaRaid have won 3 of the 6 editions, only surpassed on one occasion by the South African Team Cyanosis, and the most recent winners in 2021 were the BOA Brazil Multisport team."
Asked about the identity of the race, he backed up Gracie's experiences.
"Expedición Guaraní has its own identity. From the beginning, it has been an event that offers great service to its racers. We like the participants to have a unique experience from when they step onto Guaraní soil and until they say goodbye, after the traditional final race party.
"We think a lot about the course and work hard on the cartography. It is true that we do not make it easy for racers, the stages are usually demanding, and navigation is challenging, but as soon as the athletes reach a transition, we do everything possible to make them feel at home. The reviews of the racers are very positive and the racers keep coming back."
Speaking about the course he admitted, "Perhaps Paraguay is not the most attractive destination in South America, not like the beautiful beaches of Brazil or the mountains of Patagonia, but Paraguay offers a diversity of natural landscapes. Mountain ranges, streams, wetlands and waterfalls offer unbeatable conditions for adventure. In this country, that is open to sharing, and that stands out for the hospitality of its people, adventurers can enjoy its mighty rivers, its crystalline waterfalls, its unexplored hills, its lush forests, and its majestic and unique sunrises and captivating sunsets."
Going into more detail he added, "The race will not have a large number of stages, and some of them will be quite long. Teams will have to compete intelligently and pace themselves well. There will be a lot of changes of scenery, some fast sections and some slow, so staying mentally strong will be the key to progressing smoothly in the race.
"We want navigation to be a determining factor and to offer the most detailed tools possible (maps, racebook …) to leave nothing to chance. We want racers to interact with the local people, to discover beautiful places, and to photograph unique views and landscapes in their memory. We want to give them the opportunity to enjoy the small pleasures of life, such as cooling off under a waterfall in the heat or to savour simple homemade eggs offered by a humble family that lives in the countryside and is not able to understand these crazy racers, but still welcomes them with open arms!"
The team at the race are very experienced and determined to provide the best possible World Champs for both the Paraguayan teams and for visiting racers.
Summing up Iglesias said; "The Ecoaventure family in Paraguay all pull together for Expedicion Gurani to offer the best to the racers who come to compete. They have a passion, a joy and a desire to help make everything that involves the race simply unforgettable.  With stable working teams for 6 years now we know we can make ARWC 2022 in Paraguay a fantastic experience and step up to the highest standards of an Adventure Racing World Championships, perhaps to even exceed the standards of previous years."
—————-
Expedicion Guarani, the 2022 Adventure Racing World Championships, will take place from September 15th to 25th and entries are now open at https://www.expedicionguarani.com
For more information on the Adventure Racing World Championships visit; www.arworldseries.com