Over 3000 racers at 10th edition of GFNY Cozumel
November 17, 2023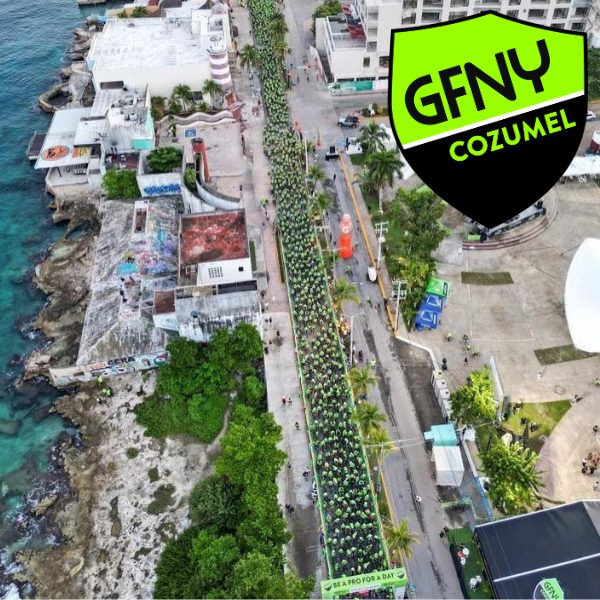 De Luna and Hernandez prevail
New York City, November 17, 2023 /ENDURANCE SPORTSWIRE/ – The completely closed to traffic 157.5km cycling long race course of the 10th GFNY Cozumel is flat yet windy and as such one of the toughest bike races in Latin America. 3000 riders were ready to race hard and play hard, entirely taking over the tropical paradise island for one day.
The race started off extremely fast, reaching speeds of over 55 km/h in the first kilometres. Right from the start, a group of nine riders formed the peloton including several GFNY champions: defending Cozumel champ Chris Hans, Team GFNY pros Flavio de Luna (Mexico City 2017) and Olympian Luis Lemus (Cozumel 2015), Mario Zamora (Cozumel 2018), Edwin Morel (runner-up Sebring 2023), Salvador Lemus (runner-up GFNY Zapopan) and former mexican TT champion Nacho Prado.
The group worked together well and quickly created a gap of over two minutes in the first of two laps. With 20km to go, the gap had increased to over 5 minutes. Lemus attacked and De Luna and Hans were the only two riders managing to bridge across.
With 5km to go, the three started attacking each other, with team mates Lemus and De Luna trying to drop Hans. But it came down to the sprint: De Luna took the win in 3:40:21 ahead of Hans and Lemus who rounded the all Mexican podium.
In the female race, Ana María Hernandez defended her title once again, ahead of Jacqueline Tamez and Anet Barrera (all Mexico).
"If you haven't seen the aerial photo of the start line, look it up," says GFNY CEO Uli Fluhme. "It's a sight to behold: riders in green jerseys as far as the eye can reach – and then some more beyond the edge of the photo. What an incredible celebration of what's best about road cycling. Everyone gets to Be a Pro for a Day."
Next up on the GFNY calendar is the 2nd edition of GFNY Quito which will take place on Sunday, November 26, 2023.
About GFNY Global Endurance Sports Series
GFNY Global Endurance Sports Series is a sports event company with three decades of experience in racing, planning and organizing events. The global endurance sports brand hosts multiple events throughout the year around the world on five continents.
Working with partners around the world to deliver a first-class experience, GFNY Global Endurance Sports Series puts its athletes first.
The official GFNY website is: gfny.com.
Cycling
30-plus events held around the world. View the latest calendar here
Riders get to BE A PRO FOR A DAY ® by competing against others, themselves and the clock in a personal endurance challenge.
Top 10% (20% at regional championships) of finishers in each age group qualify for the Elite Qualifier Corral at every GFNY World event.
GFNY World Championship NYC
The 12th annual GFNY World Championship New York will be held on May 19, 2024. The race features the world's most international peloton with riders from over 90 countries. Athletes take on a challenging route to compete against each other, the clock and themselves in a personal endurance challenge.
The official GFNY World Championship NYC website is: nyc.gfny.com.
Further Material for Media Use
Official GFNY Cozumel video: here
GFNY Press Images: here
GFNY Results: here
GFNY World calendar graphic: here
Previous GFNY press releases: here
Media Contact
Gran Fondo New York Inc.
Uli Fluhme, uli@gfny.com
Caroline Lindsay, caroline@gfny.com