Outdoor rides from Garmin devices added to ROUVY CAREER for more training fun and better motivation
May 11, 2022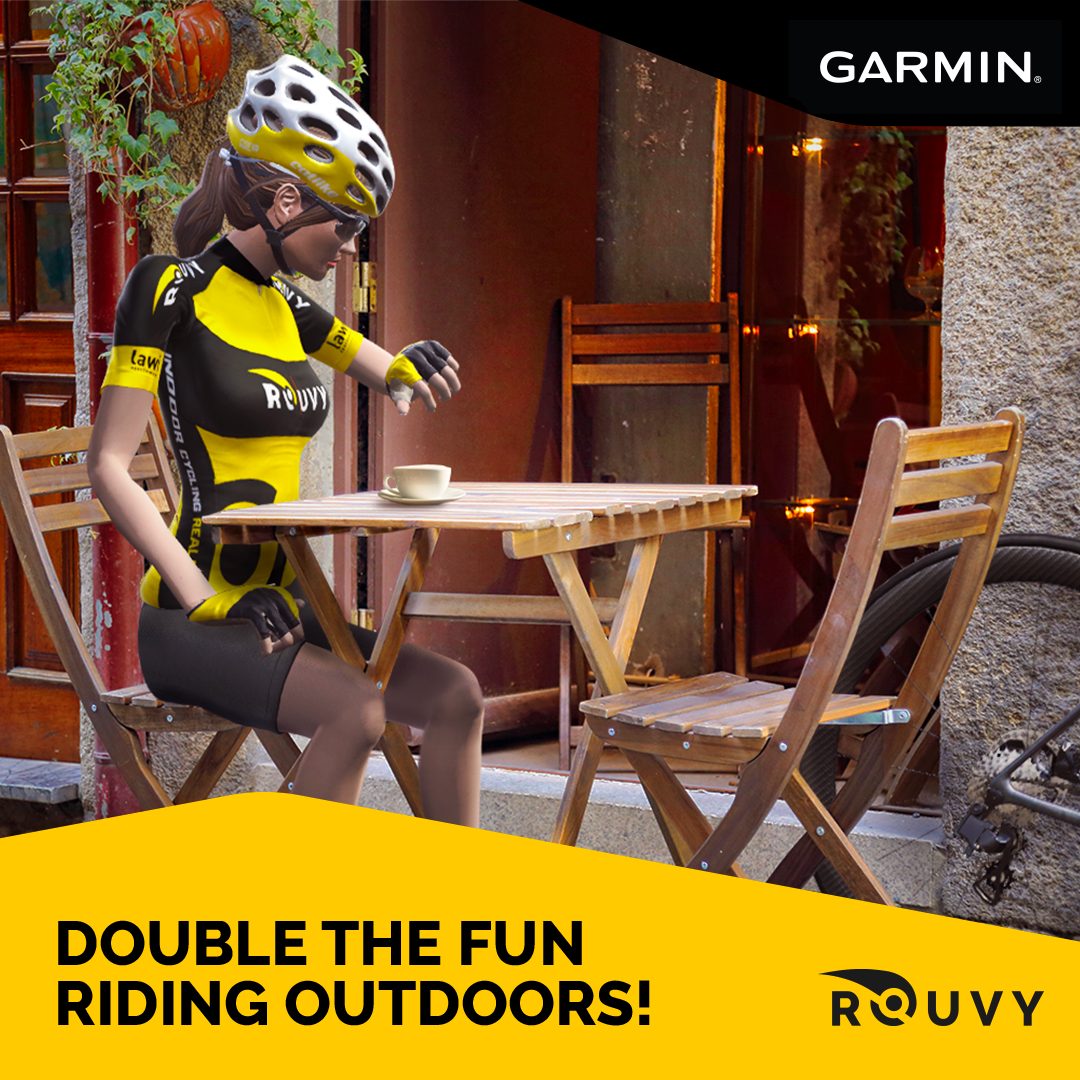 ROUVY, the indoor cycling platform, adds outdoor rides and achievements to ROUVY CAREER for Garmin® cyclists. Revamped at the beginning of this year, ROUVY Career 2.0 is a multi-year ongoing motivational system for cycling both indoors and outdoors. Any athlete or fitness enthusiast, registered on ROUVY and currently uploading activities to Garmin Connect™, automatically enrolls to a fun virtual journey around the world to become a 'Legend' one day.
Prague, Czech Republic / May 11, 2022 /ENDURANCE SPORTSWIRE/ – ROUVY enables anyone to travel the world from home, simulating the outdoor environment indoors via the unique mixed-augmented reality technology. From Norway to South Africa, from Brazil to Japan, across the US, Europe to New Zealand, the whole globe is available in one click to every rider anywhere and at any time. The combination of animated avatars with stunning real videos provides unprecedented levels of immersiveness and fun to what was once a mundane form of training. On ROUVY, bike riders have over 10K HD routes for virtual rides and workout sessions for their outdoor races, for the whole year round.
With interactive fitness booming, the indoor cycling season does not finish with the cold and bad weather but seamlessly moves outdoors. ROUVY combines outdoor and indoor activities in its new Career feature, the new format of which was presented earlier this year. From now on, the outdoor rides will produce earnings in the rider's account and will help to proceed in the Career levels faster. Coins earned can be used for the virtual avatar upgrades (once released) or real prize rewards where available, sponsored by ROUVY's partners. Additionally, ROUVY members have the benefit of keeping all their indoor and outdoor activities in the web training diary in one place, allowing for further analysis and precise planning.
Along with the outdoor rides, the team at ROUVY rolled out the 'achievements' to give incentives and to encourage riders to train more. The more one rides, the more places he or she explores, the more they achieve and enjoy their Career on ROUVY! For example, for the accumulated 3,280 km, which is a total distance of 2022 La Vuelta, the rider will gain a special 'achievement' and a badge that will appear in the public rider profile. Achievements are based on distance covered, calories burned, meters climbed and vary in difficulty range, from easy up to the very tough ones, requiring thousands of covered kms.
Athletes need to have a valid subscription and an up-to-date app to be able to upload outdoor activities into ROUVY. The activity can be imported via the automatic sync with Garmin Connect; upon turning on, all "cycling" activities will sync automatically to the ROUVY Cloud. Starting with Garmin smartwatches and GPS cycling computers now (currently other brands are not accepted), support for the activities uploaded from other outdoor apps and devices will come later. More details can be found here.
About ROUVY
ROUVY is an indoor cycling platform for athletes all over the world to compete, ride with friends for fun, complete workouts or build the Career. ROUVY offers thousands of exciting virtual locations and workout options including the ability to race and ride through the almost endless route catalogue. With fully simulated and realistic efforts, ROUVY is the best option for both the casual rider and the most highly trained and fit athlete. On ROUVY, riders can achieve their own individual goals, and find training fulfillment while keeping it just as realistic indoors as it is outside. rouvy.com
About Garmin
Engineered on the inside for life on the outside, Garmin products have revolutionized life for runners, cyclists, swimmers and athletes of all levels and abilities. Committed to developing technology that helps people stay active and elevate performance, Garmin believes every day is an opportunity to innovate and a chance to beat yesterday. Other Garmin fitness brands include Tacx® and Firstbeat Analytics™. For more information, visit Garmin's virtual Newsroom, email our press team, connect with @garmincycling on social media, or follow our adventures at garmin.com/blog.