Osmo Nutrition Announces Partnership with Pro Gravel Cyclist Brennan Wertz
June 20, 2023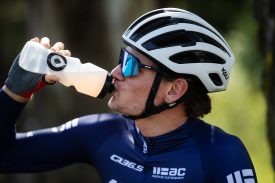 Sausalito, CA. (June 20, 2023)/ENDURANCE SPORTSWIRE/ – Osmo Nutrition, a leading provider of hydration and nutrition products for athletes, is excited to announce a partnership with professional gravel cyclist, Brennan Wertz. This collaboration marks a significant milestone for Osmo as it continues to expand its presence in the gravel cycling community.
With an impressive track record of victories and podium finishes, including a recent 5th place finish at the inaugural FNLD GRVL, Wertz brings his exceptional skills, dedication, and passion for the sport to Osmo. This partnership will see Wertz serving as a brand ambassador, assisting the brand in product development, provide valuable feedback on Osmo's existing offerings, and engage with the gravel cycling community through events, social media, and other promotional activities.
"Partnering with Brennan was an easy decision," said Allie Nichols, partner at Osmo Nutrition. "He's at an exciting point in his career, has a wealth of insight and experience as an athlete, and as a Marin County native, he shares our passion for our backyard. We're thrilled to officially welcome him to the Osmo family."
Osmo Nutrition is renowned for its science-based hydration, fuel and recovery products that are tailored to the needs of endurance athletes. By collaborating with Wertz, Osmo aims to enhance its product range to specifically address the demands of endurance athletes, providing them with the optimal nutrition necessary to achieve peak performance and recovery.
Wertz expressed his excitement about the partnership, stating, "I am honored to join forces with Osmo Nutrition, a brand that shares my commitment to performance, innovation, and the well-being of athletes. I look forward to collaborating with the Osmo team to develop products that meet the specific demands of gravel cycling and help athletes like myself achieve their goals."
For more information about Osmo Nutrition and their products, visit www.osmonutrition.com.
About Osmo Nutrition:
Osmo Nutrition is a leading provider of hydration and nutrition products for endurance athletes. Osmo's mission is to optimize human performance by creating innovative products that address the unique physiological needs of athletes during exercise. Developed by Dr. Stacy Sims, an internationally recognized sports nutrition scientist, Osmo Nutrition products are backed by science and have been trusted by elite athletes around the world.