O'Side Turkey Trot closing in on $500,000 milestone for local charities
November 30, 2022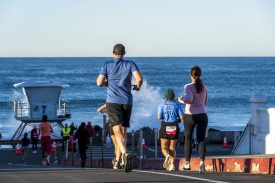 Cornucopia of philanthropy, family at San Diego County's largest 'Turkey Day' race
OCEANSIDE, Calif. /ENDURANCE SPORTSWIRE/ – Nearly 8,000 runners made waves at the 17th annual O'Side Turkey Trot, San Diego County's largest Thanksgiving day running and walking event, on Thanksgiving Day. As runners and walkers gave thanks, they also helped the event give back. The event is nearing $500,000 raised for local charities in its nearly two-decade history, generating more than $25,000 at this year's event alone.
"When Richard Muscio and I launched the O'Side Turkey Trot nearly 18 years ago, community impact was a central value and purpose for this event,'" said Kathy Kinane, co-founder and race director of O'Side Turkey Trot. "To know that we've been able to generate this level of funds for the over 65 charities we partner with – it means that we achieved that goal to give back to our city and make a positive change."
It was also a banner year for first-time trotters with over 3,000 participating for the very first time. Teams also saw a huge swell, with over 270 teams registering for the event. This year's O'Side Turkey Trot participants represented 43 states, as well as other countries including Norway, Germany, Canada and the United Kingdom.
Team Austin Bice, The Roof Masters, Oceanside First Presbyterian Church, and El Camino Cross Country/Terras Trails attracted the most participants and took home $100 gift certificates for the popular largest teams contest. Favorite outfits in the costume contest included turkeys, chefs, characters from the Wizard of Oz, and the San Diego Chicken.
Top finishers in the run included Meriah Earle for the women and Christopher Wernke for the men in the five-mile event, with times of 28:42 and 25:46 respectively. In the 5k, Tim Hendricks was first with a time of 15:03 in the men's division. Emily Glass was victorious in the women's 5k with a time of 14:59. Full results for each age group and event are available to view here.
The O'Side Turkey Trot will take place on Thanksgiving Day, Nov. 23, 2023, reprising its five-mile, 5k, and children's running events. To register and for more information on the O'Side Turkey Trot, visit www.osideturkeytrot.com. Follow the event on Facebook, Instagram, Twitter, and YouTube.
About Kinane Events and the O'Side Turkey Trot
Kinane Events have specialized in Southern California event marketing and management for over 30 years. Established in 1991, the award-winning Kinane Events team has managed over 180 large participatory sporting events including the O'Side Turkey Trot. For more information on Kinane Events, visit www.kinaneevents.com.
###