Osborne, Kingsford, Serrieres, Mairhofer Dominate XTERRA Fall Majors
September 28, 2021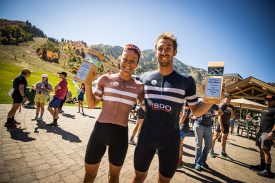 Sam Osborne and Samantha Kingsford from New Zealand won the XTERRA USA Championship elite titles in Utah while Arthur Serrieres from France and Sandra Mairhofer of Italy took home the XTERRA/EU Cross Tri Titles in Trentino Dolomiti Paganella over the September 25-26, 2021, weekend.
Sam Osborne and Samantha Kingsford from New Zealand won the XTERRA USA Championship elite titles in Utah while Arthur Serrieres from France and Sandra Mairhofer of Italy took home the XTERRA/EU Cross Tri Titles in Trentino Dolomiti Paganella over the September 25-26, 2021, weekend.
Those four have been the most dominant racers of the year in the U.S. and Europe. It's the seventh win of the season for Serrieres, the fourth for both Osborne and Kingsford, and the second for Mairhofer – who also won the XTERRA European Championship in Germany in August.
In Utah
On a gorgeous fall day at Snowbasin Resort in the Wasatch Mountains high above Ogden, Utah on Saturday, September 25, 2021, the day's race was not the traditional XTERRA off-road triathlon, rather a run-bike-run duathlon after the swim was canceled due to harmful algal blooms in Pineview Reservoir.
The new challenge featured a 2.5-mile trail run to start the race instead of the swim, transitioned to an epic 19-mile mountain bike, and finished with a grueling 5.5-mile trail run.
In the men's elite race, after an early sprint from Kieran McPherson in the first run, American legend and 2015 XTERRA World Champion Josiah Middaugh took to the front on the first big climb of the bike to the top of Sardine Peak at 7,400-feet. It's a grueling 1,000-foot climb, and came as no surprise that Middaugh, perhaps the best climber in the sport, got there first.
"I was able to get past Kieran then overtook Sam about halfway up and put maybe 10-15 seconds on him to get over the top first, but he caught me coming down and probably put 45 seconds on me by the bottom of Icebox Canyon," said Middaugh.
The downhill is relentless, roughly 2,000 feet of technical, twisting singletrack over rocks and into tunnels of orange-yellow-and-pink leaves, and it's where Osborne's colors shined through.
"On the downhill I was trying to get around Josiah but there was a lot of race-craft going on. I was absolutely on the limit, but you've got to take risks to win," said Osborne.
Osborne then posted the fastest final run split of the day and was ecstatic when he crossed the line, and emotional to get the win he'd been working towards since May.
"To sweep the U.S. majors, it's a dream," said Osborne. "It was a big commitment for Samantha and I to come to the U.S. for this series in the middle of a pandemic, and it's been tough, so to get it done, it's incredible."
Middaugh finished in second place about two minutes later, and as the top American pro, won the XTERRA U.S. Elite Men's Championship title for an unprecedented 15th time.
Eric Lagerstrom, just a week removed from a seventh-place showing at Ironman 70.3 Worlds, had a brilliant race to finish third and put any doubts about his mountain bike ability to rest in emphatic fashion.
Top 3 Elite Men FULL RESULTS
| | | | | | |
| --- | --- | --- | --- | --- | --- |
| Pl | Name, NAT | Run 1 | Bike | Run 2 | Finish |
| 1 | Sam Osborne, NZL | 0:16:10 | 1:23:22 | 0:37:00 | 2:17:33 |
| 2 | Josiah Middaugh, USA | 0:16:10 | 1:23:54 | 0:38:08 | 2:19:25 |
| 3 | Eric Lagerstrom, USA | 0:16:18 | 1:26:09 | 0:38:11 | 2:21:48 |
In the women's race, three-time XTERRA World Champion Lesley Paterson set the tone early with the fastest first run, but Kingsford was just 13-seconds back and ready for the ride.
Roughly a mile or so into the bike Kingsford caught Paterson and started pulling away. She had the fastest elite bike split of the day and the best final run split to finish a full eight minutes ahead of Paterson for the win.
"I was running scared, because two years ago at this race Lesley taught me that the race isn't over until it's over," explained Kingsford, who took a big lead into the run here in 2019 but got caught by Paterson and finished second. As a result, Kingsford said she had unfinished business with this race, and now, that's all over.
"The win was Samsational some people are saying," laughed Kingsford, who met her boyfriend, Sam Osborne, in college 10 years ago. "For both Sam and I to come over to the U.S. from New Zealand was such a big gamble because of covid, and we weren't sure if we were making the right decision so to take three is amazing and it makes it all worth it."
Paterson, who has been full-on with her movie making career for more than a year now, showed she still has what it takes to race at a high-level today.
"That was so fun. I have not gone that hard in two years, but the adrenaline kicked in right at the starting gun," said Paterson.  "My alter ego, Paddy McGinty, was out in full force and I'm just so grateful. And it was awesome to see Samantha killing it, she is incredible right now, and deserves it because she's put in the time and effort. Suzie and Amanda were riding great too, and they both passed me on the descent. And what about that girl, she came out of nowhere!"
"That girl" Paterson is referring to is Andie Aagard, a 15-year-old sophomore from Lone Peak High School in Utah Valley.  She absolutely crushed it, had the fastest bike split of the day, and despite "never running ever," finished second overall.
"I wasn't really expecting that because the last time I ran was three months ago and I just decided to sign-up last night," said Aagard, a local phenom and the current Junior Women's 15-16 cross country mountain bike champ.
Even more incredible is that Aagard started the race four-minutes back in the fifth wave and had to run and ride her way passed hundreds of other racers.
"Oh my gosh, I'm 25 years older than her, she's awesome," exclaimed Paterson, who came into T2 with Suzie Snyder and Aagard but then blitzed the run to cross the line in second, but with the third best time due to the chip-timed wave starts.
Snyder finished fourth, and as the top American pro, won the XTERRA U.S. Elite Women's title for the fourth time.
Top 3 Women FULL RESULTS
| | | | | | |
| --- | --- | --- | --- | --- | --- |
| Pl | Name, NAT | Run 1 | Bike | Run 2 | Finish |
| 1 | Samantha Kingsford, NZL | 0:19:33 | 1:40:17 | 0:45:26 | 2:46:47 |
| 2 | Andie Aagard*, USA | 0:21:12 | 1:39:16 | 0:48:50 | 2:52:03 |
| 3 | Lesley Paterson, GBR | 0:19:20 | 1:45:29 | 0:47:07 | 2:53:47 |
Find coverage from today's race at instagram/xterraplanet and facebook.com/xterraplanet
In Italy
Serrieres and Mairhofer won the XTERRA Trentino Cross Triathlon European Championships on Sunday, September 26, 2021, with winning times of 2:22:53 and 2:49:01, respectively.
Despite the weather forecast threatening rain and thunderstorms, the men's elite athletes set off in dry but overcast conditions.
After crossing the line first and as European Triathlon, Serrieres said, "I am really happy to take the win here. It was a really big battle with Felix on the run and I am happy to have a guy like this with me to push me to the maximum and I am really happy to share this podium with two other French guys."
Top 3 Elite Men
Name, NAT, Time
Arthur Serrieres, FRA, 2:22:52
Felix Forissier, FRA, 2:23:21
Maxim Chane, FRA, 2:26:35
In the women's race Michelle Flipo (MEX) was first out of the water with Aneta Grabmullerova (CZE) and Sofia Pryyma (UKR) chasing in second and third.
While Sandra Mairhofer was a few positions back on the swim, she was on a mission on the bike course, catching Flipo within 15 minutes and continuing to create a gap. She had a comfortable lead going into the run but continued to push a good pace right up to the finish line.
"I feel incredible, it is so good to win here. There were a lot of strong girls so I was not sure if I could be champion here, so I am super happy to cross the line first" said Mairhofer.
Top 3 Elite Women
Name, NAT, Time
Sandra Mairhofer ITA 02:49:00
Michelle Flipo MEX 02:53:13
Diede Diederiks NED 02:54:02
Full results here / Live replay here.
Up Next:  The 25th XTERRA World Championships – December 5, 2021 – Kapalua, Maui
About XTERRA
XTERRA® is a global lifestyle brand and off-road race series. What started in 1996 as the world's first off-road triathlon in Maui, Hawaii, is now an endurance sports lifestyle with a racing presence in over 30 countries worldwide and expanding. XTERRA® cultivates a passionate and dedicated community, celebrated by intrepid triathletes, trail runners and outdoor adventurists around the globe.  Learn more at www.xterraplanet.com.