Orucase Releases Their First Travel Bag: The Janus Duffel For Cyclists + Outdoor Sports Enthusiasts
October 25, 2022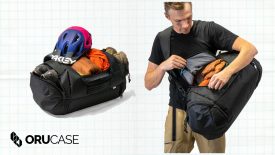 /ENDURANCE SPORTSWIRE/ – Orucase expands their bag offerings as they release their first travel bag – the Janus Duffel 5l. A 50-liter duffel designed with cyclists in mind, and the crossover capabilities for regular travel and all other outdoor sports, the Janus is made out of Challenge Sailcloth fabric and comes with a 3-point shoulder strap for stability and comfort. Each end pocket has a mesh zippered vent to air out your shoes or helmet. The Janus Duffel is currently made-to-order in the Orucase Design Labs in San Diego, CA and costs $250US.
This duffel is intended to be there for any sport or adventure you're headed out on. One day it's riding a bike, the next it might be running an ultra, going climbing, or camping in Mexico. Customizable pockets and compartments allow you to change how to use this duffel depending on the adventure.
The main compartment provides 40 liters of storage and the ability to swap in and out different combinations of stuff sacks to organize your gear. Each end pocket is large enough to carry a cycling helmet or shoes and has a hidden mesh aerator expansion – giving you the choice to allow airflow to dry out gear while on the move. 3mm closed cell foam padding all around protects your laptop, helmet, or camera gear. Two smaller internal pockets allow storage of a laptop and small electronics. The duffel comes with an adjustable padded shoulder strap that has a 3rd point harness for stability when riding or carrying for extended periods.
Additionally, the main compartment includes attachment points for Stuff Sacks, sold separately. Each duffel can be configured to use 1-3 of the small stuff sacks or 1 large and 1 small (with the large being twice the size of the small). Offered in both a waterproof ripstop material or a breathable mesh for organizational needs. The Stuff Sacks work on their own or integrate with the Janus Duffel, providing multiple organization layouts depending on your trip's needs. The small Stuff Sacks cost $20US and the large cost $30US.
RECYCLED MATERIALS CREATE 50% FEWER EMISSIONS
Every yard of Challenge Sailcloth ECOPAK™ saves over one pound of CO2, compared to virgin nylon or polyester pack fabric.
JANUS DUFFEL CONSTRUCTION AND TECH SPECS
All external zippers are super burly YKK #10 RC – the strongest zipper they make with crazy abrasion resistance.
Capacity: 50 Liters
Dimensions: 12″ diameter x 24″ long
Material: Challenge Sailcloth Recycled Laminate Materials
3mm Closed Cell Foam Padding
Oversized #10 YKK RC Zipper
Design Features
Main Compartment has attachment points for stuff sacks (sold separately)
Ambidextrous Shoulder strap with 3rd point removable buckle for stability and comfort
Storage Pockets and Dividers
2 External zippered storage pocket with hidden mesh aerator liner
Large Internal 11×16″ zippered pocket
Small internal 6×17″ zippered pocket
STUFF SACKS CONSTRUCTION AND TECH SPECS
Challenge Sailcloth RBC200 Ripstop or Breathable Spacer Mesh body
#5 YKK zipper
Nylon Webbing handles and clips
Dimensions
Small: 12x6x6″
Large: 12x12x6″
Compatibility with Janus Duffel*
*Each Janus Duffel can fit up to 3 small stuff sacks or 1 large and 1 small at any given time. Clips integrate with the side of the duffel to keep stuff sacks in place
Janus Duffel 50: https://www.orucase.com/collections/travel-bags/products/janus-duffel-50
Stuff Sacks: https://www.orucase.com/products/stuff-sack
About Orucase
Founded in 2012 Orucase makes premium sustainable cycling gear developed to help you experience the world.
It all started with compact bike cases. We didn't set out to create a whole new category in bike travel cases – we simply saw bike fees as an obstacle that stood in the way of reaching our goals in cycling. Cyclists have flown 100,000+ flights using our travel cases and saved over $10 million in excess baggage fees.