Online Cycling Community Seeks to Connect Cyclists with Sponsors
November 8, 2021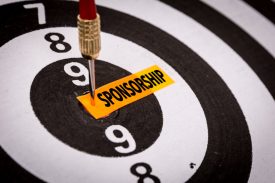 LONGMONT, CO (November 8, 2021) – 10 Buck Bike Club, LLC—an online community built by cyclists, for all cyclists—is building an online directory to connect cyclists with sponsors.
"We're answering the calls we've been hearing from our cycling friends for years: 'I need help and know I could do so much more with a sponsor or two…how can I find sponsors?' It could be national/international cycling brands, national/regional/local companies with cycling interests, local bike shops, cash, products and the list goes on," says Rick Zwetsch, ultra-cyclist and 10 Buck Bike Club co-founder.
Cyclists wanting to be listed in the directory will first become 10 Buck Bike Club members. Annual membership is 10 bucks which includes a complete member profile and unlimited access to the community and online all-you-can-eat cycling buffet. There are no additional fees to be listed in the directory. One buck from each new membership will also go to support 10 Buck Bike Club's Rider Down Fund, currently in development.
"Once we have a critical mass of cyclists in the directory, we'll start outreach to sponsors interested in supporting our cyclist members," Zwetsch continues. "We have 40+ years with varying roles in and around the marketing and promotion universe. Once we have a big stable of cyclists, we'll create a private group, in the community, to share tips, contacts, successes and challenges attracting and working with sponsors. When that happens, we're confident we can be successful making the connections. If you're serious about sponsorship, this will be a good place to be."
10 Buck Bike Club is currently building out the directory and associated logistics. Cyclists can register their interest at: www.CyclistsSeekingSponsors.com
"We have a lot to offer all cyclists and it's all in one place." Zwetsch says. "One thing we don't see out there is a source where cyclists and sponsors can connect and engage. Along with everything else we offer cyclists; we'll be that go-to source!"
About 10 Buck Bike Club, LLC
10 Buck Bike Club (www.10buckbikeclub.com) is being built by cyclists for all cyclists. The vision is to connect cyclists everywhere on the planet in a space with no nonsense. No algorithms determining who sees what and when. No click tracking. No eyeball tracking. No advertising. A 10-buck annual investment helps us all build a community that's friendly, welcoming, safe, and knowledgeable about any and all aspects of cycling. As the company grows it will become the most valuable 10 bucks in cycling.TM
# # #