Ongaki, Kelly win XTERRA Americas Trail Run Championship Marathon
May 22, 2023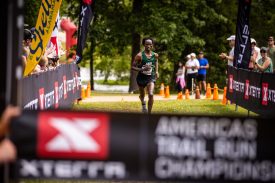 As the second of three continental championship races on the new XTERRA Trail Run World Series, runners competed for $5,200 USD in prize money and qualifying spots into the XTERRA Trail Run World Championship on October 1 at Sugarloaf Resort in Maine (USA).
/ENDURANCE SPORTSWIRE/ – Sameul Ongaki from Kenya and Megan Kelly from Atlanta, GA captured the inaugural XTERRA Americas Trail Run Championship 42K race on a beautiful day at Oak Mountain State Park in Shelby County, Alabama on Sunday, May 21, 2023, while Sebastien Carabin from Belgium and Taryn Garlington from Kokomo, Indiana took home the half-marathon titles.
As the second of three continental championship races on the new XTERRA Trail Run World Series, runners competed for $5,200 USD in prize money and qualifying spots into the XTERRA Trail Run World Championship on October 1 at Sugarloaf Resort in Maine (USA).
In the trail marathon, Ongaki led from the start. A Kenyan who relocated to South Africa before he made his home in Anniston, Alabama, Ongaki holds a 28:32 10K PR, a 2:17 marathon, best and a 3:01 at South Africa's Om Die Dam 50K. He finished the XTERRA Americas Trail Run Marathon today in 3:47:01.
"I love running uphill, so the hills were my favorite part," said a very relaxed and refreshed Ongaki after the race. "The course was so well-marked and the whole experience was awesome."
Jake Anderson from Norfork, Arkansas was second in 4:11:24 while Megan Kelly from Atlanta, Georgia finished next in 4:15:37. Johnny Anthony from Montgomery, Alabama finished third for the men in 5:32:49.
In the women's race, Megan Kelly absolutely crushed her inaugural Oak Mountain experience. In February, Kelly was the first female in the In the Woods 50K in Grayton Beach, Florida, and she's familiar with that top step on the podium in 50Ks that span from Georgia to Vermont.
"This was my first time in Oak Mountain State Park, and it was absolutely beautiful," said Kelly. She pointed to one bloody knee and explained: "I had my share of bumps and scrapes but the overall experience was unbelievable. I definitely want to come back. We crested a mountain that I'd love to return to when I have time, so I can actually appreciate the view."
While Kelly ran alone for the race, Ashley Durstine from Surprise, Arizona was second in 5:08:15. Durstine was also the winner of two segment challenges, which were mini-competitions within the race.
"I loved the climb up the Blue Trail," said Durstine. "At one point, you're on the ridge line and you've got a view of the whole valley. It's so pretty and feels so tropical—and yet the trails are so runnable because they are pristinely maintained. The end was like a roller coaster—just so green and beautiful. It was so much fun, I might have to make it back for the World Championship race in Maine this fall."
Shannon Mauser-Suing of Gretna, Nebraska was third in 5:35: 50.
XTERRA Americas Trail Run Half-Marathon
In the half-marathon, two-time champion Richard Kimani was suffering from a residual injury that opened the door to Sebstien Carabin, of Andrimont, Belgium, who won with a time of 1:28:34—almost a minute ahead of Xavier Plouffe, of Gatineau, Quebec, who finished in 1:29:30.
Carabin also won the XTERRA Asia-Pacific Championship Half-Marathon in Kenting National Park, Taiwan, on April 16, 2023.
One of the top mountain bikers in the world, Carabin finished sixth at XTERRA Oak Mountain the day before, with the fastest mountain bike split of 1:24:39. That race also included a 1.5K swim and a 10K trail run.
"I always thought I was a mountain biker, but maybe I'm also an OK trail runner," said XTERRA Americas Trail Run Champ Carabin after the trail run.
Carabin got into mountain biking at age 13 and discovered XTERRA in 2019 while trying to make the Belgium National Team. He was running a lot in the winter as part of his training regimen and transitioned as many runs as possible to the trails.
"When I saw the XTERRA destination, I thought why not?" said Carabin."It's pretty good and pretty fun. When I was a junior, I was at the top of the discipline so I thought, let's go."
"Today's race was a hard run, but I love this course, and was comfortable after racing on these beautiful trails the day before," said Carabin.
Fellow elite triathlete, Xavier Plouffe of Gatineau, Quebec, was second in 1:29:30. Plouffe also competed the day before but had a flat on the bike course and pulled out of the event.
"I ran in a pack of three with Sebastien and Gatlin for about 14K," said Plouffe. "Then Sebastian put in a huge attack and I stayed with him for a kilometer or two before I fell back."
Was his second place finish a bit of revenge for the day before when he missed the run segment of his race?
Plouffe was overly modest with his answer and just acknowledged: "The climb was really nice. And other than the hard effort, it was a great course."
Gatlin Holland of Birmingham, Alabama finished third in 1:29:53, just behind Plouffe. With a 2:34 marathon PR and 1:09 half, Holland was a contender all the way, as was John Walker, who finished fourth.
"I tried to go out conservatively because I knew the hill at mile six is steep," said Walker. "I was in the top three until the bridge by the lake where I fell. I tried to stay with the top three, but with a mile to go, all I saw was the tail end of Gatlin as he was zooming around the final turn."
Walker ran cross-country in high school in Daphne, Alabama and has a 2:52 marathon in the books. Currently, he's balancing his training with his career at the Naval Academy at Annapolis.
Alan Ash, 32, and former Vanderbilt running standout finished fifth in 1:38:26 while XTERRA top amateur, Andy Lee, 51, of Lakeway, Texas, finished sixth in 1:39:12.
XTERRA Pan Am Champ, Mike Dorr was eighth overall after giving an outstanding effort the day before.
"The trails were windy and tough to get momentum going," said Dorr. "The Green trail is straight up and super technical. Sometimes you have to put your hands down and hold onto things," he said.
"But I've done back-to-back races before, and coming from a higher altitude, I thought that since recovery at a lower altitude is quicker, I might as well just do it. And I have to say it was super cool and super fun, and I hope that the younger racers will use courses like this to fuel their inspiration."
In the women's half-marathon, Taryn Garlington of Kokomo, Indiana claimed the title in 2:03:24, while Aly Noel of Rogersville, Missouri, was next in 2:12:59. Jana Villanueva, or Trussville, Alabama was third in 2:15:52.
​​About the XTERRA Trail Run World Series
The XTERRA Trail Run World Series is an inclusive series that invites all trail enthusiasts to join the XTERRA community to connect, explore, and discover new and existing trails in idyllic running terrains the world over.
Designed to mix community and adventure, the series is open to all runners, from amateur to elite, individuals and pairs, with over 30 races in 20+ countries across Europe, the Americas, and the Asia-Pacific region.
Runners can compete individually, regionally or globally in the XTERRA Trail Run rankings, or push to the front of the pack to qualify for a place on the starting line at the annual and invite-only XTERRA Trail Run World Championship.
The XTERRA Trail Run World Series includes both half-marathon (15-34K) and full-marathon (35-60K) races for individuals and teams of two.
About XTERRA
X marks the unknown. TERRA is earth. United, we are XTERRA – a brand born to discover unknown territory. Since our inception in 1996, XTERRA has been inspiring off-road adventure by connecting people with nature through events with a fun, family vibe. We offer 13 off-road race options, from triathlon-to-trail running, for participants of all ages and skill levels in 47 countries worldwide. We have a global perspective, we aspire to protect where we play, and live the XTERRA lifestyle everyday, everywhere we roam. Join us off-road at xterraplanet.com.